All your favorites from 7 layer dip come together in this easy, cheesy, crowd-pleasing, Mexican lasagna!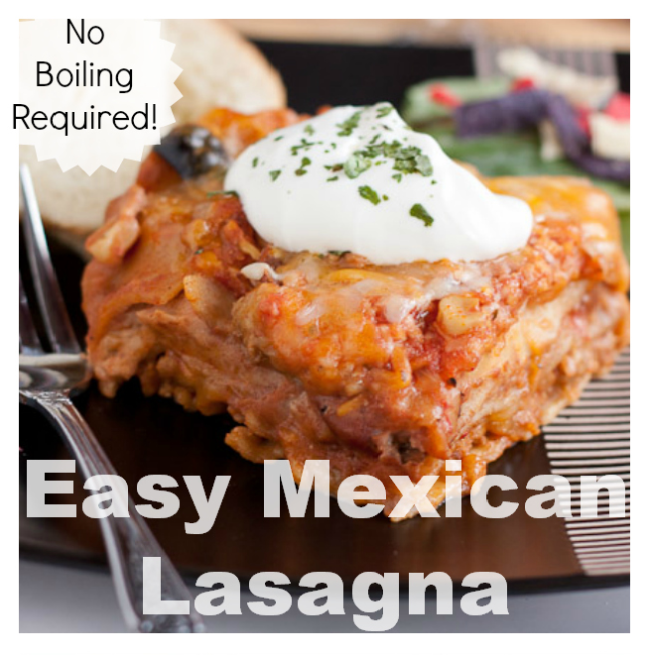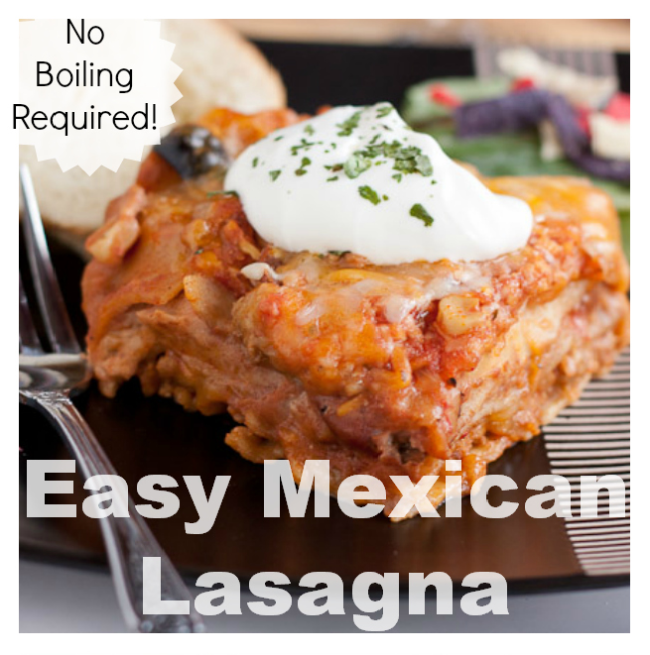 Just before my hubby and I got married, my mom gave me a cookbook called 30 Meals in One Day. The idea behind the book is Once a Month Cooking (OAMC). This is where you make/prep all your dinners for the month in one weekend and then keep them in the freezer until it's time to defrost and eat them. There are tons of great recipes in the book, but one of our family favorites is my adaptation of their Mexican Lasagna recipe.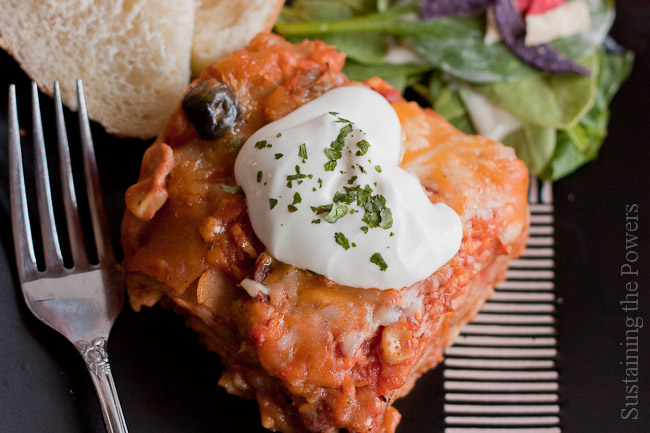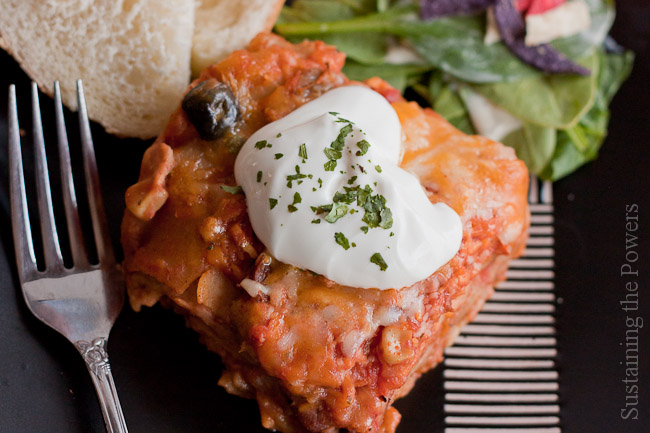 I like to describe this lasagna as a 7 layer dip with noodles. You've got all the melty cheese, tangy sour cream, salty re-fried beans, spicy salsa, savory black olives, and flavorful taco meat that you love, without the guilt of eating a bowl full of chips. That's why this recipe is my most-requested whenever I share this meal with friends. (Who doesn't absolutely love melty cheese?) I love being able to tell people how easy it is to just assemble and bake!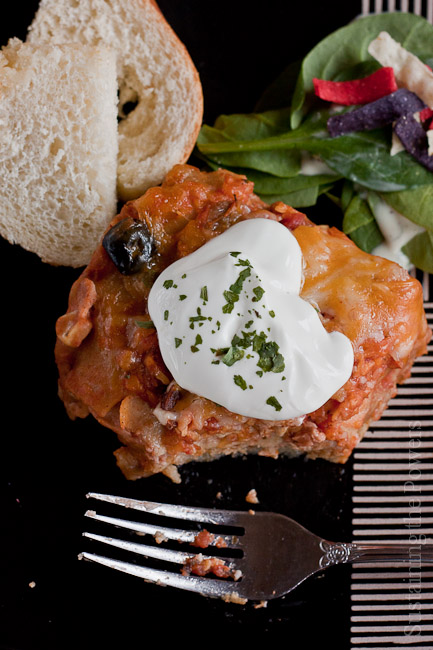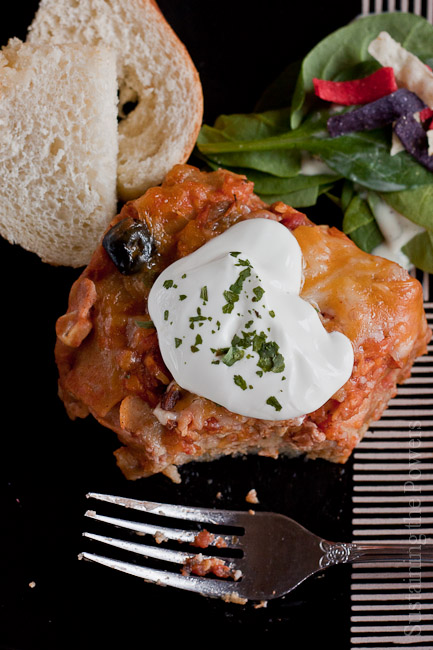 I especially love the no-boil method for making lasagna. If you've ever tried boiling lasagna noodles and then assembling them, you'll know that they're slippery and often tear or make a huge mess. By combining the sauce with water then covering the dish with foil, the noodles boil inside the lasagna as it cooks and you don't have the mess.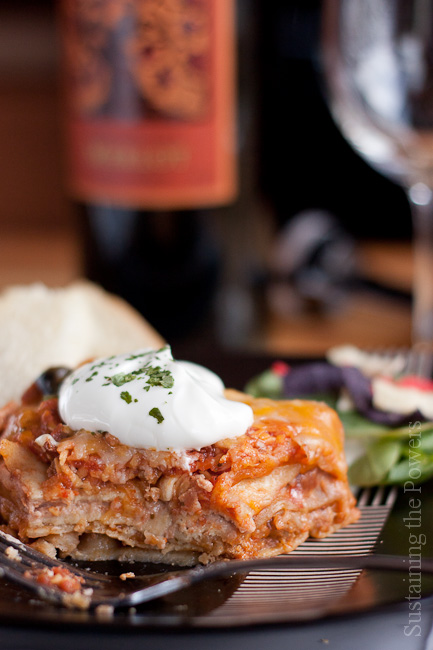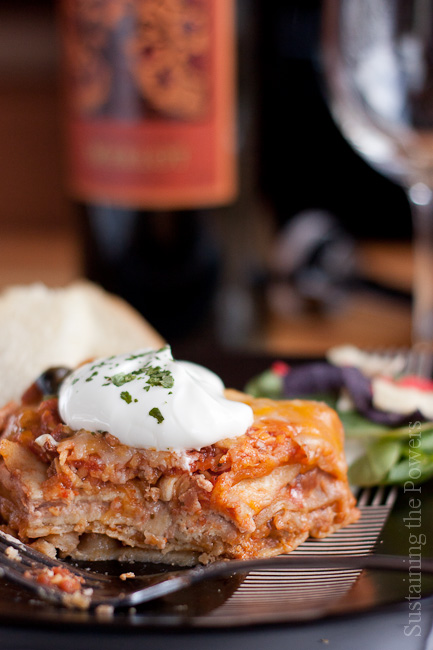 In addition to using the no-boil method, I make it even easier on myself by pre-cooking taco meat when I bring ground turkey home from the store. I keep it in my freezer ready for any last-minute meal prep. You never know when you might need some emergency tacos or lasagna!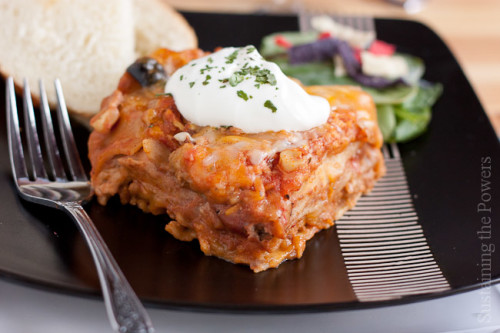 Easy Mexican Lasagna
2014-08-25 19:28:05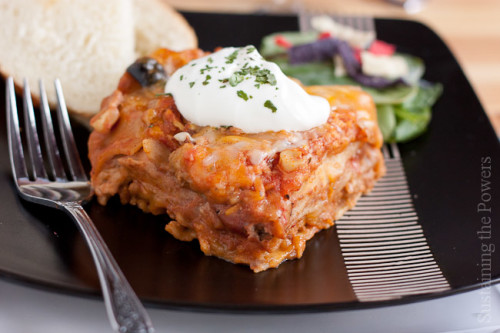 Serves 12
All your favorites from 7 layer dip come together in this easy, cheesy, crowd-pleasing, Mexican lasagna!
Ingredients
1 pound lean ground beef or turkey
1 cup chopped onion
1 envelope (or 3 tbsp.) taco seasoning
1/2 cup water
12 uncooked lasagna noodles (regular, whole wheat, or gluten-free)
2 cups shredded Monterey Jack cheese
1 (16 oz) can refried beans
1 cup sour cream
1 (2.25 oz) can sliced black olives
1 cup water
1 1/4 cup salsa
Instructions
Brown ground beef with onion.
Add taco seasoning and 1/2 cup water. Simmer 5 minutes.
Add the refried beans and sour cream to a microwave-safe bowl and heat for 1 minute. Stir until thoroughly combined (this makes them easy to spread).
In a greased foil baking pan, make the following layers: uncooked noodles, 1/2lb taco meat, 1 cup of cheese, uncooked noodles, refried beans & sour cream, drained olives, uncooked noodles, remaining cheese, remaining taco meat.
Combine 1 cup water and salsa and pour evenly over the top of the cheese.
Cover pan tightly with foil and bake for 50 minutes at 350.
Uncover and top with additional cheese.
Bake for an additional 10 minutes.
Allow to cool slightly before serving topped with a dollop of guacamole or sour cream.
Notes
Can also be covered with heavy duty foil and frozen before baking. Just defrost overnight in the fridge and bake as usual. 12 servings.
Gluten-Free: Use gluten-free lasagna noodles.
Vegetarian: Replace the ground beef with crumbled tofu and make sure to choose vegetarian refried beans.
Adapted from 30 Meals in One Day
Sustaining the Powers https://www.sustainingthepowers.com/