This recipe for a Pistachio Sugar Cookie Wreath can be dressed up or dressed down depending on how much time you have to put them together. Make them into plain Jane sugar cookies or go all out Martha Stewart; they're sure to be a hit any way you bake or decorate them!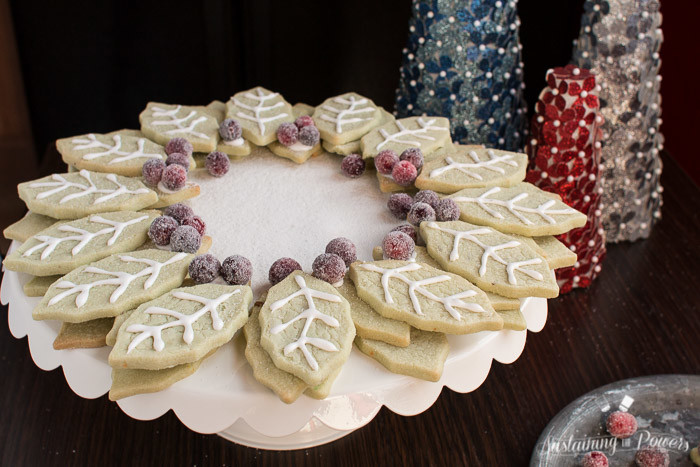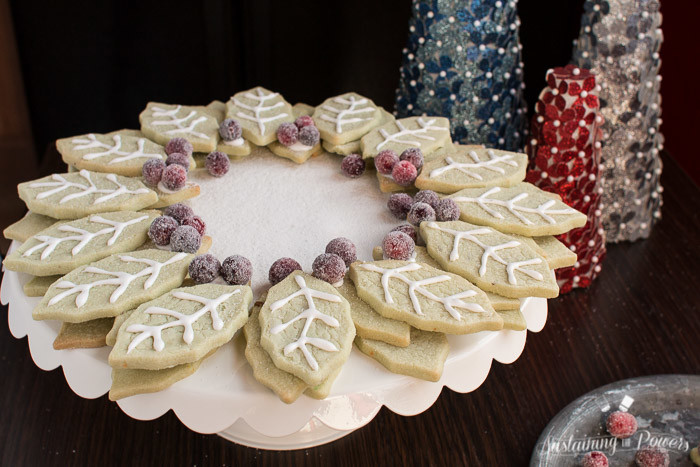 First things first: In case you missed the post I snuck in on Saturday – I have a giveaway for a prize pack that includes a Kitchen Aid mixer and at least a dozen other amazing baking things on the blog this week in honor of The Sweetest Season! Be sure to go over there and enter now!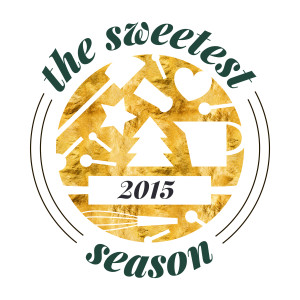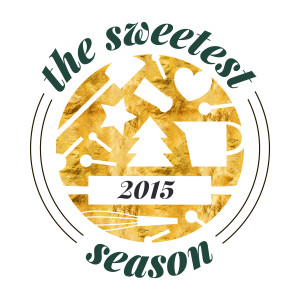 I am SOOOOOOO excited to be teaming up with 60+ blog friends who are sharing gorgeous cookie recipes through next Saturday for The Sweetest Season's Cookie Exchange Week! As soon as Erin from The Speckled Palate asked me to be part of this cookie recipe week, I knew I wanted to make something with my favorite sugared cranberries from last year's holiday posts. Cranberries are only in season and sold fresh for a few months each year, so I have to pack as many of them into my holidays as possible! Last week I shared my Cranberry Apple Sweet Tea, and had a lot of fresh cranberries left over, so you better believe I made more sugared cranberries with the extras. (And have already eaten most of said sugared cranberries… Cranberries are supposed to be really good for you right?)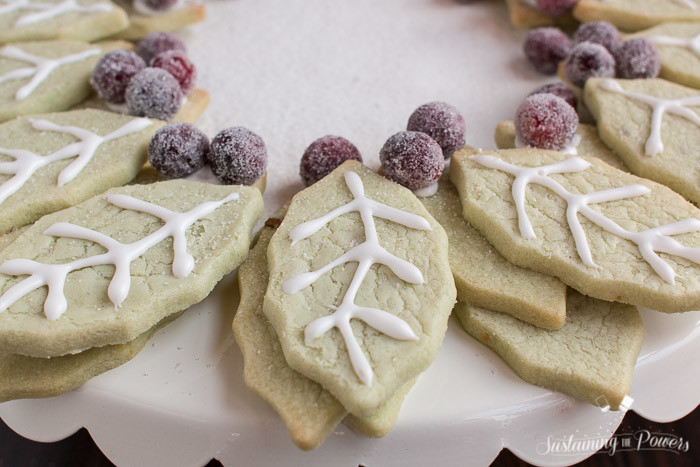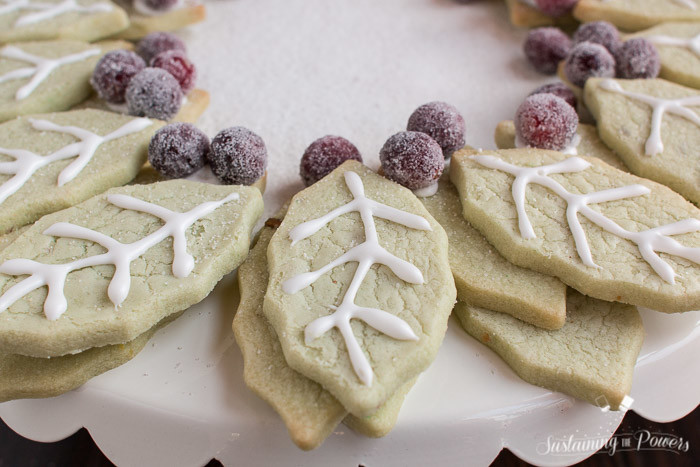 My original idea was to make tiny sugar cookie wreaths and top them with a few sugared cranberries and some chopped pistachios. But the sugared cranberries ended up being way too big to sit on a mini wreath, and I didn't have the right cookie cutter for it anyways. I did, however have this bucket of Wilton Christmas cookie cutters that had this cute little holly leaf in it, and giant cookie wreaths are a super fun impact piece at a holiday party, so I decided to run with it and see what happened. I am super in love with how this turned out!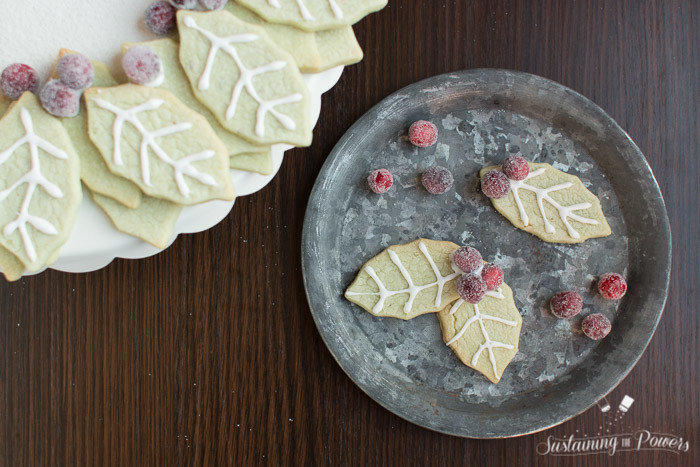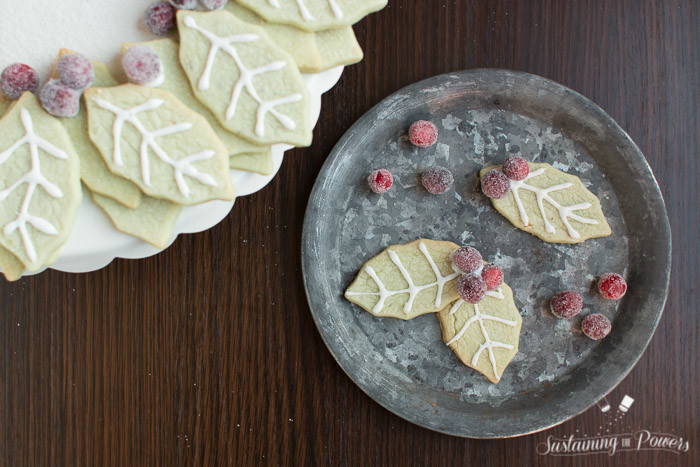 I really wanted to put a new twist on these sugar cookies, and I wanted them to be green, so pistachio immediately came to mind. I (briefly) entertained the thought of making pistachio flour, but as I googled around for pistachio flour recipes I stumbled across several recipes for pistachio pudding cookies using jello pudding mix. (Yay for easy!)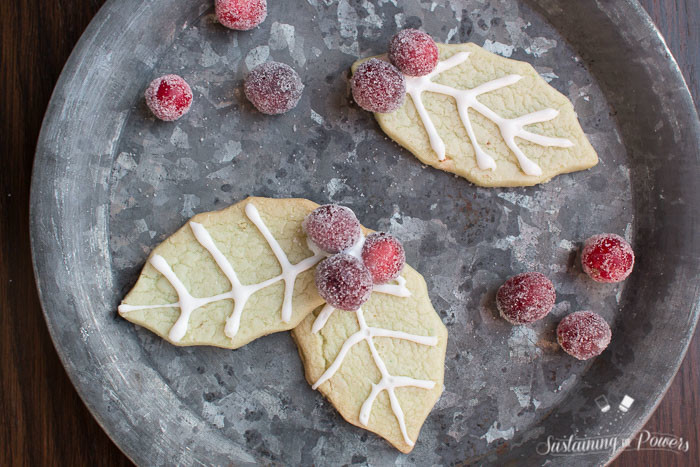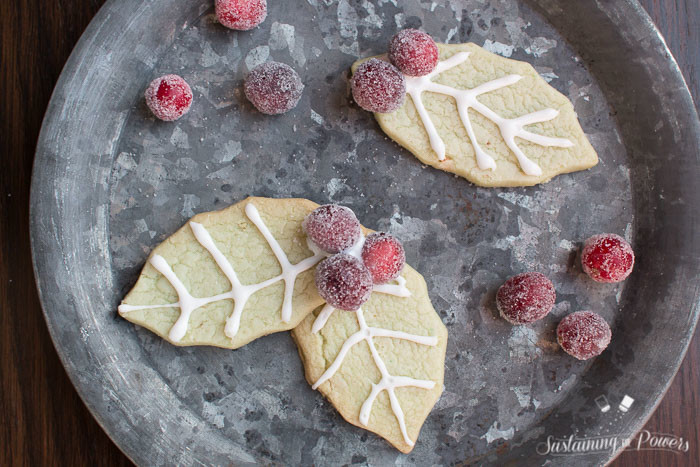 The recipes were for round, puffy cookies, but I wanted crunchier cut out cookies. Lighbulbs went off and I decided to make an attempt at crossing the jello pistachio pudding cookie with this awesome sugar cookie recipe from Sally's Baking Addiction. (She is a baking genius y'all!) This turned out to be an excellent idea, and that's ultimately how these cookies were born. They are a bit more green in real life than they seem to be in these photos. My camera decided to be "helpful" with the white balance and lighten them up a bit. They're more of a mint/pistachio green, especially if you don't let them get brown on the edges.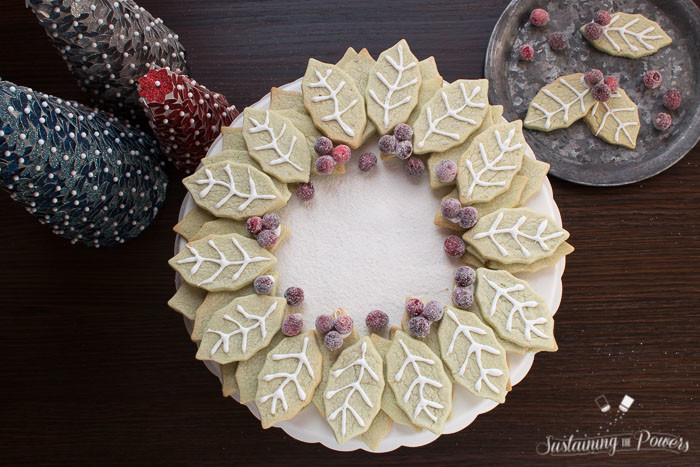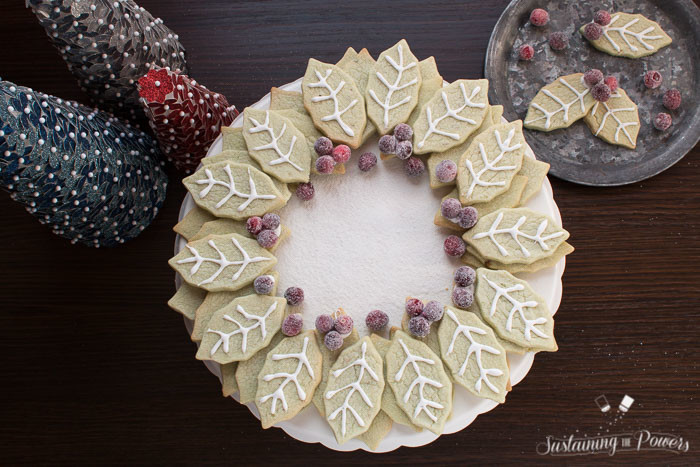 I wanted to make a Christmas Cookie recipe that was flexible on the amount of work needed. I know you're not all going to spend a couple hours cutting or decorating holiday cookies (but some of you love this like I do!), so I'll break it down into a few options in order of least time needed to most time needed:
Option 1: Make the dough. Eat the dough. Done. (Hubby's favorite option.)
Option 2: Make the dough. Form into balls, roll in a bit of sugar or pistachios and chill for at least an hour. Bake into normal round sugar cookies.
Option 3: Make the dough. Roll out 1/4″ thick and chill for at least an hour. Cut into your favorite shapes with cookie cutters and bake.
Option 3+: Same as above but also decorate with a bit of cookie icing. (I used store bought Betty Crocker cookie icing y'all. Cheating is excellent.)
Option 4: Make dough. Roll out and chill for 1 hour. Cut into holly leaves and bake. Stack into a cute wreath on a cake stand or plate.
Option 5: Make dough, roll out and chill. Make sugared cranberries while dough chills. Cut dough into holly leaves and bake. Stack into a cute wreath, decorate the top layer of leaves, and add cranberries with cookie icing "glue." (That's what I've done in the photos.)
Option 6: Same as option 5, only you can be an overachiever and decorate every cookie in the stack with icing veins.
Option 6+: Same as option 6, only instead of stacking into a wreath, make individual pairs of cookie leaves "glued" together with icing and garnished with sugared cranberries. (Pictured on the plate.)
The Full Martha Stewart: Grow your own cranberries, harvest, sugar them, make your own pistachio flour, harvest your own sugar cane, make cookies, hand decorate every single one. Make cookie leaf pairs. Make cute baggies with hand carved stamps and garnish with unicorn tears. Tie with handmade lace. Gift to everyone you have ever met. (Kidding!)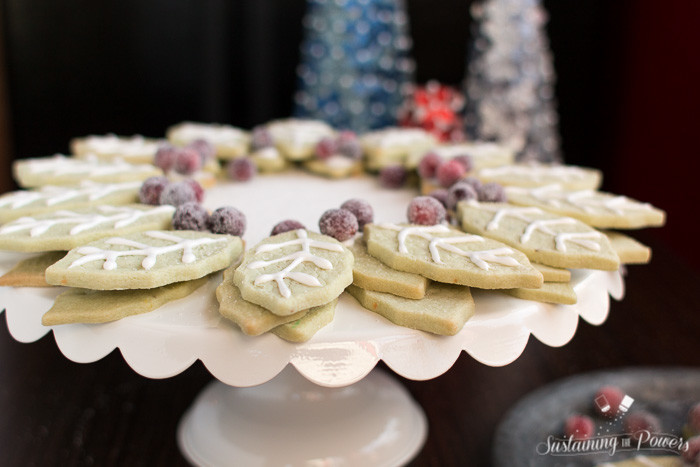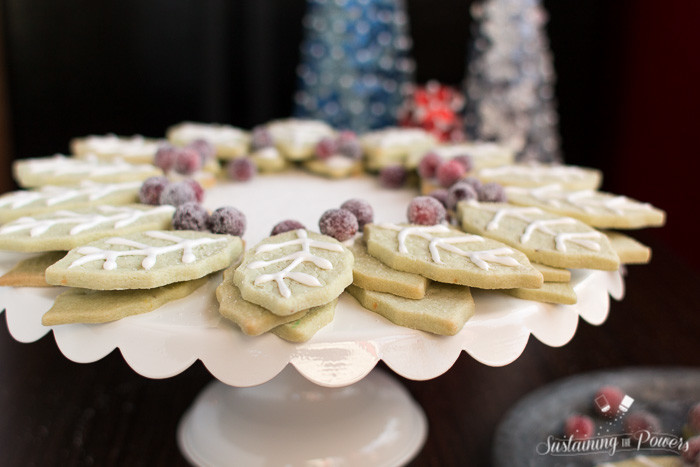 Some tips for stacking a wreath: "Glue" each of the bottom layer of cookies to your plate with a dot of icing so it doesn't slip and slide around. This is especially important if you're going to transport the stack after assembly. (*cough* Or for a photo shoot. *cough* Learn from my mistakes y'all.) I ultimately decided to add the cranberries to the second (middle) level rather than on the top, so I stacked some of the ends of the middle layer of cookies in more towards the center of the wreath. They stuck out like a little shelf and I had room to attach the sugared cranberries to them. (See the photos if this doesn't make sense.) Alternate the tips of the leaves around the outside if you can for a more natural look. Mine had 3 layers, but 4 or even 5 would have worked just as easily.
What's your favorite kind of Christmas Cookie? Be sure to check out the hashtag #sweetestseasoncookies to find the other recipes in the Sweetest Season Cookie Exchange and enter the giveaway.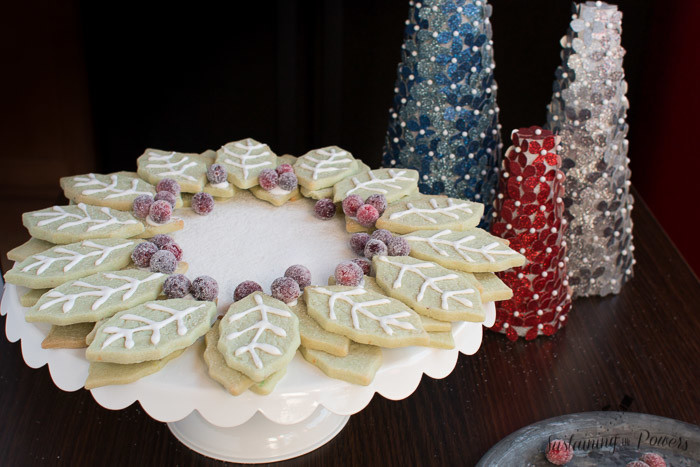 Pistachio Sugar Cookies with Sugared Cranberries
2015-12-07 00:15:15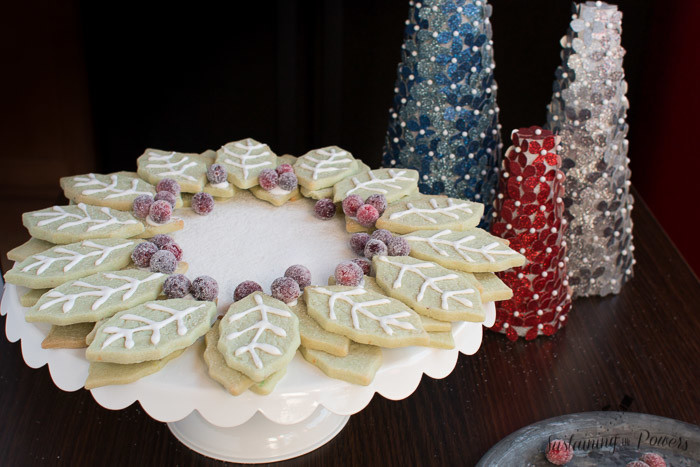 Ingredients
3/4 cup (1.5 sticks) unsalted butter, softened
3/4 cup granulated sugar
1 large egg
2 teaspoons vanilla extract
2 1/4 cups (281g) all-purpose flour
1/2 teaspoon baking powder
pinch of salt
1 box (3.4 oz) pistachio instant pudding mix
Instructions
In a mixer with the paddle attachment, cream the butter.
Add the sugar and beat on high for about 3 minutes until it's light and fluffy, scraping down the bowl to thoroughly combine.
Add the vanilla and the egg, and beat on high for about 2 minutes until fluffy and thoroughly combined.
In a separate bowl, stir together the flour (I prefer to weigh my flour to get correct measurements), baking powder, salt, and pudding mix.
Turn the mixer on low speed, and slowly add the flour mixture, beating until combined, but don't over mix.
Divide the dough into 2 halves and roll each ball out into 1/4" thick sheets on a piece of parchment paper using flour if needed to keep it from sticking to the rolling pin.
Stack the two dough sheets on top of each other on a cookie sheet and refrigerate for at least an hour.
Pre-heat oven to 350 degrees.
Working with one dough sheet at a time, remove dough from the fridge and use your cookie cutter to cut leaves (or other shapes) from the dough. Re-roll the leftover dough and chill in the fridge while you work with sheet #2. Continue rolling and cutting until all dough has been cut.
Place cut cookies on a parchment or silpat lined cookie sheet and bake for 8-10 minutes, or until edges just begin to brown. (You want them to stay green, so watch closely.)
You will probably need to work in batches to bake them all, so keep the cut cookies chilled in the fridge until right before they go into the oven to get the best shapes.
Remove to a wire rack to cool and then decorate as desired. See options in the post above, and be sure to leave a few hours for the icing to set before you stack them.
Store in an airtight container for up to a week.
Notes
Gluten-free: This should work really well with gf flour.
Vegetarian: These are vegetarian.
Vegan: The pistachio pudding mix is pretty essential to the flavor, but a bit of food coloring and some chopped pistachios might work as substitute.
Adapted from Sally's Baking Addiction
Sustaining the Powers https://www.sustainingthepowers.com/
I received free product from Imperial Sugar, Dixie Crystals and Bob's Red Mill as part of The Sweetest Season Cookie Exchange. As always, all opinions and recipe are my own. Thanks for supporting the brands that support Sustaining the Powers!
Meal Plan Monday 12/7-12/13
---
I'm having technical difficulties, so sorry y'all, but there's no printable this week.
This meal plan is designed to feed approximately 4 adults at each meal or two adults with lunches left over. Feel free to double or add to it as needed.
Monday: 5 Ingredient Broccoli Cheese Soup from Budget Savvy Diva (gluten-free, vegetarian option)
Tuesday: My Mexican Lasagna (gluten-free option)
Wednesday: My Spanish Lentil Stew (lentejas) (gluten-free)
Thursday: Slow Cooker Chicken, Potatoes and Veggies Dinner from A Savory Feast (gluten-free)
Friday: Pizza Night! With my Perfect Pizza Dough and your favorite toppings.
Saturday: Date Night – Eat Out.
Sunday: Y.O.Y.O. (You're on your own.)
Linked up with: