These chewy Pumpkin Spice Snickerdoodle Cookie Bars taste just like Fall! Not to mention they're a lot less work than regular cookies. A new Fall favorite!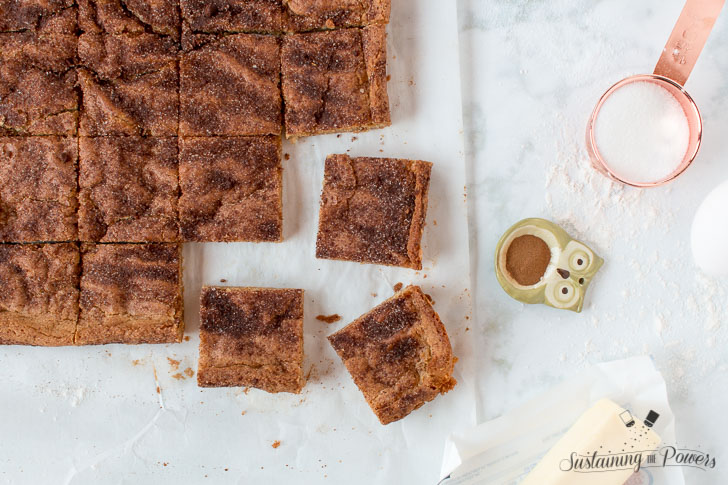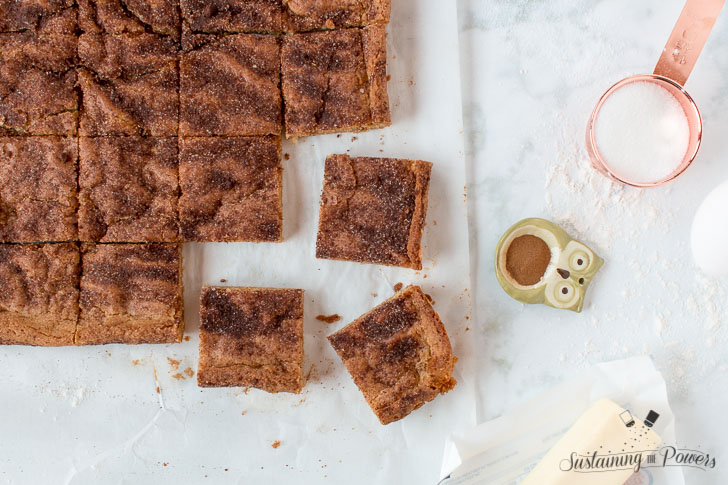 I actually created this recipe back in August, and have been holding on to it until it was "officially" pumpkin spice season. Now that September 1st has come and gone, it seems like everyone is ready to welcome Fall and all the yummy food things that come along with it! I took these snickerdoodle cookie bars along with me to visit a friend in California a few weeks ago as a hostess gift. She and her family were so polite in only eating a couple per day, so I wasn't sure if they really liked them or they were just being kind. But I had to laugh when she told me as I was packing to leave "Now that you're leaving, I can stop being polite and come home and eat all the cookie bars by myself!"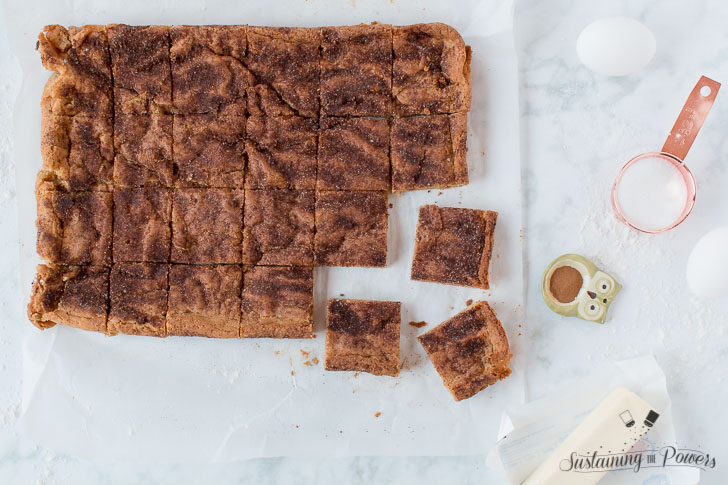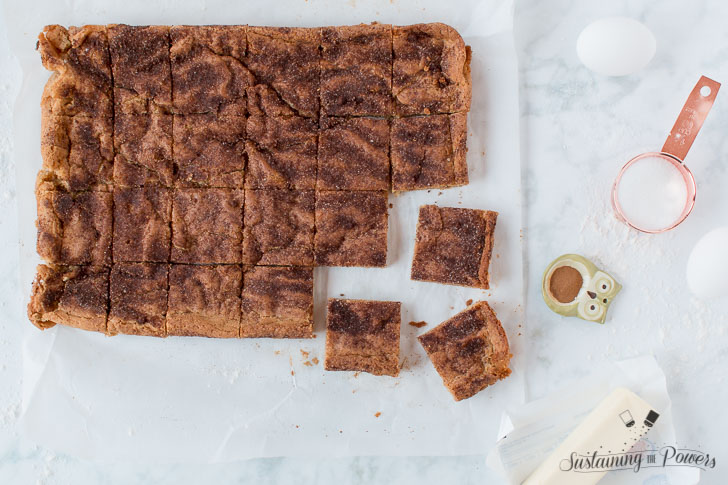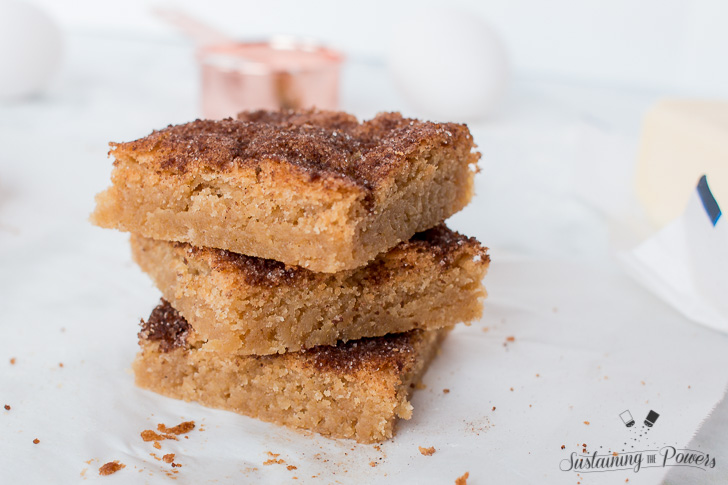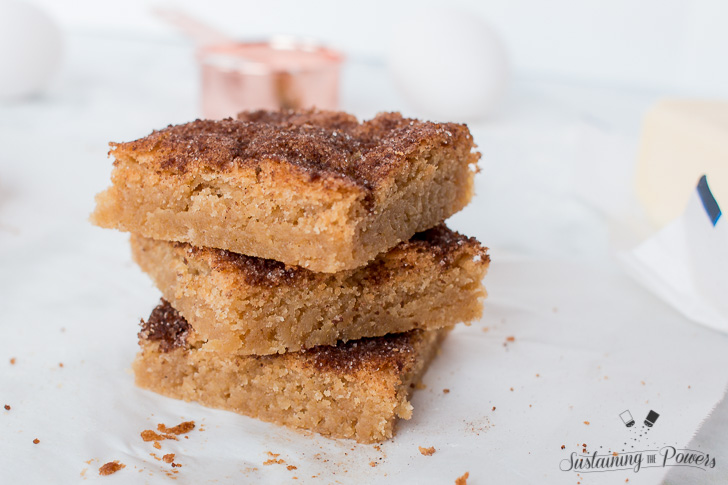 I made the batch in the photos later that week and they are delicious both with and without the pumpkin spice. Half of these went with me to coffee at a friend's house and her kiddos gobbled them up and asked for more twice! So, they have been kid tested, and ruled to be "delicious cookie! More please!" (Hubby also ate all but one of the remaining cookie bars out of the pan later that night. I can't decide if I should make more so I can have some, or not make more of the dangerously delicious cookie bars.)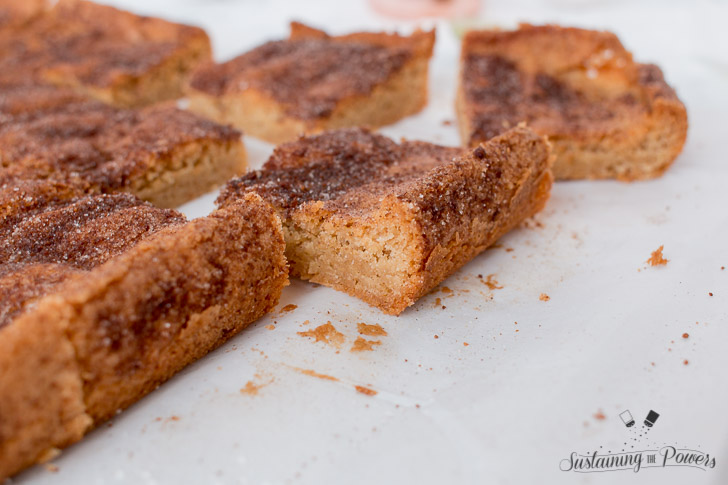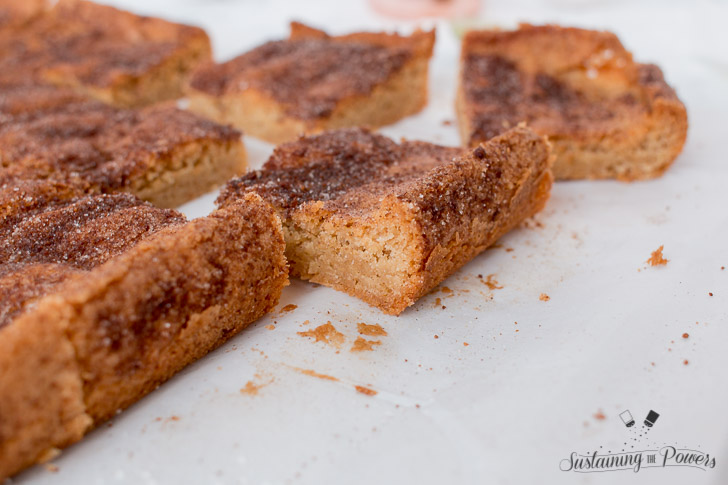 Since moving to Colorado from sea level (about 10 years ago now! Crazy!), I have had the hardest time baking cookies. Especially the varieties that require lots of butter and sugar. They tend to look great in the bowl and slowly spread out into oblivion when they're in the oven. So I've had many a failed attempt at a snickerdoodle cookie. Which is quite sad because cinnamon and spice is one of my favorite flavors. I've tried all the high altitude baking tips, different oven temps, chilling, freezing, you name it, I've given it a shot, and it still never works out. Whereas the exact same recipe will be total perfection in Texas. Thanks altitude.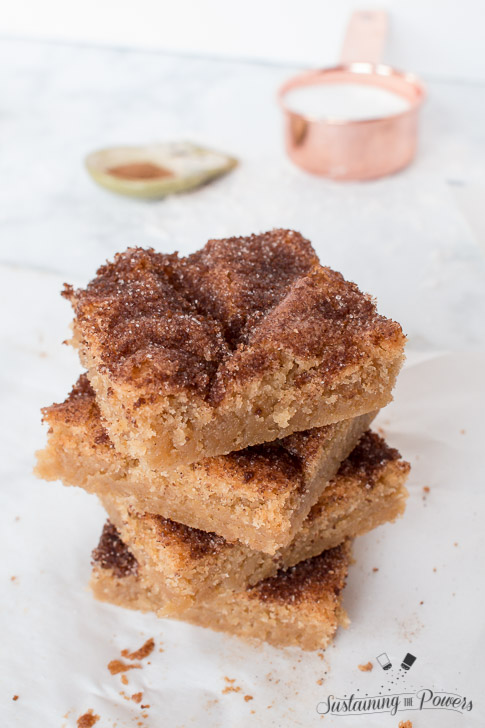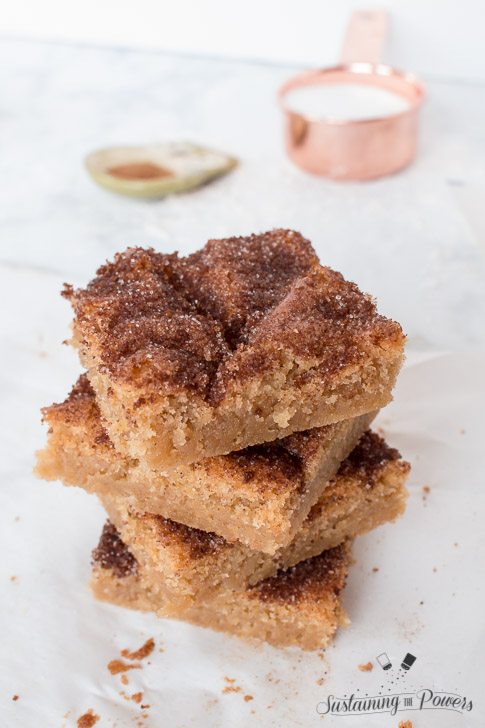 Recently, I finally gave up and started making cookie bars instead and it has been amazing! First, it's half the work (or less) because you don't have to make all the balls of dough, and bake several batches at a time – you just dump it all in in a greased pan and bake it up in one go. Second, they end up nice and thick and chewy, which is my favorite way to eat a cookie! These turned out extra soft and chewy because of the nature of snickerdoodle cookie dough. Mmmm. (I think I'm convincing myself to make another batch as I write this…) I hope you enjoy them!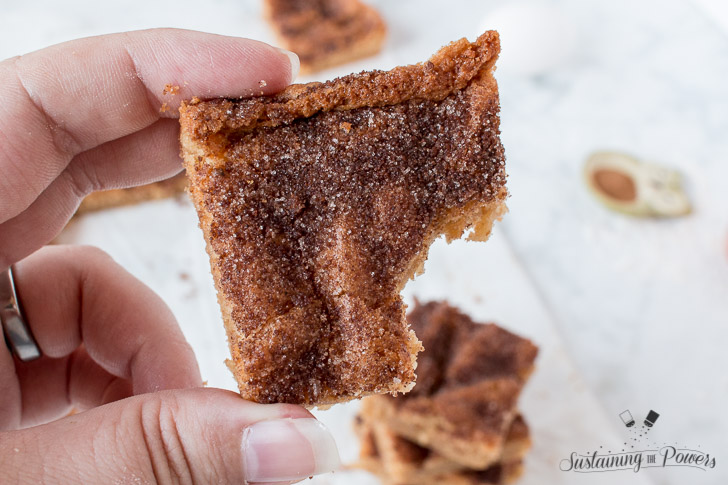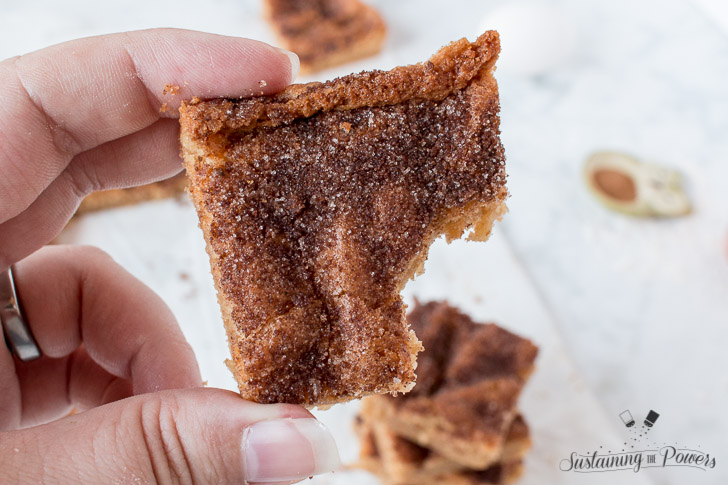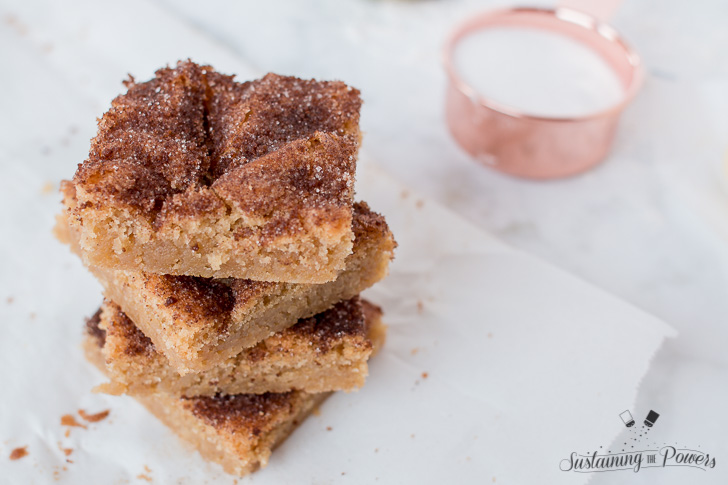 Pumpkin Spice Snickerdoodle Cookie Bars
2016-09-06 19:05:16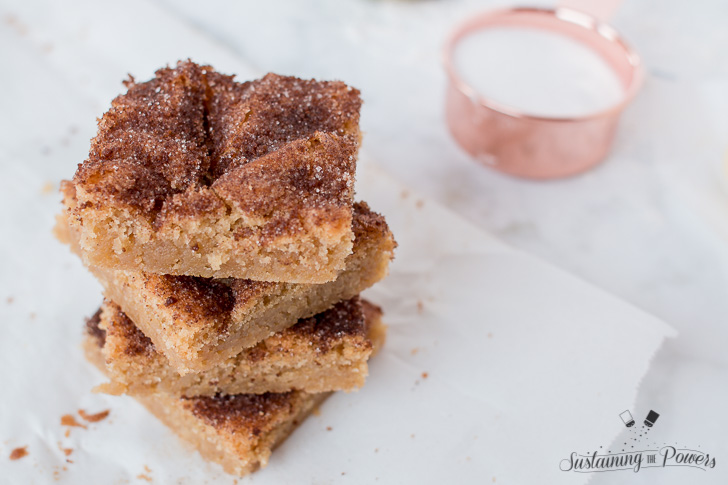 Ingredients
2 1/2 cups (313 grams) all-purpose flour
1 1/2 teaspoons baking powder
1 teaspoon cream of tartar
1/2 teaspoon salt
1/2 tsp pumpkin spice (make your own with this recipe)
1/2 tsp lemon zest (I prefer powdered but you can use fresh zest)
1 1/4 cup white sugar
3/4 cup brown sugar
1 cup (2 sticks) butter, room temp
2 eggs, room temp
1 1/2 tablespoons pure vanilla extract
Instructions
Preheat oven to 350 degrees.
In a medium bowl, combine flour, baking powder, cream of tartar, salt, 1/2 tsp pumpkin spice, and powdered lemon zest.
In a stand mixer (or hand mixer), beat butter on medium speed until creamed.
Slowly add in the sugar and brown sugar and beat on medium-high speed until fully combined and fluffy.
Add in each egg, one by one, and then the vanilla, and continue with the mixer on medium-high speed until fully incorporated.
Reduce the speed to medium-low and slowly add in the flour mixture, until the dough has formed and fully-mixed, scraping down the sides of the bowl with a spatula as needed.
Grease a 9x13 pan (or line with parchment) and press the dough out into the bottom of the pan in an even layer.
Combine 3 tablespoons brown sugar, and 2 teaspoons pumpkin spice in a small bowl and sprinkle evenly over the top of the dough in the pan.
Bake for 25-30 minutes, or until the edges begin to brown and a toothpick inserted in the center comes out clean.
Cool on a cooling rack and slice cookie bars into squares.
Notes
The top of the cookie bars will usually crack due to the cream of tartar. This is normal.
Powdered lemon zest is sold in most spice sections (McCormick makes one I've seen often.) You can also use fresh zest, make your own powdered zest with this quick recipe or simply leave it out. I personally think it adds a nice little extra to the flavors, but it's not required.
I prefer to make my own pumpkin spice using this recipe.
Gluten-free: This is not gluten-free, but should work great with a GF flour blend.
Vegetarian: This is vegetarian.
Vegan: Use a vegan butter such as earth balance and your favorite liquid egg replacement.
Adapted from Five Heart Home
Sustaining the Powers https://www.sustainingthepowers.com/
Pin these Pumpkin Spice Snickerdoodle Cookie Bars for Later!