Cherry Tomato Focaccia is the perfect side for any meal!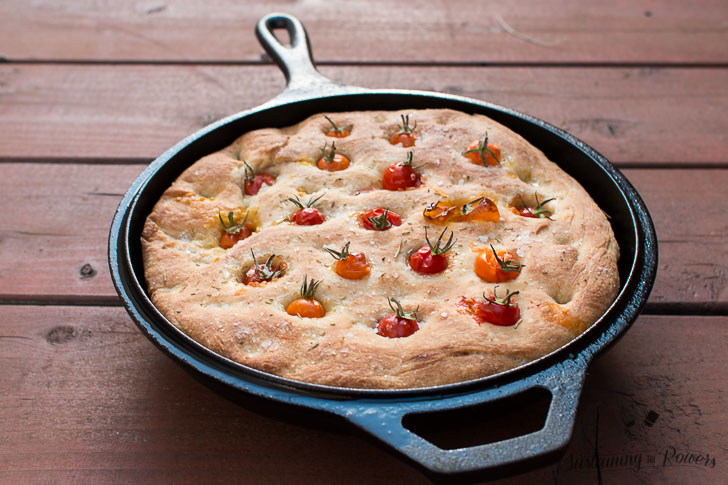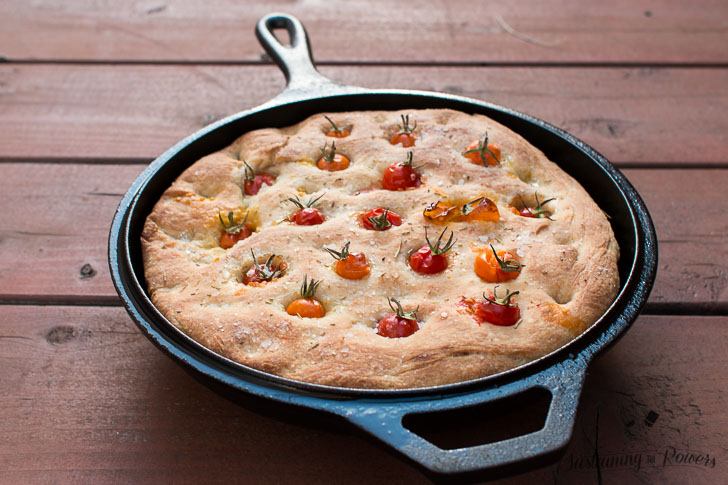 I am so excited because for the first time, I have a garden that is producing veggies!! In the past, I've had great luck with strawberries and raspberries, but my vegetable garden has had a lot of trouble getting going. I've learned a ton over the past few years, and it all seems to finally be coming together to result in more than just a couple things harvested per plant! I'm hoping to write up some garden posts here soon so I can share some of the lessons I've learned the hard way.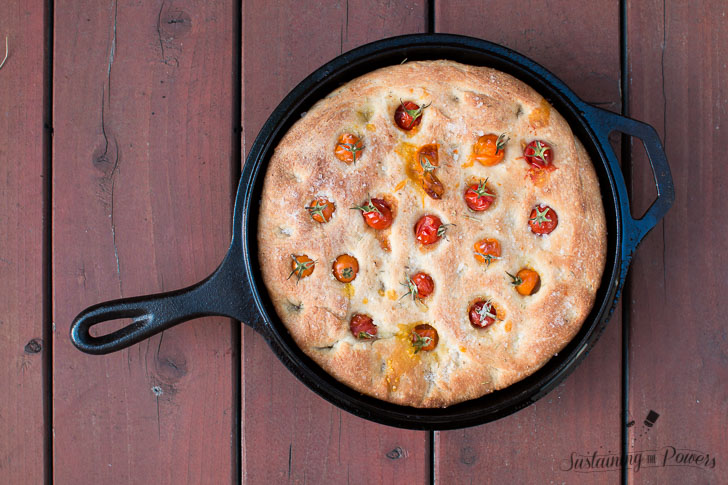 In the meantime, I have had cherry tomatoes coming out of my ears. I go out in my garden each day and harvest a couple handfuls of super sweet cherry tomatoes. I actually don't like raw, regular tomatoes (it's a texture thing) but I can totally eat these just like candy. I've been slipping them into my baked eggs and recently decided to try turning them into a topping on my focaccia.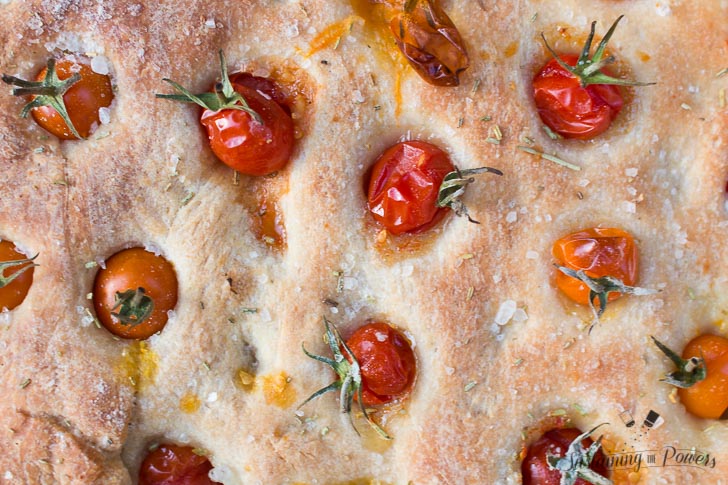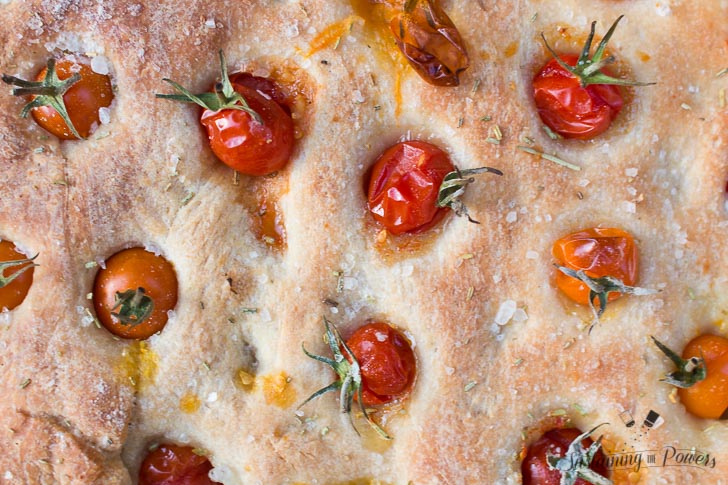 Focaccia is a yeast dough that's made much like a pizza dough. By adding a bit of extra olive oil to it and baking it in a hot cast iron skillet, you get a lovely crust on the bread that just can't be beat. I really love to try out new toppings on my focaccia each time I bake it, so my glut of cherry tomatoes were bound to find their way on top eventually. We really enjoyed this recipe, and devoured it alongside a batch of my Mexican Lasagna. I hope you enjoy it as much as we do!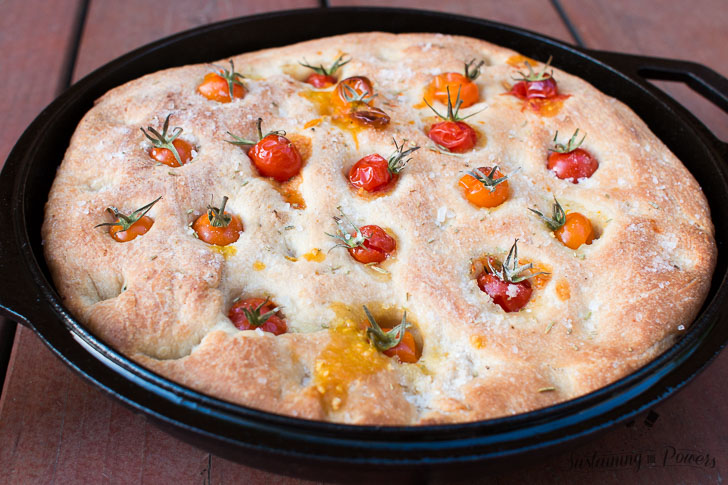 Cherry Tomato Focaccia
2016-08-23 18:30:10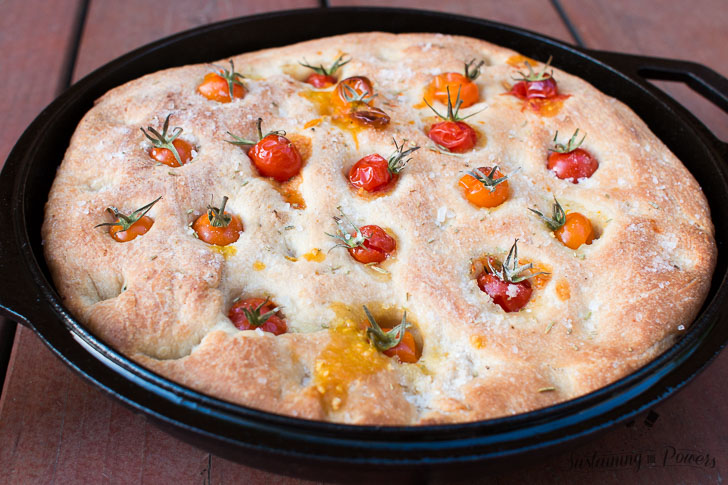 Serves 6
For 10" skillet
1/3 recipe of my Perfect Pizza Dough
15 cherry tomatoes, pierced once with a fork so they don't burst in cooking
1 teaspoon kosher salt
4 tablespoons Extra Virgin olive oil
Instructions
Prepare pizza dough as directed in the recipe and allow it to rise for about an hour, or until doubled in size. Punch down dough.
Coat the bottom of the cast iron skillet with a thin layer of olive oil.
Pre-heat the oven to 450 degrees. (Make sure your oven is clean first, or food residue may catch fire at this temp.)
Stretch the dough ball out in the center of the skillet until it's about an inch thick and allow it to rise a second time until it fills the pan, about 30 minutes. You don't want to stretch the dough too thin, so it will only fill the skillet about 2/3 way before the second rise.
After the dough has finished rising the second time, use your fingertips to gently dimple the top of the bread, giving it that definitive focaccia texture.
Brush a thin layer of olive oil across the top of the bread and top with cherry tomatoes, pressing them into the surface so they won't pop out while cooking.
Add a bit of kosher or sea salt to finish the bread.
Bake in the oven for about 20 minutes, or until the top of the bread is a nice golden brown.
Slice and serve while hot!
Notes
Gluten-free: This is not gluten-free.
Vegetarian/Vegan: This is vegan.
Sustaining the Powers https://www.sustainingthepowers.com/
Pin this Cherry Tomato Focaccia recipe for later!