**Update: Interested in the flavors, but don't want all the carbs in the rice? Check out Make for 365's Orange Coconut Sticky Rice Cocktail inspired by this recipe. It's just as yummy!**
I originally planned to post my Mexican Lasagna this week, but when I checked the fridge yesterday, there weren't any leftovers for me to photograph! The good news is, I have something sweet to share with you instead and we'll just have to get to the lasagna another time. (Edit: My recipe for Mexican Lasagna is here!)
Late last night, I was sitting here brainstorming blog ideas and I came across this recipe by the Kitchn for Mango Sticky Rice. Mango Thai sticky rice is one of my favorite restaurant desserts. Even if I'm full, I order it anyway because it's just that good. I think it's because it has just enough sweet to be a dessert without becoming cloying, and the coconut milk makes the rice so creamy and rich you can't help devouring the whole plate.
Lucky for me, I had just made some rice cooker sticky rice to go with chicken sausages for dinner and I had a can of coconut milk (or 6) in the pantry from a crazy sale at Sprouts when they were $0.25/each. (I knew I needed it for something besides my Chicken Coconut Curry!) Sadly, I didn't have any mangoes on hand. It's never really mango season here in Colorado, and even if I had some, I haven't had very good luck slicing them. We don't play well together.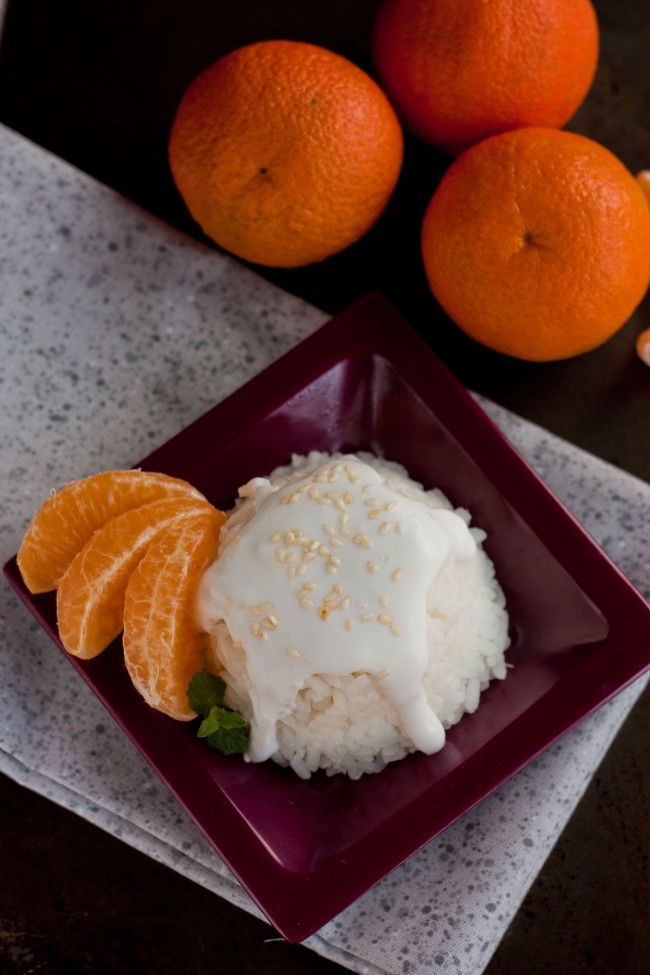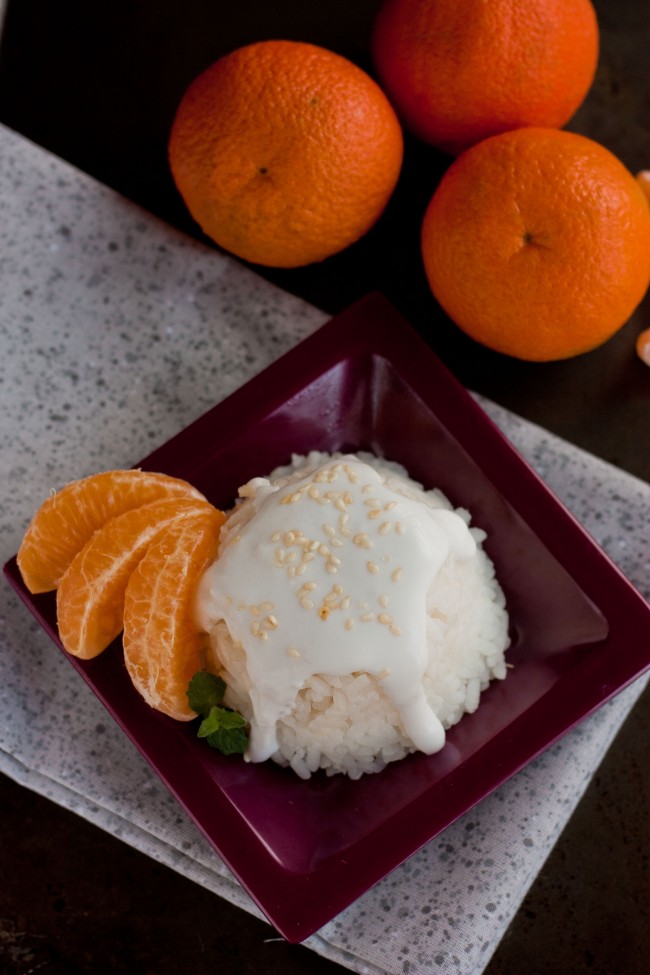 At this point, my heart was set on sticky rice, so I started scouring my pantry for some fruit that could substitute. I looked at the can of fruit cocktail, but it seemed like such a let down compared to the mango. The cherry pie filling was going to be too sweet, and I wasn't sure about the canned pumpkin. (I may get brave and try it later.) Then, I opened the fridge and spotted the bag of cuties. Bingo! I had found a winner.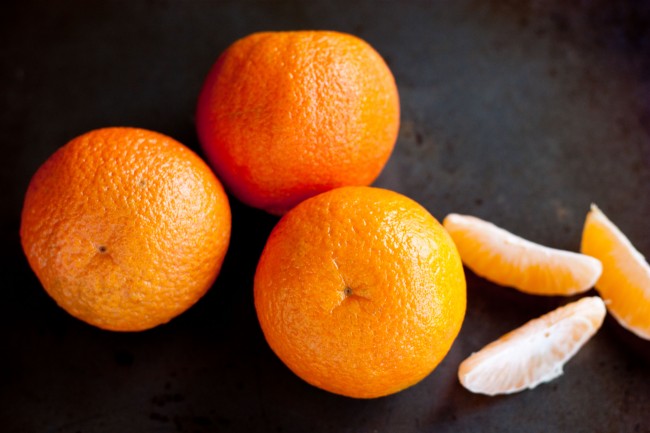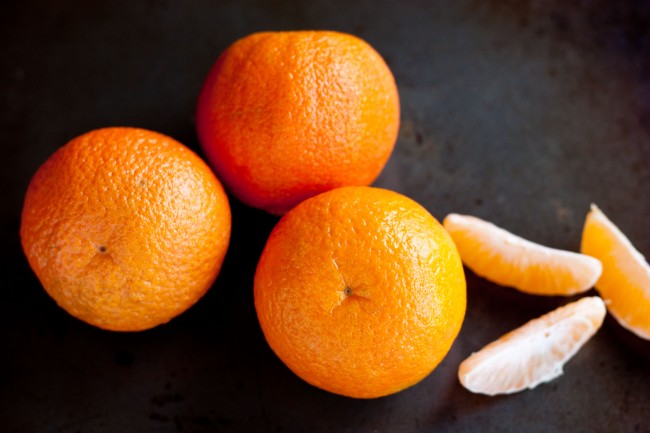 Since I already had the rice ready, this recipe went together super fast. All I had to do was separate the can of coconut milk, make the two sauces and assemble the dish. Then I went back down to the basement where I wouldn't bother my sleeping husband and ate one two three servings of orange coconut sticky rice as my midnight snack. I think I have found my next favorite go-to dessert. If I had known it was this easy to make Thai sticky rice at home, I would have tried it ages ago! I really like what the bright, sweet orange added to this dish. It's definitely a departure from the traditional mango, but I think it's just as wonderful. As a bonus, this is vegan and gluten-free. I hope you enjoy it as much as I do!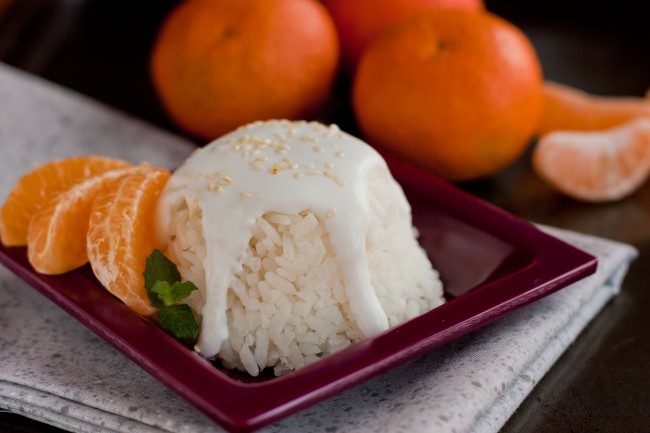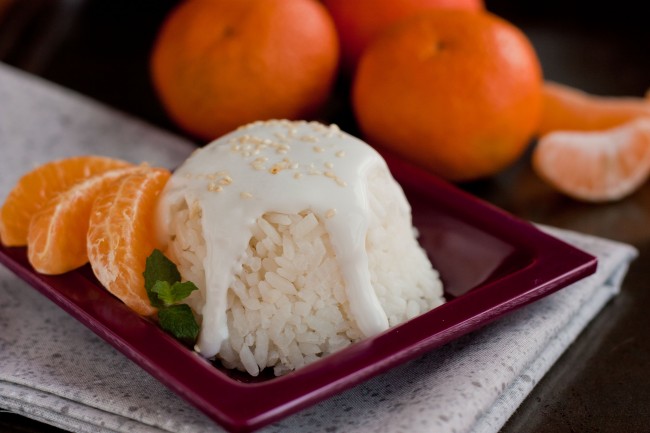 Note: This recipe assumes you have a rice cooker. For stovetop directions, I prefer to use Alton Brown's recipe here cut in half.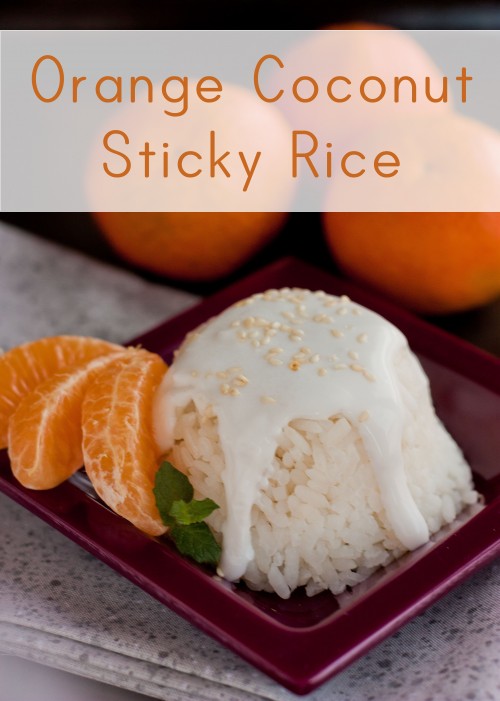 Orange Coconut Sticky Rice
2014-01-02 21:22:26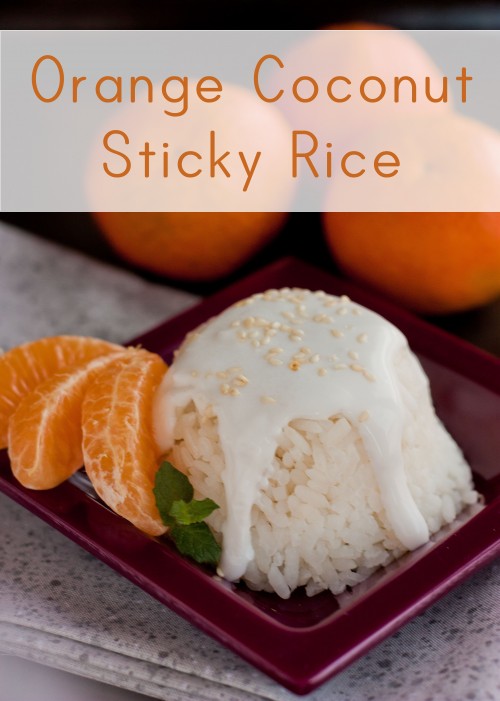 Serves 6
An orange variation on a classic Thai sticky rice with coconut syrup.
For Basic Sticky Rice
1 cup uncooked sticky rice (sometimes called sushi rice or glutenous rice)
1 cup water
1 tablespoon rice vinegar
1 tablespoon sugar
1/4 teaspoon salt
For Orange Coconut Sauce
1 can coconut milk, unshaken (full-fat, not lite)
4 tablespoons raw or white sugar, divided
1 teaspoon salt, divided
1/2 teaspoon tapioca flour (or cornstarch)
2 teaspoons water
5 ripe, sweet Clementine oranges
Toasted sesame seeds to garnish
Basic Sticky Rice
Place uncooked rice, water, rice vinegar, salt and 1Tbsp sugar in your rice cooker and stir. Turn on the rice cooker, wait for it to finish the cooking cycle (20-30 min), then let rice stand with the lid open for an additional 5-10 minutes.
Open the unshaken can of coconut milk and separate the white, milky cream on top from the water on the bottom into two bowls.
Pour the coconut water into a small saucepan on the stove. Stir in 2 Tbsp of sugar, 3/4 tsp salt, and the juice from 1 clementine. Heat on medium for about 5 min. until warm. Do not let it boil.
When the coconut water sauce is warm, pour over the prepared sticky rice in the cooker until the rice seems saturated, but not soupy. You may not use all the sauce. Leave it to absorb for about 15 min.
Discard any remaining water sauce and add the coconut milk cream to the small saucepan. Dissolve the tapioca flour in 2 tsp water. Whisk the 2 Tbsp sugar, 1/4 tsp salt and water with tapioca into the coconut milk cream. Heat on medium low for about 3 min until warm. Do not boil. It will thicken as it stands.
Peel and section the remaining clementines.
To serve, place about 1/2 cup of coconut sticky rice on a small plate or bowl, top with clementine sections and drizzle with coconut milk cream sauce. Sprinkle toasted sesame seeds on top as a garnish.
Notes
I use Botan Calrose rice because it's available at most grocery stores, but any Asian grocery store will have sushi rice. If you don't care about texture, regular white or brown rice will do, it will just end up soupy like rice pudding instead of sticky.
Adapted from The Kitchn
Sustaining the Powers https://www.sustainingthepowers.com/
What's your current go-to dessert?