Texans absolutely love fajitas. We go crazy for the sizzling spiced meat and sweet roasted veggies wrapped in a fresh tortilla. I have fond memories of sharing an order of fajitas with my dad every time we went to our favorite Mexican restaurant, El Poblanito. It was a place we visited almost once a week; the owners knew us by name and knew our orders by heart. Now that I live in Colorado, it's very rare that I see fajitas on a menu, so I've had to learn to make them myself. Through trial and error, I've come up with a recipe I love. The biggest secret to tender fajitas is not the just the marinade, but the way you prepare and cut the meat.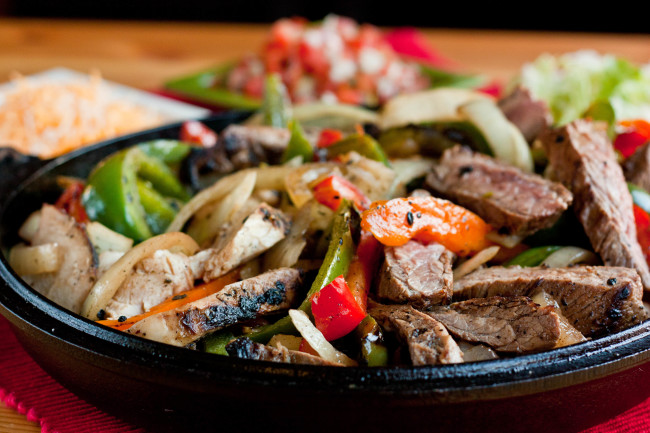 There are tons of fajita marinades out there, but the best contain an oil, an acid, spices, and salt. I like to use a combination of lime juice, orange juice, canola oil, cilantro, garlic, cumin, cayenne, Worcestershire, salt, and black pepper. If I want to add some extra kick, I throw in some diced jalapenos. Marinating meat breaks down the fatty connective tissues, imparts flavor and tenderizes.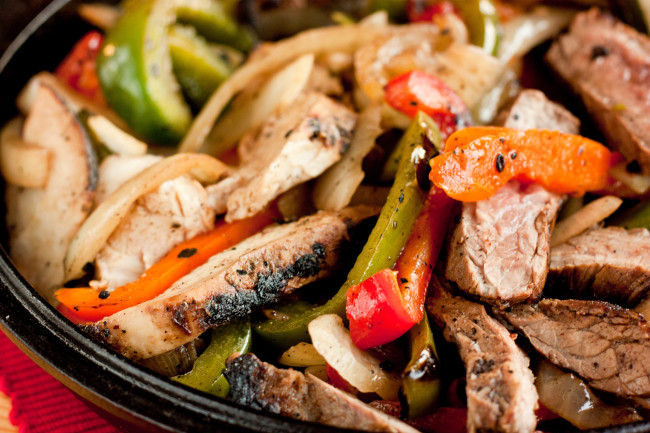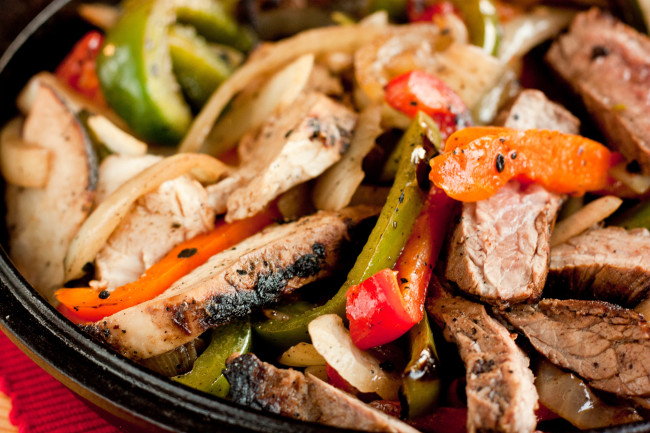 Chicken is fairly easy to marinate and then toss on the grill straight out of the fridge, but skirt or flank steak requires some extra finesse to keep it from ending up rubbery and tough. Steak fajitas need some time to come to room temperature before you put them on a hot grill. This prevents the steak fibers from shrinking away from the grill and becoming tough (and is a great steak tip for any cut of beef). I think chicken is great when marinated anywhere between 8-24 hours and steak is great at about 10 hours of marination time (any more, and it breaks down too much).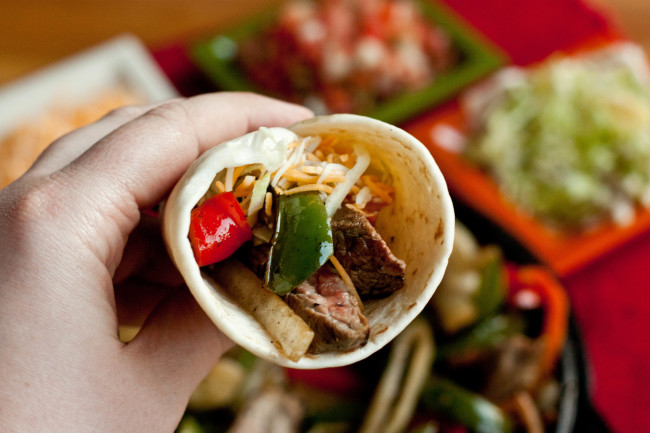 After you marinate, heat your outdoor grill with a hot tower of coals or a heat a cast iron grill pan or skillet as hot as it will go on your stove and baste it with a bit of oil. (Non-stick will not hold up very well to the amount of heat you need to cook these indoors, so I don't recommend it.) I typically leave the raw chicken breasts whole, but slice the raw skirt steak into 4 inch wide strips after marination to make it easier to work with on the grill. If you're cooking indoors, be sure to have some good ventilation, because these fajitas will smoke up a storm. Grill the meat to desired doneness and set it aside to rest for at least 10 minutes, tented with foil. Resting is a super important part of the process because it will help keep the juices in when the meat is sliced. Slicing them right off the grill results in very dry fajitas. Sauté the veggie strips in a pan while the meat rests with a bit of oil and you're almost set.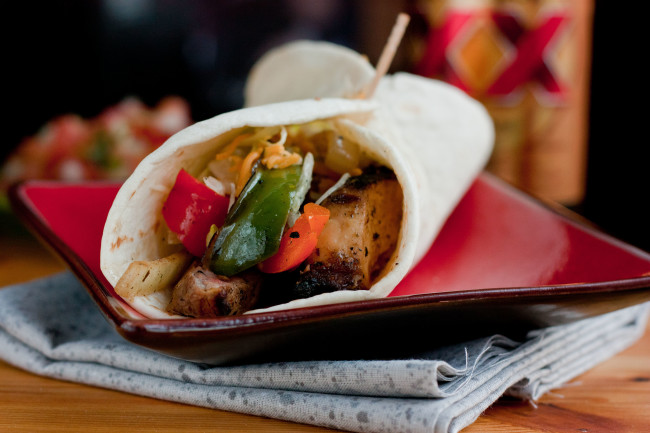 The last important step is cutting the meat. Chicken fajitas should be sliced in 1/2″ strips lengthwise along the breast. Here's a video demonstrating chicken being cut for fajitas. Steak fajitas should be cut perpendicular to the visible grain of the meat in 1/2″ strips so you get short, easy to separate fibers. If you don't know what I'm talking about, check out this great article by The Food Lab on why you should cut meat against the grain. It will forever change the way you think about cutting your steaks. Warm your tortillas and set out some cheese, sour cream, lettuce, pico de gallo, guacamole, or salsa and you are ready for your fiesta! ¡Buen provecho!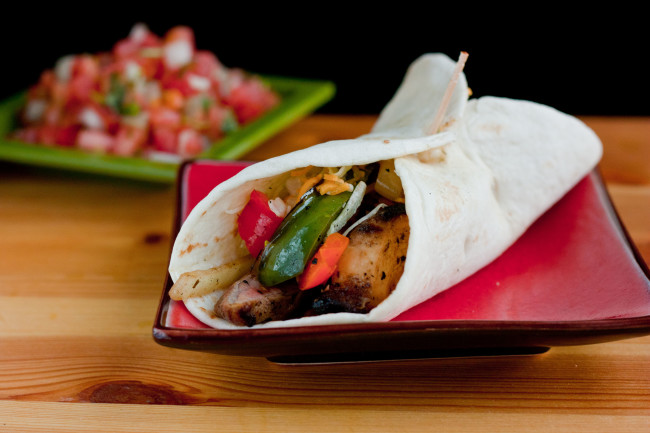 Texas Fajitas
2014-01-19 00:03:09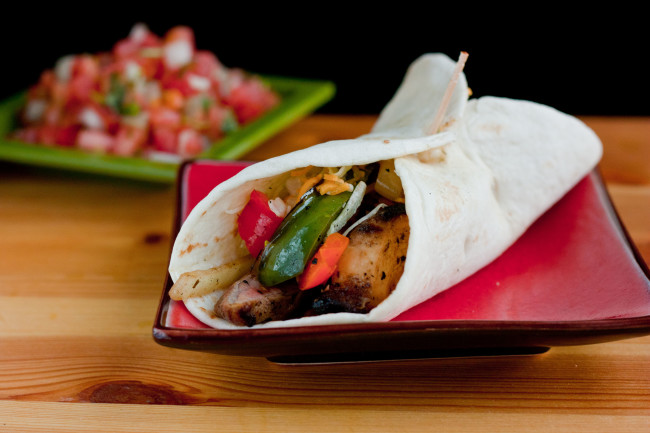 Serves 8
A Tex-Mex favorite spiced fajita meat with sweet veggies wrapped in a warm tortilla.
Marinade
4 Tbl lime juice or 2 limes, juiced
1/2 cup orange juice
3 Tbl fresh cilantro, chopped
2 Tbl garlic, minced
1 tsp worcestershire sauce
1 tsp cumin
1 tsp cayenne pepper (add more if you want more kick)
1 tsp sea salt
1 tsp ground black pepper
1/4 cup vegetable oil
2 diced jalapenos (optional for extra spice)
Meat
2 pounds skirt/flank steak (approx 1 whole steak)
or 2 pounds boneless chicken breast (approx 3 large breasts)
Veggies
1 large yellow onion, sliced
1 red pepper, sliced
2 green peppers, sliced
For Assembly
20-30 Tortillas
sour cream
cheese
lettuce
pico de gallo (optional)
guacamole (optional)
salsa (optional)
Instructions
Whisk marinade ingredients together in a large bowl.
Peel off the fatty membrane from the steak if it has been left by the butcher. Put the meat (whole) in a plastic bag and pour the marinade over top. Squish it around ensuring the meat is all covered. (If doing multiple type meats, put each meat in a separate plastic bag.) Marinate in the fridge for at least 3 hours flipping a few times to ensure coverage. I prefer chicken at about 24 hours of marination and steak at about 10 hours of marination, but don't allow the steak to go more than 10 hours or so because the citric acid will eat away too much of the fatty tissue.
Bring the steak to room temperature and slice it perpendicular to the grain into 4-5 inch wide strips. This will make it more tender and easy to work with on the grill. The chicken should not be brought to room temp first.
Heat a charcoal grill or cast iron grill pan to high heat and baste with a bit of canola oil.
Add marinated meat to the pan or grill and grill meat until cooked to desired doneness. Chicken will take 4-6 minutes per side on a stove, 2-3 min per side on a grill (150 internal temp), steak will be medium at 3-4 minutes per side on a stove, 1-2 min per side on a grill (130 internal temp). Cooking times will vary. The meat will smoke quite a bit, so be sure to have adequate ventilation if cooking indoors. Set meat aside, tent with foil, and allow it to rest for at least 10-15 minutes.
While meat rests, add a bit of canola oil to the pan, or grab a cast iron skillet for the grill and add in the onion and pepper strips tossing lightly to coat. Cook on medium-high heat until the edges are a bit charred and veggies are softened, but not mushy. About 5 minutes. You can add the resting juices from the meat to the veggies while they cook for added flavor.
Once meat has adequately rested, slice chicken into fajita strips lengthwise along the breast and at a 45 degree vertical angle to the cutting board. This will give you the most tender fajita strip. Steak strips should be sliced at a 45 degree angle to the grain of the meat.
Warm a stack of tortillas in a 200 degree oven for 2-3 minutes.
Serve meat and veggies wrapped in a tortilla with cheese, sour cream, guac/pico, and lettuce. Add a side of rice and re-fried beans for a complete Mexican meal.
Notes
Leftover fajita meat can be stored in the fridge for up to 5 days or frozen for up to 6 months.
Sustaining the Powers https://www.sustainingthepowers.com/
Recipe Remix:
Leftovers (if you have any) make great salads, quesadillas, rice bowls, nachos, scrambled steak and eggs for breakfast, pizza topping, or goes great mixed with pasta and olive oil.
What's your favorite meat marinade?