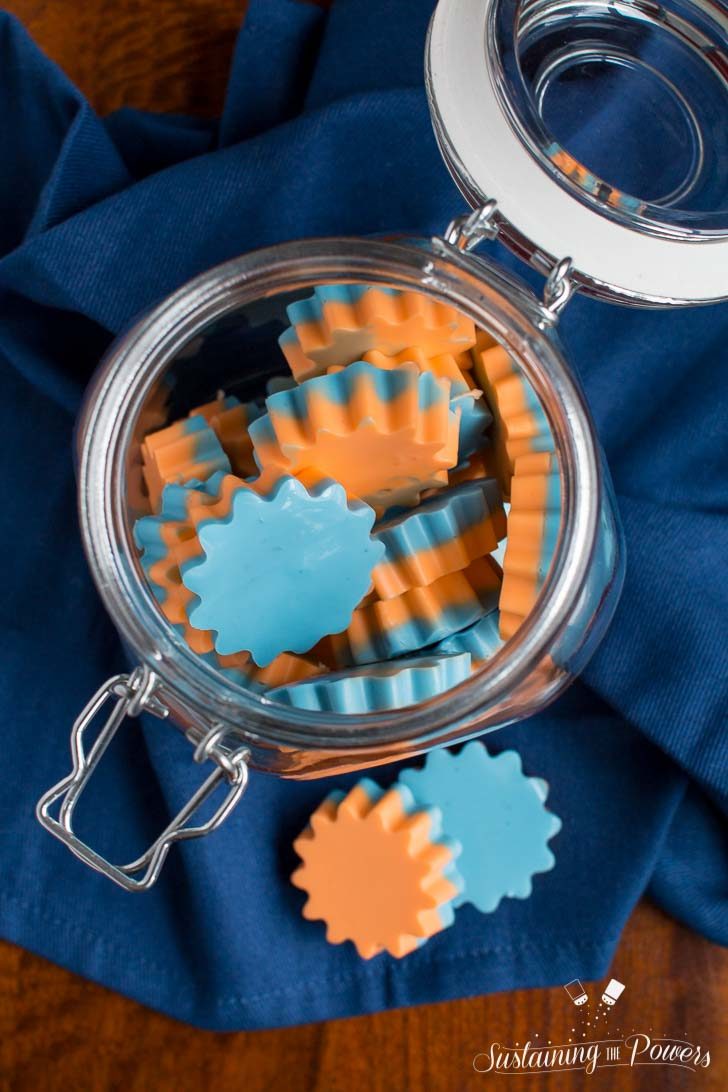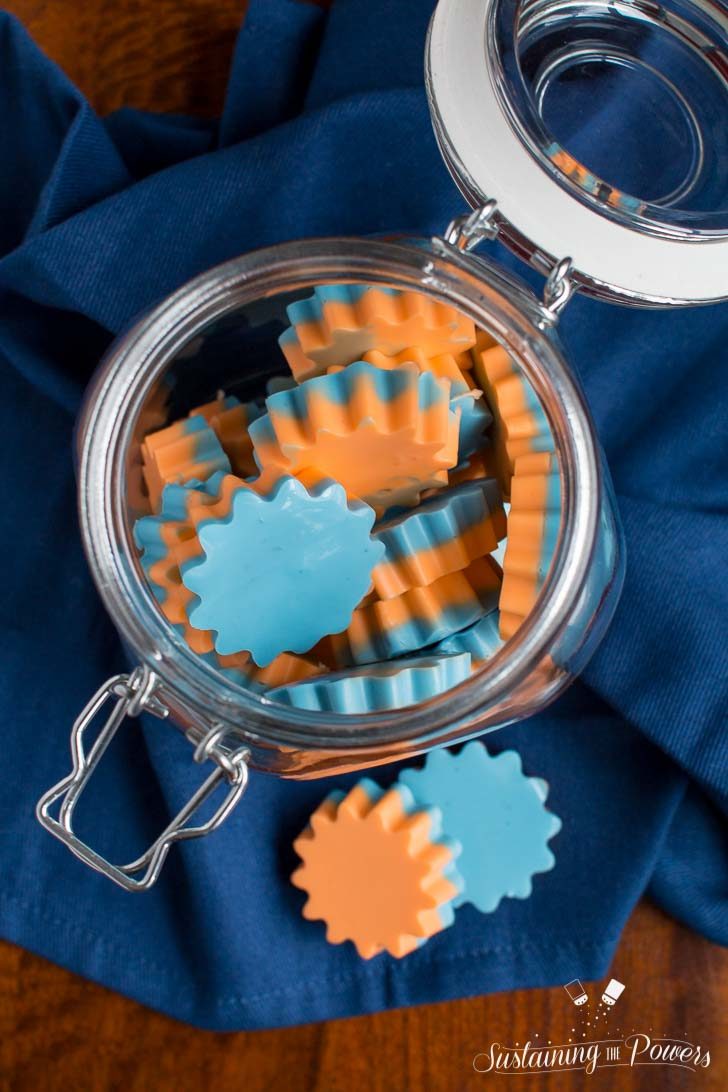 Are you ready for some football?! I sure am! I'm collaborating once again with my blogging BFFS to bring you a huge round up of team-themed football recipes. So many fun ideas! You'll find them all below the recipe.
Now that we're on a new diet, I have to re-think pretty much anything I used to make and work it into a low-carb option instead. These jello shot gummies are a favorite whether you make them with alcohol, without alcohol, or low-carb/sugar-free.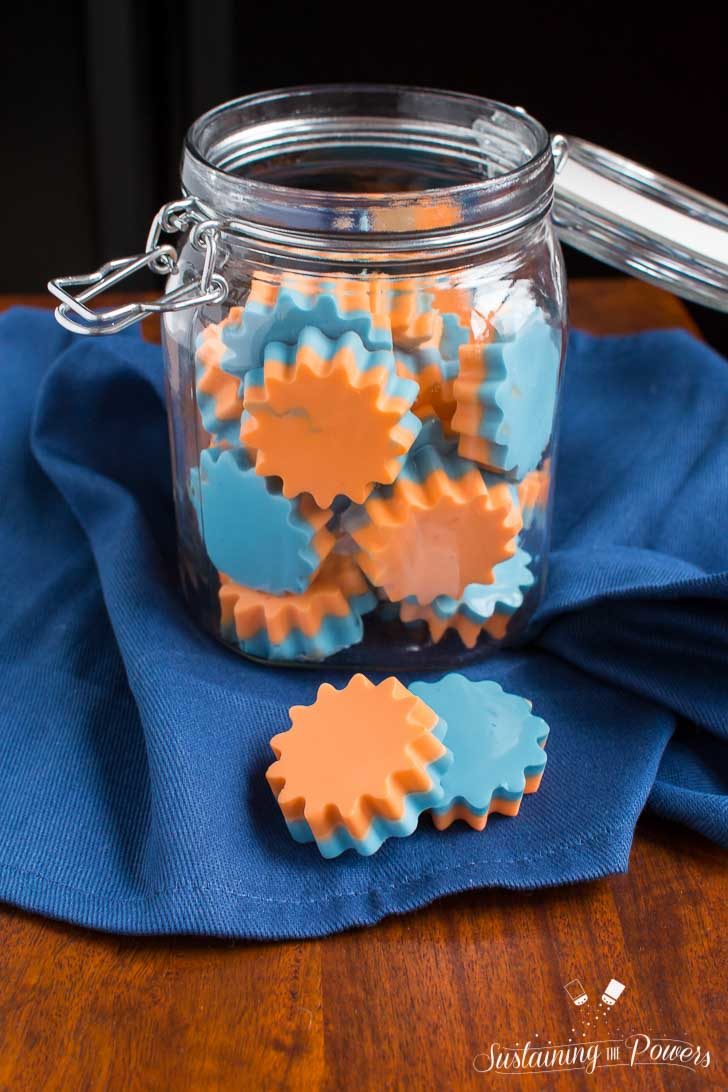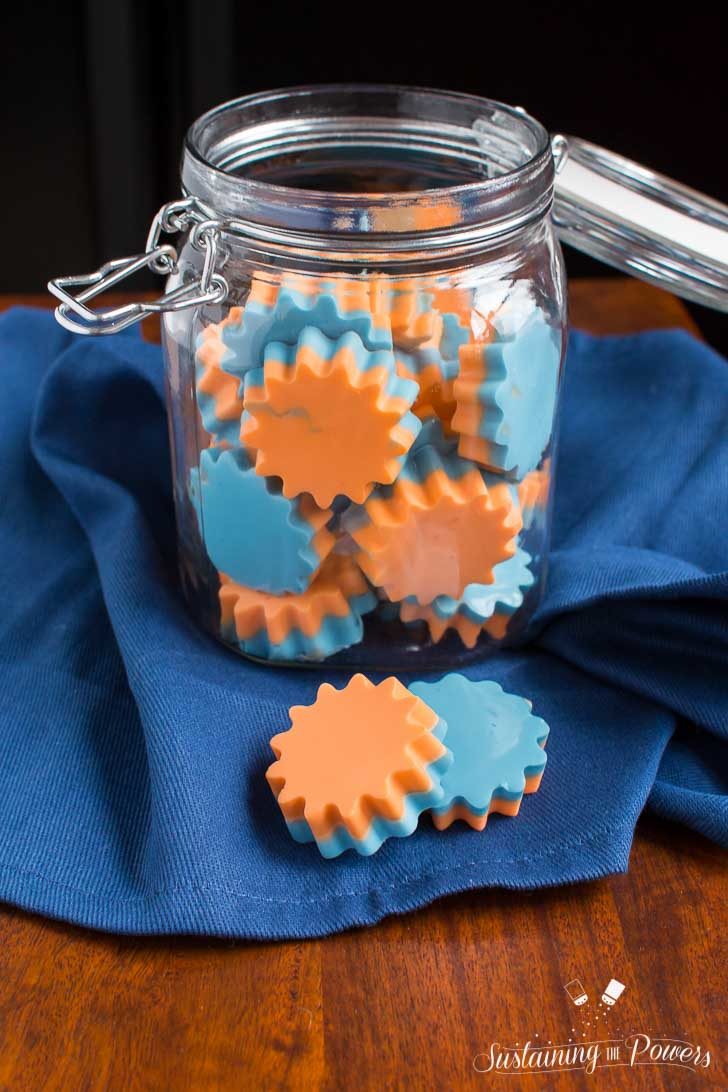 I made these often for parties back in college, and it was always nice to have the jello "shots" be stand-alone gummies rather than buying tons of those little plastic cups that made it hard to get the Jello out. Plus you can make a ton of them quickly, and then re-use your mold to make a lot in one go if you plan to have a crowd over. The only down side to making these cute little gummy jello shots is that you and your guests have to remember that there is alcohol in them, and they should be eaten responsibly. (They also should be kept away from any kiddos.)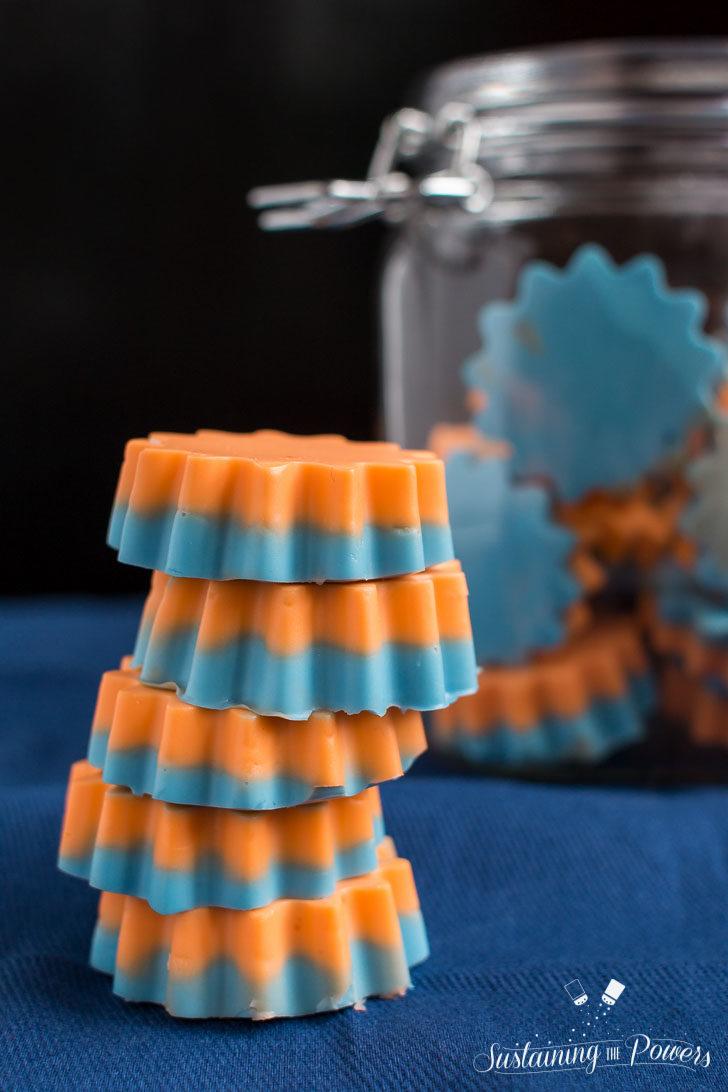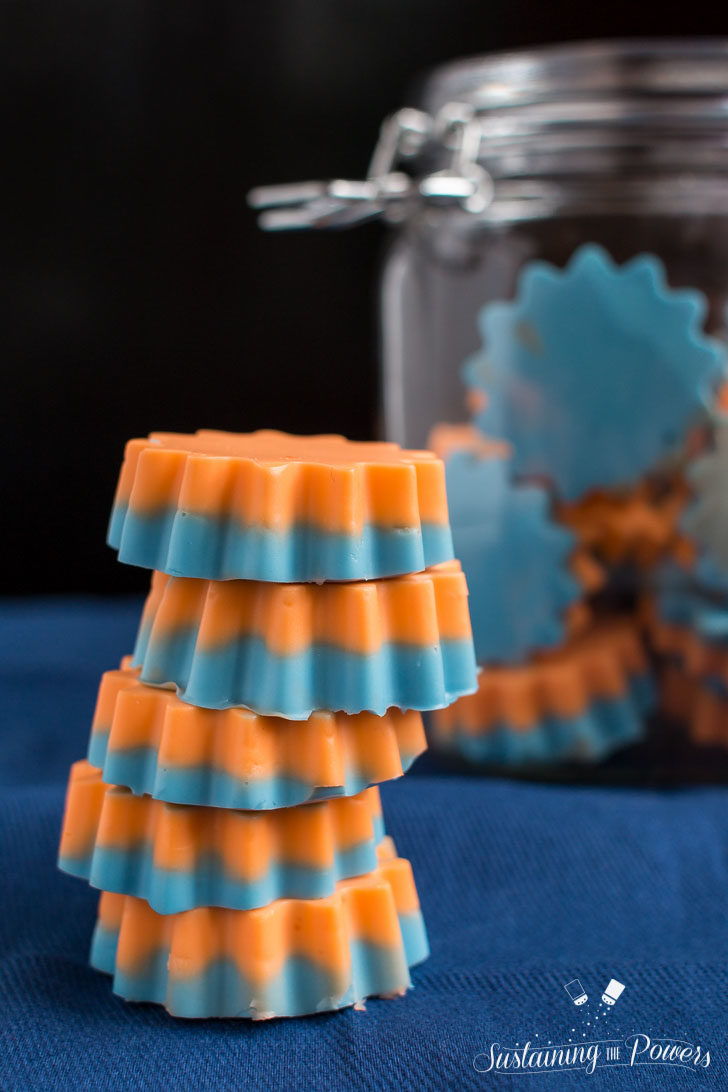 If you're not one for shots, they're also a lot of fun even without alcohol – hubby loves the sugar-free version as a low-carb dessert or sweet snack. I used a silicone star mold for mine that I had on hand, but you can make these in any mold you can find at your grocery or craft store. (Or Amazon!) And since you can make them in pretty much any flavor, shape, or color-combo, you can adapt them for any event or party you can think of!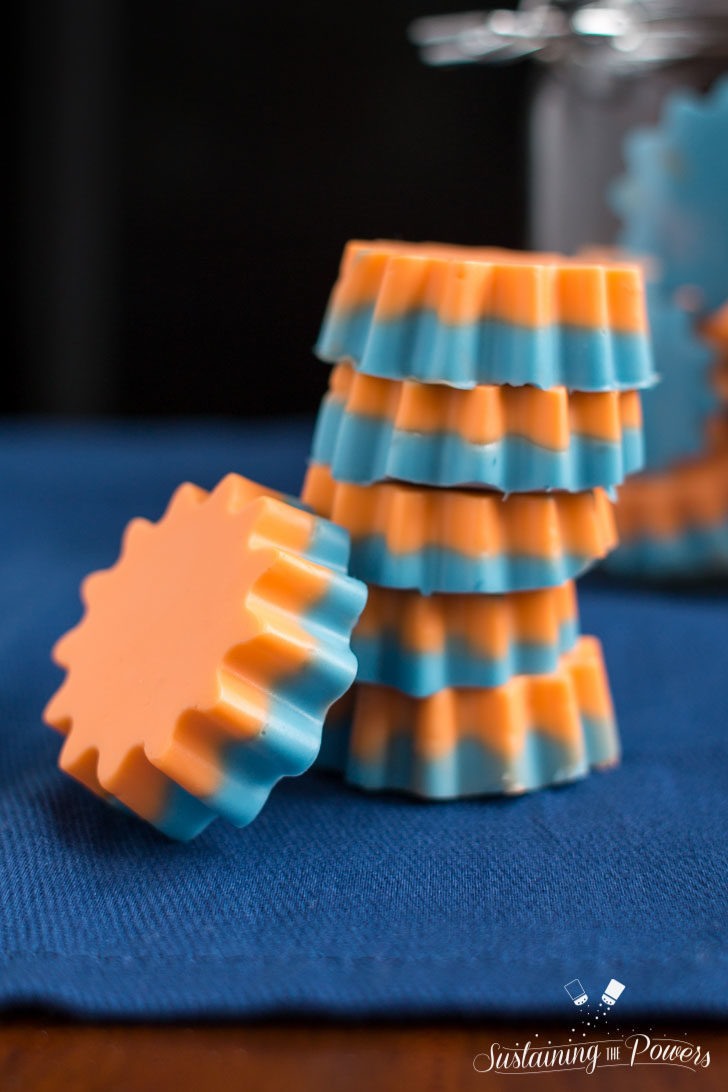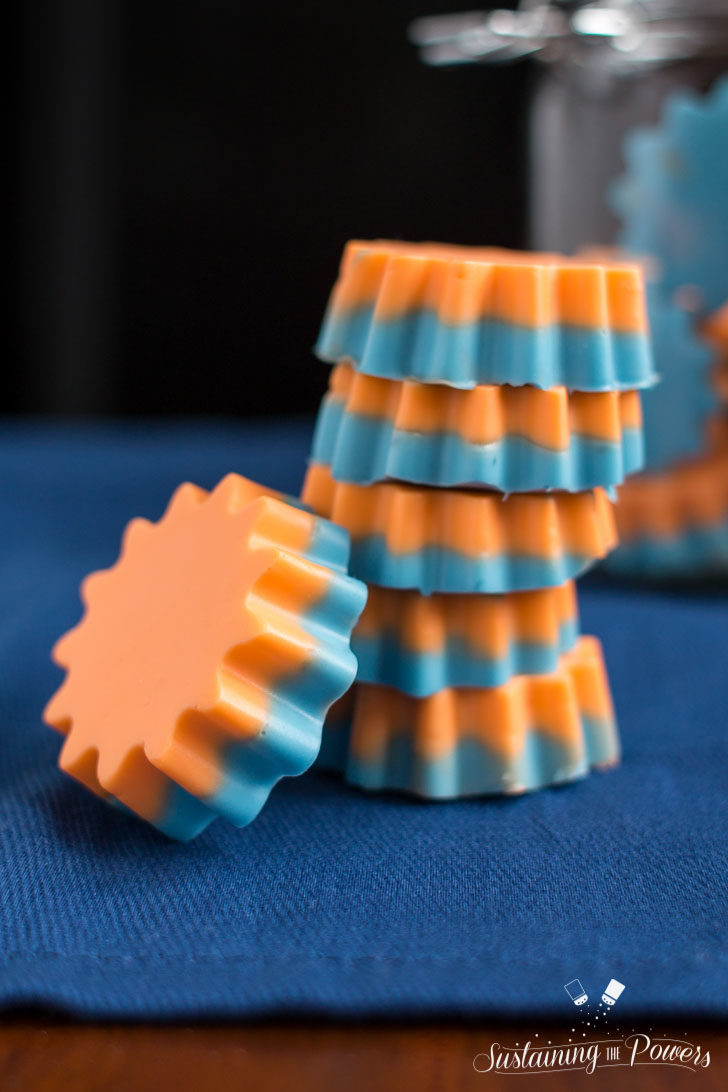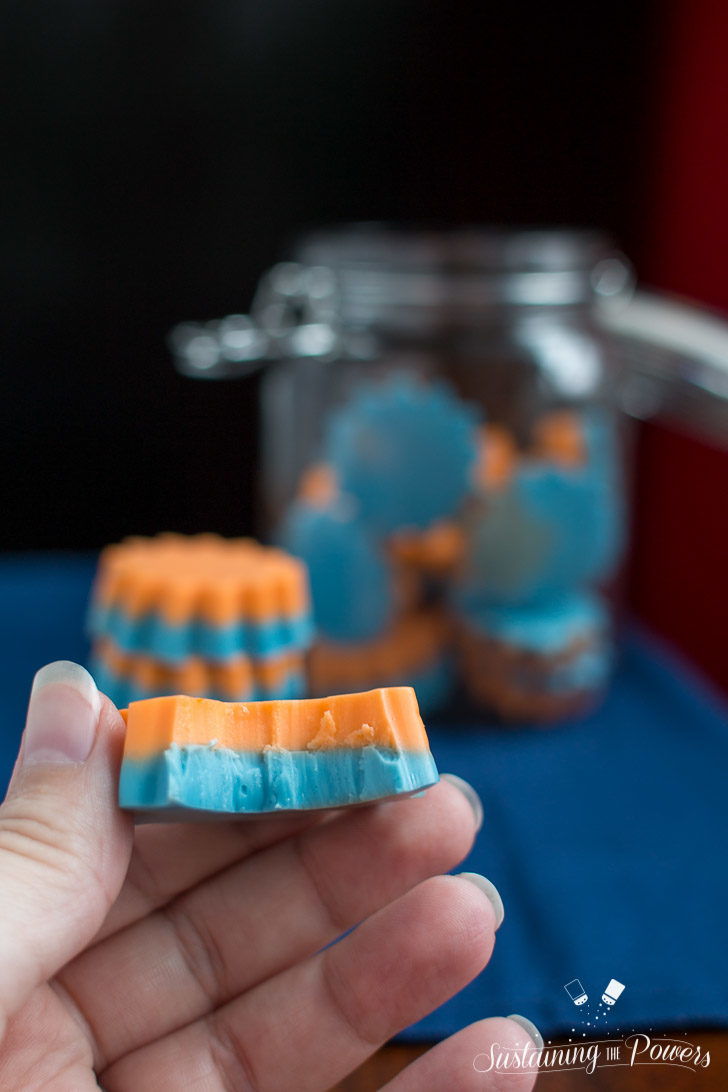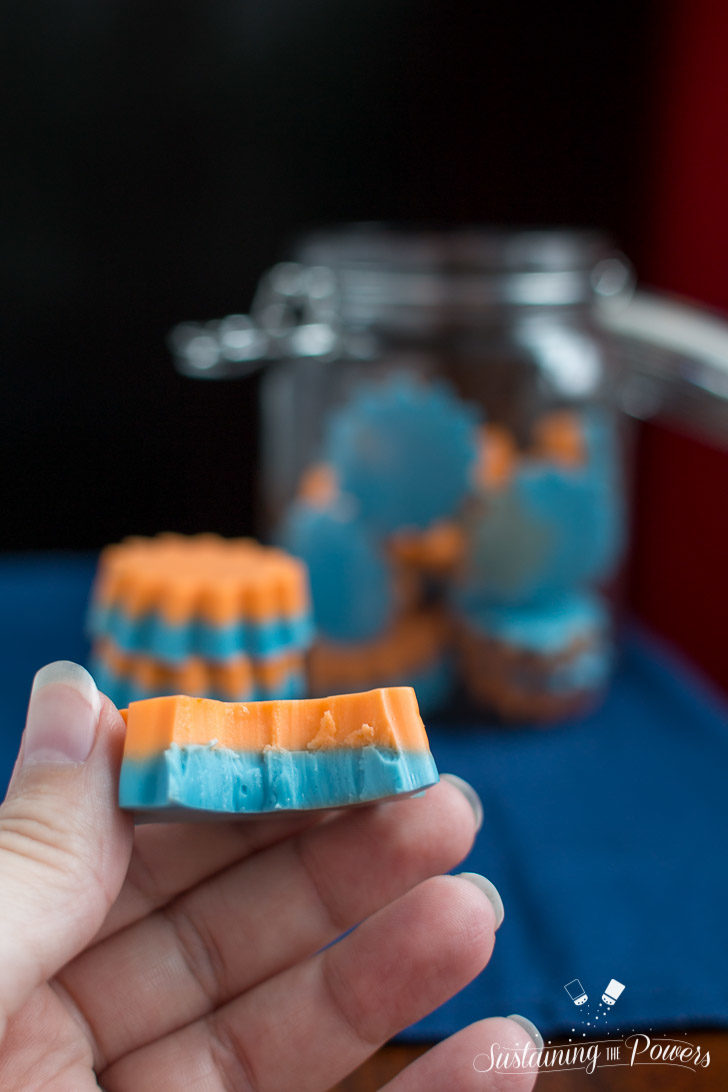 Low-Carb Blue and Orange Jello Shot Gummies
2016-10-04 20:57:51
For Blue Half
1/4 cup water
4 packets (or 3.5 Tbsp or 28g) unflavored gelatin powder
20 drops blue food coloring
3 Tablespoons zero-calorie sweetener
1/2 cup vodka
1/4 cup heavy whipping cream
For Orange Half
1/4 cup water
1 (.6oz) box sugar-free orange jello
1 packet (or 2.5 teaspoons or 7g) unflavored gelatin powder
1/2 cup vodka
1/4 cup heavy whipping cream
Other Supplies
Heat-proof container with a spout
Plastic or silicone baking mold.
Instructions
Boil 1/4 cup water and pour into the container with a spout.
Add in gelatin, blue color, and sweetener, and stir until gelatin is fully dissolved.
Slowly add in the heavy whipping cream, then add in the vodka.
Divide mixture between the mold you've chosen, filling each chamber halfway.
Place in fridge briefly to set.
Repeat steps above using the orange jello.
Pour orange mixture over the top of the blue jello in the molds and place it back into the fridge to set, about 10 minutes.
Store in the fridge until ready to eat.
Notes
To make them without alcohol, replace the vodka with another 1/4 cup hot water and 1/4 cup heavy cream in each half.
These can be made with regular jello instead of sugar-free if desired.
Gluten-free: These are gluten-free.
Sustaining the Powers https://www.sustainingthepowers.com/
Red Sea Party Punch by Celebrating Family
Bird Gang Sonoran Nachos by Love Bakes Good Cakes
GameDay Cheesecake Bars by Body Rebooted
Healthy Dirty Bird Dip by Dash of Herbs
Purple Potato Salad by The Culinary Compass
Chocolate Blackberry Cheesecake Parfait by Mom's Messy Miracles
Easy Buffalo Chicken Sliders by Beer Girl Cooks
Quick and Easy Baked Buffalo Chicken Sliders by The Life Jolie
Blackened Steak + Blue Cheese Nachos by Feast + West
Easy pimiento cheese crackers by Family Food on the Table
Chicago-Style Deep Dish Breadsticks by Honey & Birch
Italian Beef by Bread Booze Bacon
Welcome to the Jungle Cocktail by Love & Flour
Bengal Striped Bundt Cake by Foodtastic Mom
Polish Boy Potato Skins by A Mind Full Mom
Sweet and Salty Brownies by The Secret Ingredient Is
Cowboy Cookies by The BakerMama
Cowboy Chili by See Aimee Cook
Green Chili Pulled Pork Cheese Fries by Cake 'n Knife
Blue and Orange Jello Shot Gummies by Sustaining the Powers
Greek Town Loaded Potato Skins by The Mexitalian
Marbled Scotcharoos by Club Narwhal
Beer Cheese Fondue by Off the Eaten Path
Easy Beer Cheese Soup by Hello Little Home
Chicken Stack Sandwich by Around My Family Table
Spicy Pub Mustard by What A Girl Eats
Game Day Cupcakes by Polka Dotted Blue Jay
Brownie Batter Dip by The Crumby Cupcake
Chocolate Coconut Cupcakes by Two Places at Once
Spicy Jalapeno Popper Cheese Dip with Real Cheese by Simplify, Live, Love
Game Day Snack Tray by Coffee Love Travel
Bacon Mac n Cheese Cups by West via Midwest
South Beach Punch by 2 Cookin Mamas
Miami Mahi Mahi Sandwich by foodbyjonister
Swedish Meatball Dip with Tater Tot Dunkers by Peanut Blossom
Fruity Dessert Pizza with Peanut Butter Chocolate Glaze by Bucket List Tummy
New England Rum Punch by Order in the Kitchen
Crawfish Etouffee by The Speckled Palate
Cajun Crawfish and Corn Fritters with Remoulade Dipping Sauce by For the Love of Food
Reuben Sliders with Homemade Russian Dressing by A Dish of Daily Life
Big Blue Cheese Steak Stromboli by Simple and Savory
Spinach & Artichoke Bites by Lauren's Kitchen
Herb Pesto Arancini by A Little Gathering
Beluga Lentil Hummus by Culinary Adventures with Camilla
Philly Cheesesteak Nachos by And She Cooks
Philly Cheesesteak Cheesecake by Nik Snacks
Game Day Cookie Cups by Me and My Pink Mixer
Primanti Style Sliders by Macheesmo
Pineapple Salsa by Living Well Kitchen
Tex Mex Cream Cheese Wontons with Bacon by Shaws Simple Swaps
Blue Cheese Blitz Dip by Cafe Terra
Chicken Adobo Fries by Brunch-n-Bites
Game Day Candy Bark by Life's Ambrosia
Chicken Teriyaki Pizza (aka Seattle SeaChicken TeriHawki Pizza) by Loves Food, Loves to Eat
High Seas Sour Cherry Slush by Lizzy is Dizzy
Buffalo Chicken Deviled Eggs by Casa de Crews
Avery Williamson American Cake by Loaves & Dishes
Game Day Sriracha-Honey Nut Mix by An Oregon Cottage
Double-Stuffed Potato Skins by A Simpler Grace
Red Skin Potato Chili Nachos by A Joyfully Mad Kitchen
Note: This post is in no way sponsored, endorsed or administered by the National Football League (NFL) or any of its teams. All opinions and views expressed on our blogs are our own, not that of the NFL and/or any of its 32 teams. Any team names, logos or other symbols referenced are properties of their respective organizations. We are just big fans — and we want to share our love for our teams, the game and the food that brings us all together on game day.