These Sugar-free Bread and Butter Zucchini Fridge Pickles are a quick and easy, sweet and tangy, zucchini pickle made in the fridge!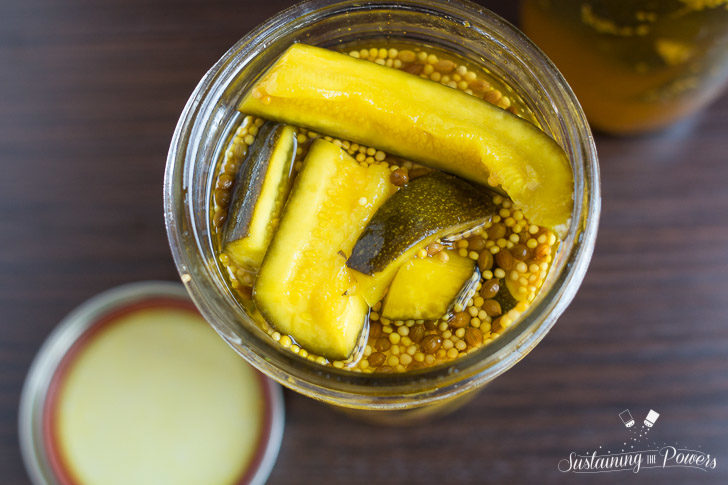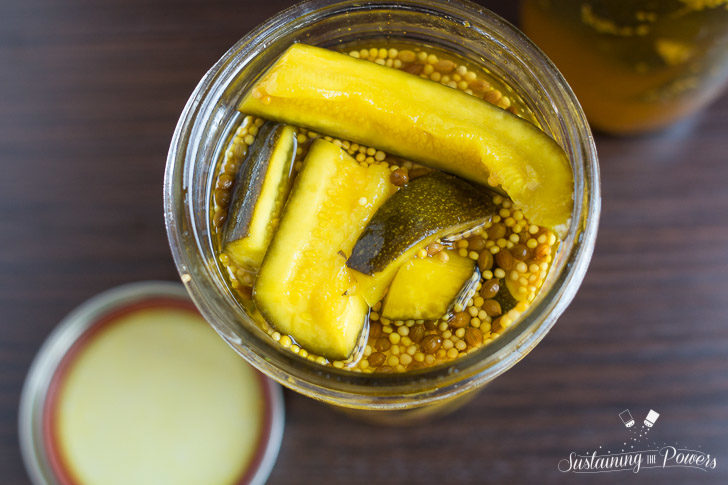 Happy Monday! It feels like it's been ages since I've had a new recipe to share here. Thanks for your patience! Pregnancy is going super well, but I have just not had the energy to keep up with my web design job as well as create and cook new recipes lately. I have something super easy to share today though. Since I'm now pregnant and all (17 weeks!), I thought it was appropriate to share a recipe for pickles!! (Don't worry though – ice cream is not involved.)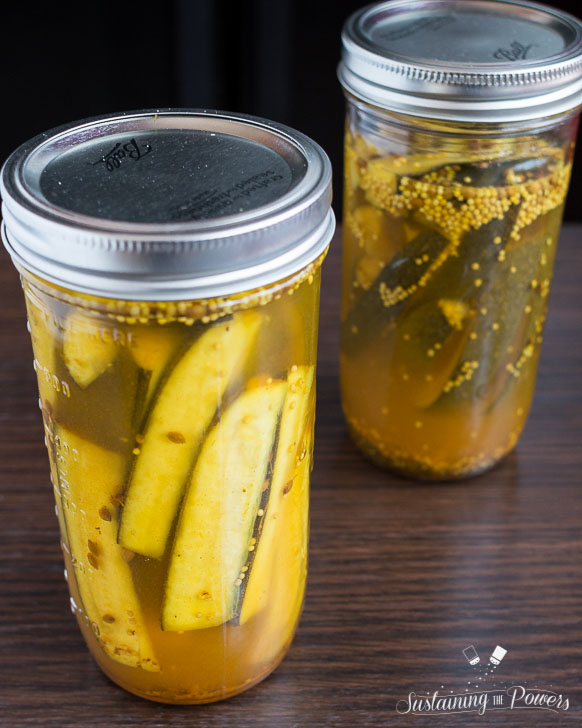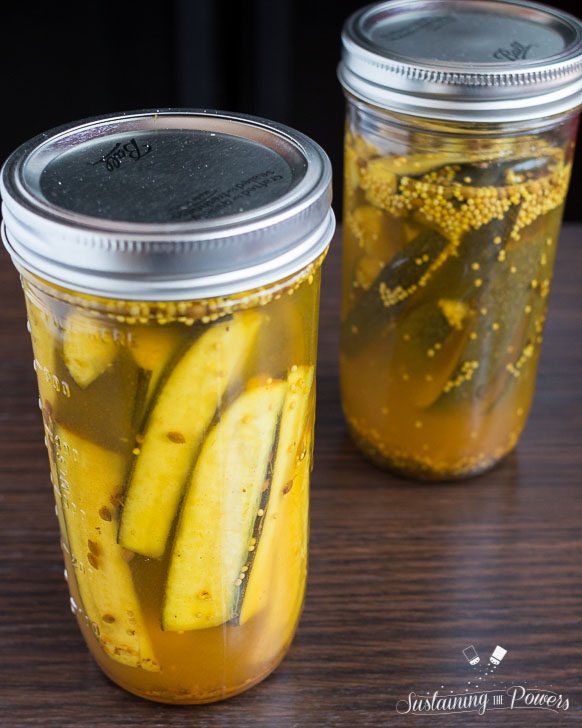 These pickles have a few twists on them to make them unique:
You make them in the fridge, so no canning process required.
I used zucchini instead of cucumbers! (Or garden had a plethora of zucchini, so I said "why not?", gave them a try, and I love them more than cucumber pickles now.)
They're "bread and butter" pickles (a type of sweet pickle) instead of regular dill pickles.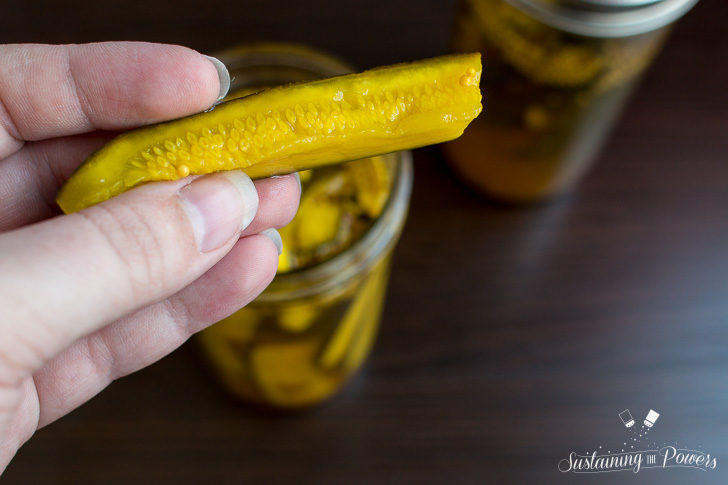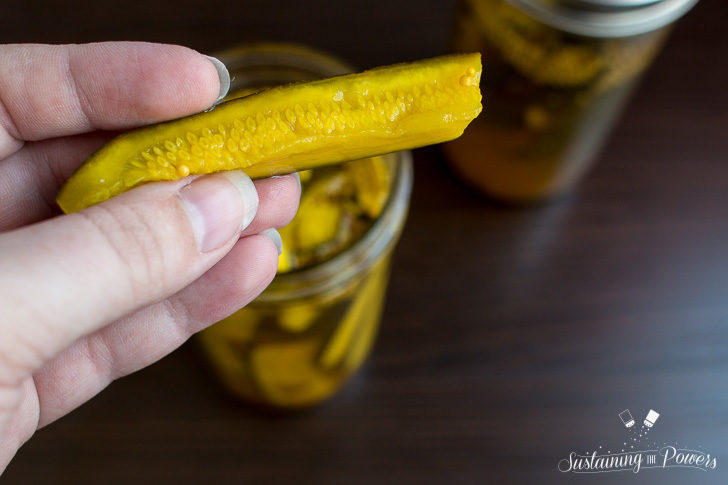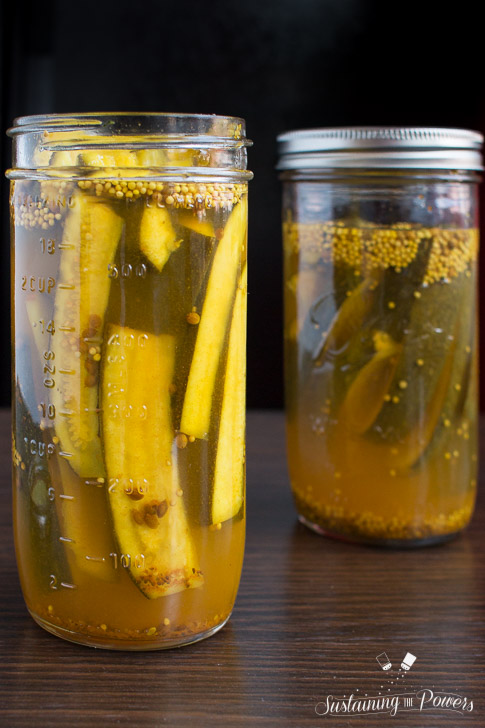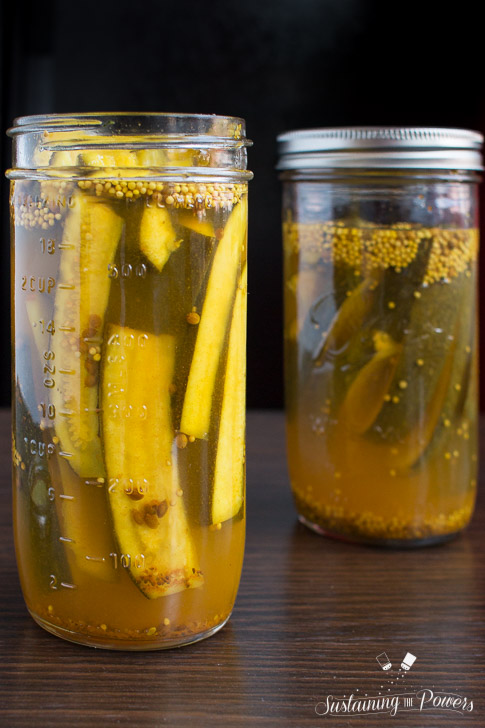 Since I'm still trying to stick low-ish carb and hubby is still on keto, I thought it would be fun to see if we could make a good sugar-free sweet pickle. Most of the store pickles use Splenda to replace sugar, but Splenda has a strong chemical taste that I really don't like, so I chose to use erythritol. It tastes the most like sugar and has 0 glycemic impact, so it's an easy favorite for those who are doing low-carb. You can also swap the erythritol for regular cane sugar if you're not counting carbs.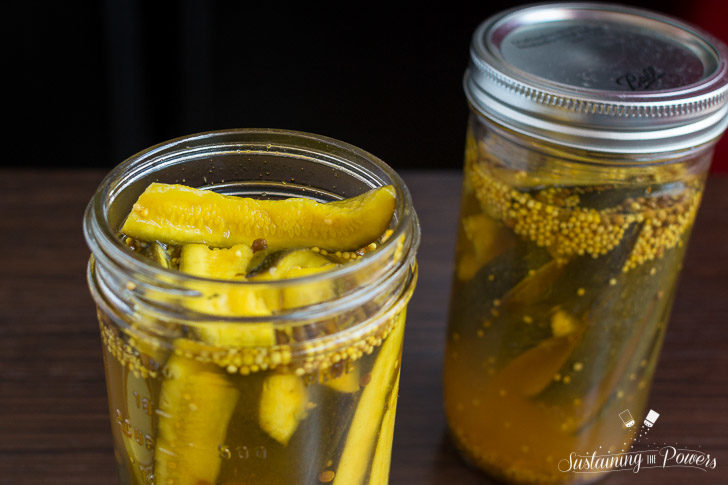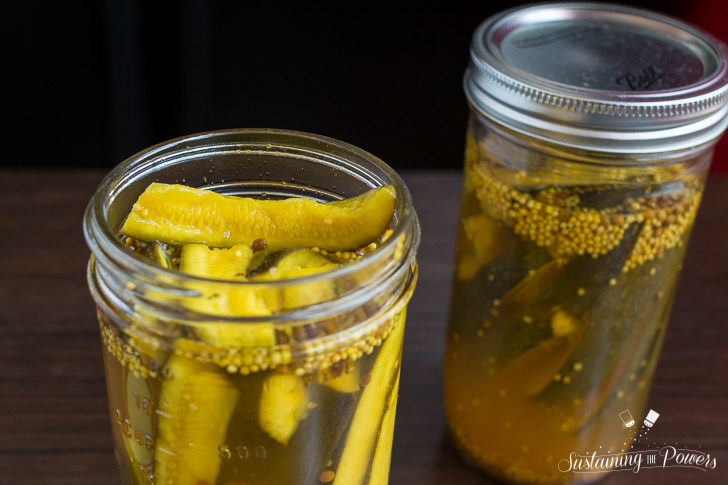 Bread and butter pickles are a favorite of ours because they're almost a cross between normal dill pickles and "sweet" pickles that tend to use lots of cinnamon and sugar. I've always wondered if there was originally butter in the pickles, or if they used to be eaten on bread with butter (this doesn't sound half bad.) So I did some research. The name "bread and butter" was originally created and trademarked in 1923 by an Illinois farming couple, Omar and Cora Fanning. They named them "bread and butter" because they used to trade them to store owners for their weekly groceries, including bread and butter. This makes much more sense than the reasoning I came up with as a kid. I hope you enjoy these as much as we do!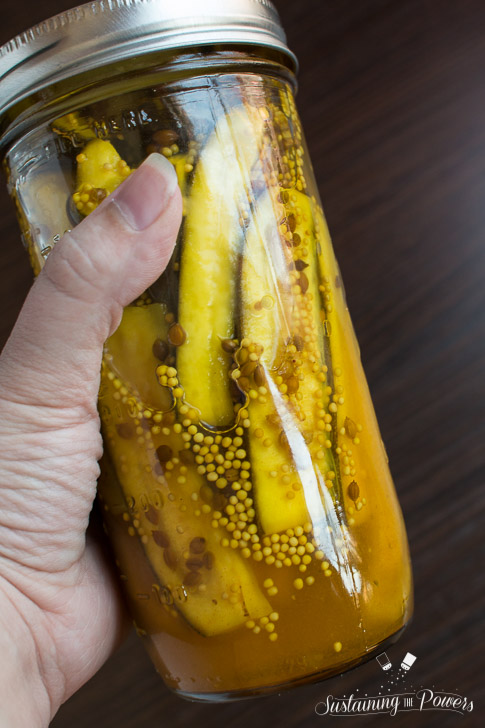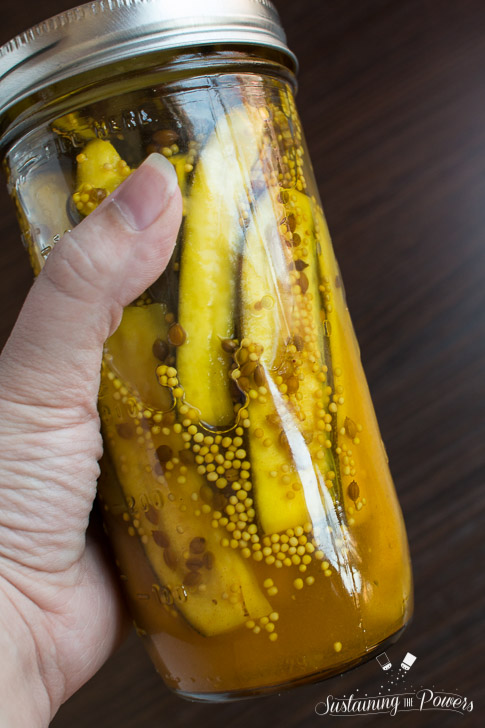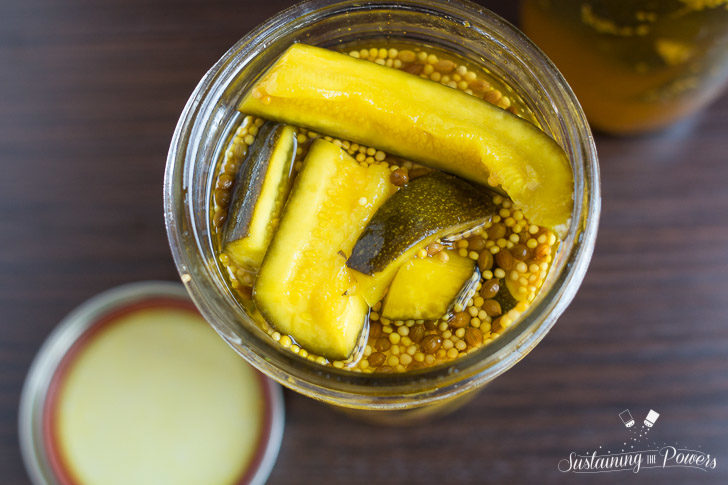 Sugar-Free Bread and Butter Zucchini Fridge Pickles
2017-02-19 17:09:34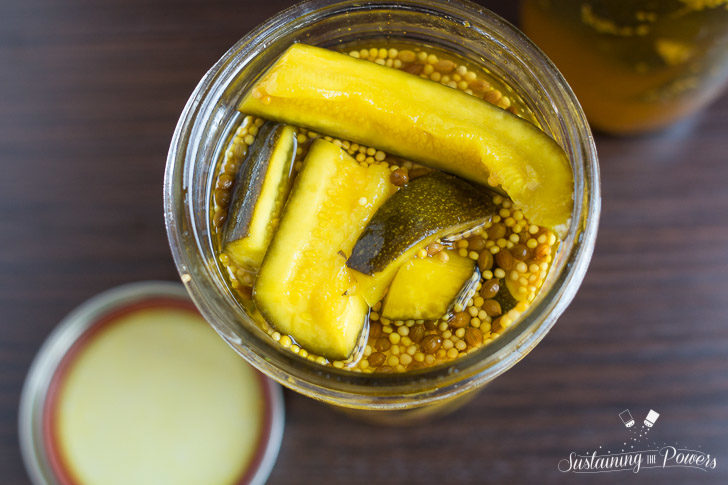 A quick and easy sweet and tangy zucchini pickle made in the fridge!
Ingredients
2 pounds fresh zucchini (about 2-3 medium zucchini), cut into spears or slices (choose your favorite - I love spears)
3/4 cups erythritol
1/2 cup Kosher salt
1 1/4 cup distilled white vinegar
1/2 teaspoons ground turmeric
2 tablespoon mustard seeds
2 tablespoon whole coriander seeds (or 2 teaspoons ground)
1/2 teaspoon celery seed
3/4 tsp Ball "pickle crisp" granules (calcium chloride) (divided) (see note)
2 wide mouth pint and a half jars (24 oz) or 3 (16 oz) pint jars (zucchini may need to be cut down to fit if using shorter jars)
Instructions
Clean jars thoroughly. (Sanitizing is not required for fridge pickles.)
Fill jars with sliced zucchini, packing them in tightly.
Add 1/4 teaspoon pickle crisp granules to each jar and set aside.
In a pot, bring erythritol, vinegar and spices to a boil.
Remove from heat and cool.
Pour mixture over pickles in jars, diving evenly, leaving just a 1/4 inch of space at the top. You can top the jars off with extra vinegar if there's not enough liquid to fully cover the pickles.
Screw lids on jars and shake to make sure zucchini is coated.
Place in fridge for at least 3 hours before tasting, though best flavor is reached after at least 24 hours.
Store the pickles for up to three weeks in the fridge.
Makes about 32 spears or 3 pints of pickles.
Macros per spear (30g): Calories: 11, Fat: 0g, Carbs: .5g net (1.5g carbs - 1g fiber), Protein: 1g*
Notes
*Macros count includes all carbs from spices, however they are used to infuse the liquid for flavor and are usually left behind in the brine when pickles are eaten. Sugar alcohols are not included in carb count.
1/2 cup granulated sugar can be swapped for erythritol if you'd prefer (adjust nutrition info).
Pickle Crisp granules are used in place of an overnight soaking and lime crisping process. These are not optional if you don't want rubbery pickles.
Gluten-free: These are gluten-free.
Vegetarian/Vegan: These are vegan.
Sustaining the Powers https://www.sustainingthepowers.com/
Pin these Sugar-free Bread and Butter Zucchini Fridge Pickles for later!