This Keto Slow-Cooker Reuben Soup filled with corned beef, swiss cheese and saurkraut is the perfect low-carb alternative to your favorite reuben sandwich!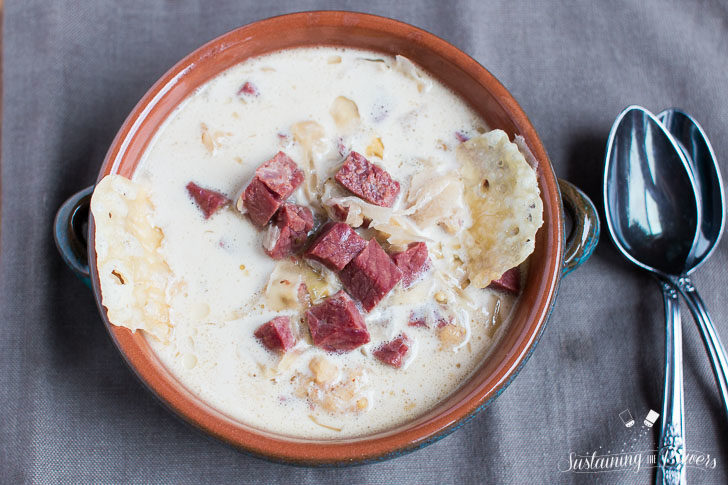 Guess what? It's Crocktober again!! The month where I share tons of great slow-cooker recipes. We spent the first couple weeks of Crocktober traveling for a family wedding, and since I've returned, I've been struggling to come up with recipes that can meet my new low-carb/keto dietary restrictions. So I'm off to a bit of a slower start than usual. I had to totally scratch my carefully planned editorial calendar and start winging it this month, so bear with me as I do my best to still get out a solid Crocktober this year!
Today's recipe was inspired by one of the meals we had on our trip to Washington DC. The wedding rehearsal festivities were held at an Irish pub, and we needed to eat dinner to go with the whiskey being served up, so we ordered a Reuben sandwich without the bread. I missed the flavor of the rye bread, but the sandwich was otherwise amazing! It came with a side of french fries that I put up for grabs, and many people swooped in to "save me from the carbs."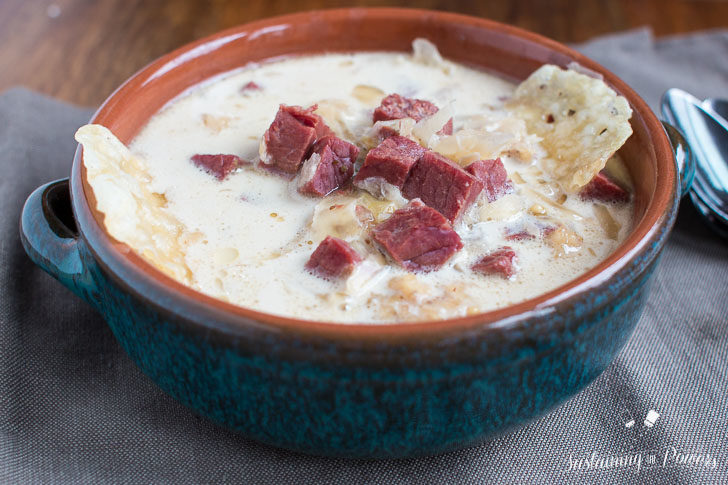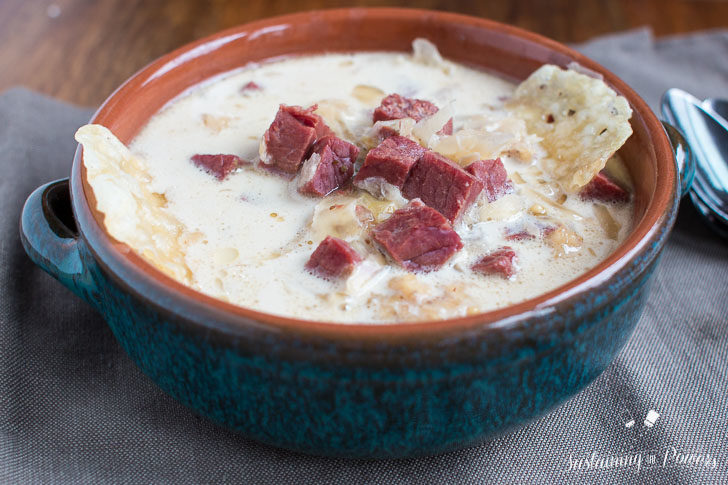 I was thinking about making another of those sandwiches after we got home, but decided I wanted to try making it into a soup instead. Because who doesn't love a creamy soup in the fall weather? I went everywhere I could find looking for corned beef I could cook myself, and nobody seemed to have any, so I ended up getting some at the deli counter and asking them to slice it as thick as they possibly could so I could cut it into little cubes. It saves me some cooking time, so I'm actually not sad about that at all.
I also knew I wanted to add in the tart tang of kraut and the pickling spices normally used for making corned beef. Sadly, the store only had the Boar's Head brand of kraut which is super mild as far as sauerkraut goes. Next time I'll look for Claussen or a locally produced version that's got some real kick. You could even make your own if you're feeling adventurous, but I don't usually have time for that.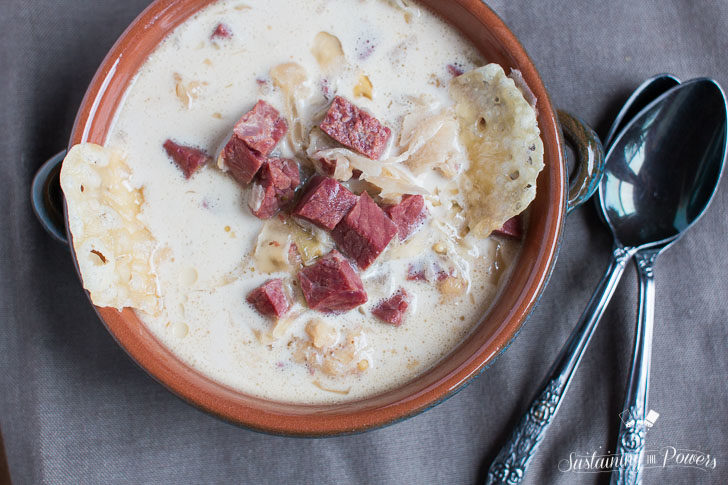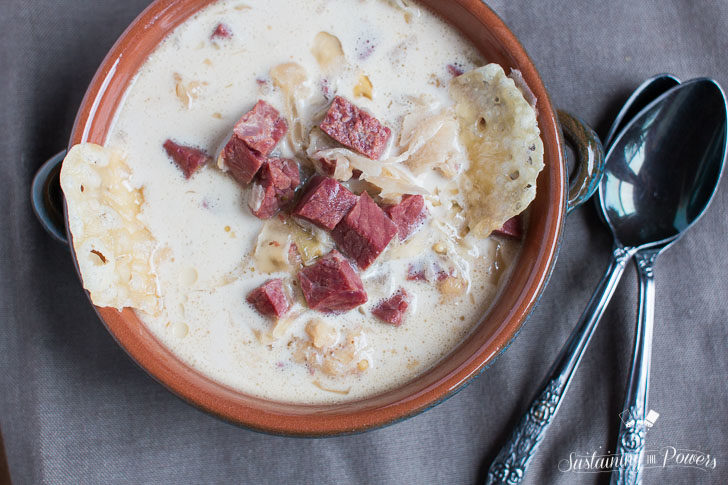 Lastly, I wanted to give the soup something crispy to go on the top. Normally I'd choose croutons, but those don't fit in my low-carb macros, so I made up some swiss cheese cheese crisps instead using this method. If you're not worried about being low-carb, I highly recommend making some rye bread croutons or some rye toast points as a side for this soup!
I popped all the ingredients into my crockpot before church on Sunday and came home to the whole house smelling of reubens. We devoured this in no time flat and my husband even drank all his broth. The leftovers are now in the freezer, and I'm excited to have a quick lunch to re-heat later on! I hope you enjoy this as much as we did!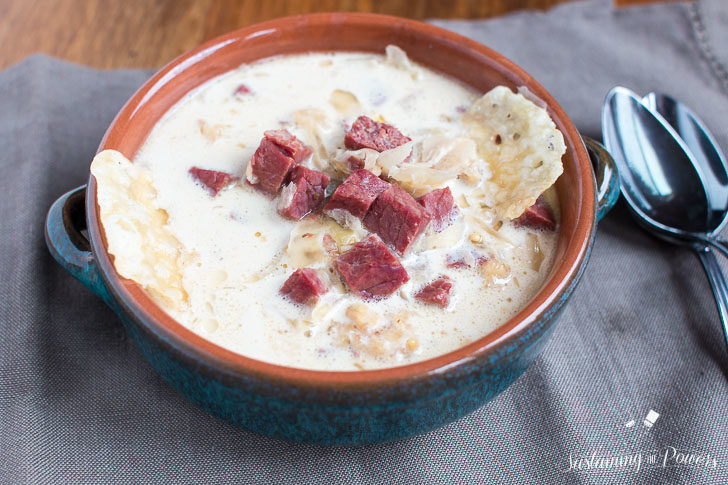 Low-Carb/Keto Slow Cooker Reuben Soup
2016-10-11 16:31:15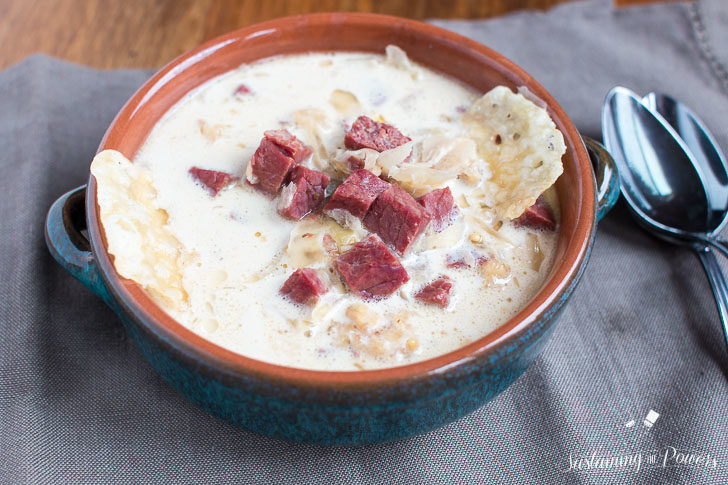 Serves 12
All your favorite salty and tangy flavors of a reuben sandwich without the carbs!
Ingredients
8 cups beef broth/stock (homemade, bouillon, or your favorite)
1 medium onion, diced
3 cloves garlic, minced
2 Tablespoons butter
2 lbs corned beef, diced
1 lb (453 grams) sauerkraut (the stronger/tangier the better!)
1/2 teaspoon celery seeds
1 teaspoon coriander seeds
1 teaspoon dill seeds
1 tablespoon mustard seeds
To be added an hour before eating
2 cups heavy cream
8 oz shredded swiss cheese
For topping
thousand island dressing
Instructions
Using 1 tablespoon butter, brown the onion in a medium pan over medium heat until translucent. Add the garlic and cook for another minute.
In a slow-cooker, add the beef broth, corned beef, sauerkraut, seeds, onions, garlic, and remaining butter. (Feel free to put the seeds in a tea ball if you don't want to eat them in the soup later. They all soften nicely though.)
Cook on Low for 7 hours or High for 3.5 hours.
An hour before serving, add the heavy whipping cream and swiss cheese.
Serve topped with cheese crisps and thousand island as desired.
Notes
Makes about 12, one cup servings.
Macros per serving (without crisps or dressing): 343 Calories, 22.8g Protein, 1.3g net carbs (2.8g carbs - 1.5g fiber), 25.6g Fat
(Actual values may vary depending on ingredients used.)
Gluten-free: This is gluten-free!
Vegetarian/Vegan: Since the corned beef is the main ingredient, I don't think there's a good vegetarian sub for this recipe.
Adapted from Peace Love and Low-Carb
Sustaining the Powers https://www.sustainingthepowers.com/
Pin this Keto Slow-Cooker Reuben Soup for later!