Low-Carb Traditional Chiles Rellenos are the Mexican version of the stuffed pepper. These are filled with meunster cheese and shredded beef!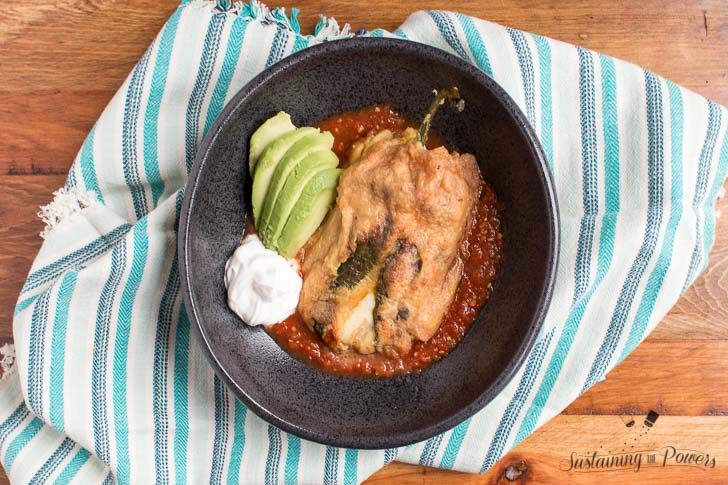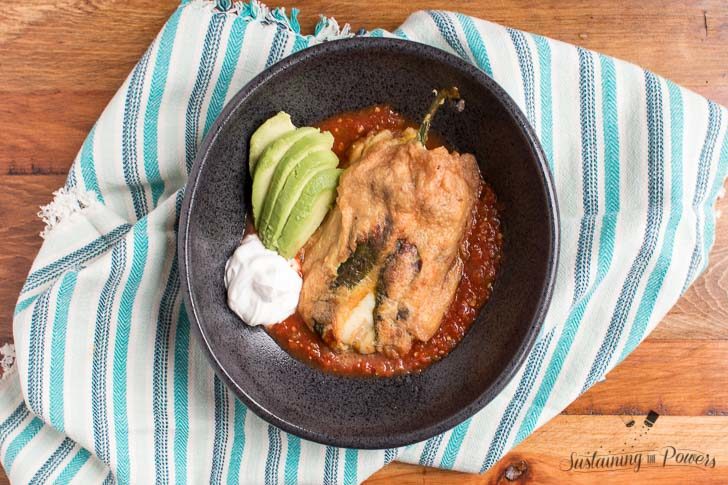 Now that I'm on a low-carb diet, I've been going through a lot of my old recipes to see what accidentally low-carb or easily low-carb recipes I have in my arsenal that I either haven't posted yet, or could easily re-work to be low-carb. Surprisingly enough, chile rellenos are pretty much low-carb already, and the only sub I had to make was a bit of coconut flour for some regular flour. The rest is just the traditional method of stuffing, coating and frying.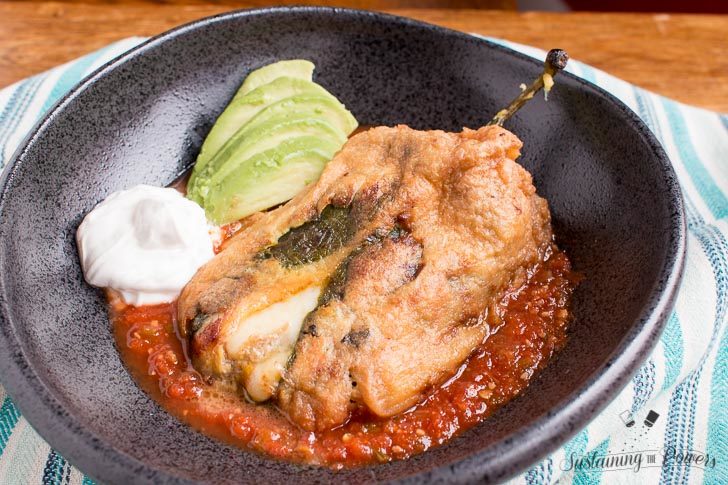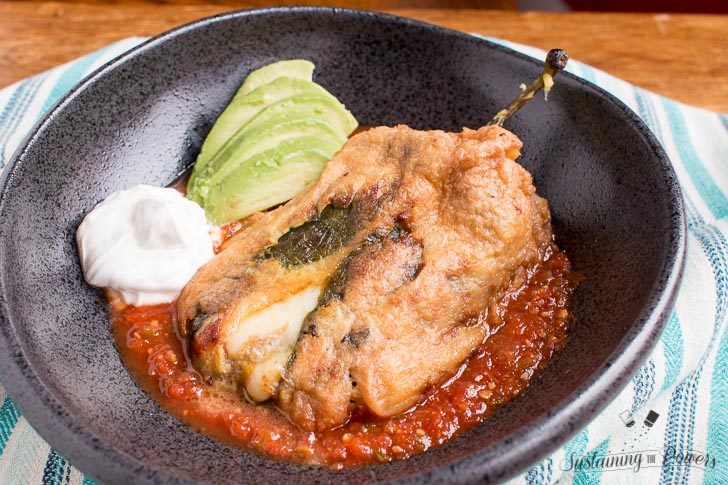 Since it's pepper season here in Colorado (well the end at least) the grocery has all the local produce for super cheap and these poblanos were 2/$1. They're also HUGE! Hubby and I ended up splitting a single chile relleno because it was waaaaay to big otherwise. So if you can, it might be a good idea to find smaller peppers. Or just share.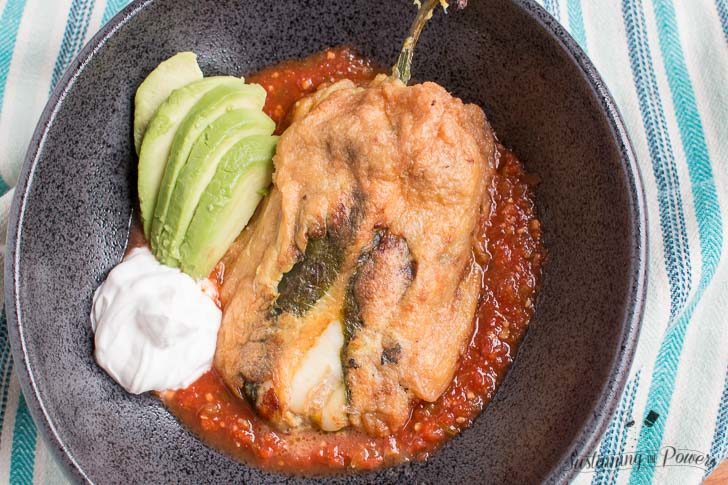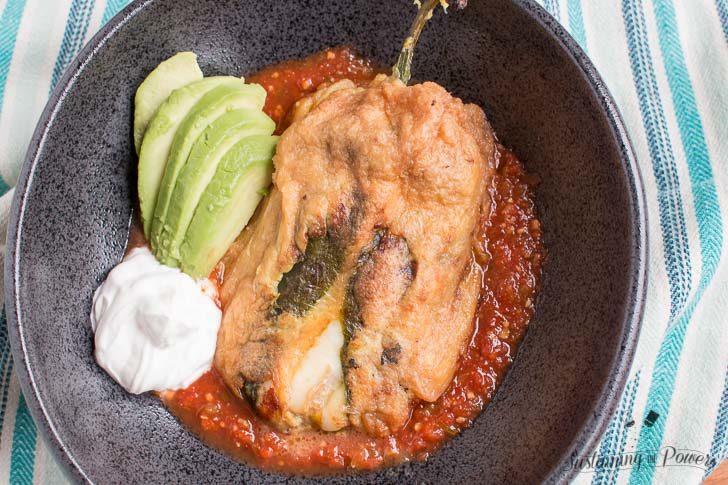 The secret to getting the best chile rellenos is an open flame. Whether this is on your grill or a gas stove top, flames make for the best peppers because you want to char off the tough outer skin leaving the soft inside flesh. I normally just pop them on top of my gas burner and turn them with tongs as each side blisters. If you don't have a gas stove or a grill, you can put them under the broiler for a few minutes per side to get a similar effect.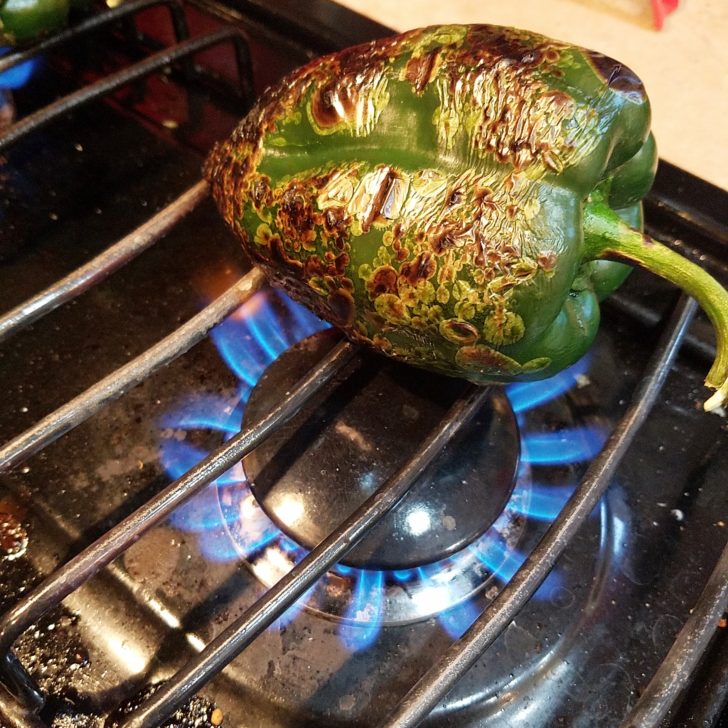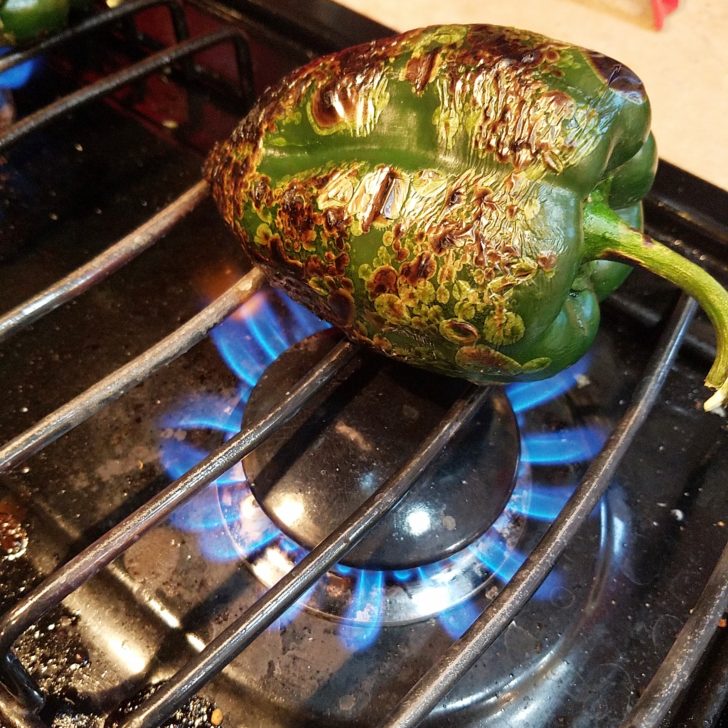 The other secret has to do with making the coating. Chile rellenos are actually coated in whipped eggs (which always makes me think of french toast when I make them!) You want to separate your eggs and whip up the egg whites until they're almost forming peaks. They'll be nice and fluffy and will stay that way as you gently fold in the scrambled yolks. Just don't get them too big or you'll have a very hard time frying them. I hope you enjoy these as much as we did! (Just look at that gooey cheese inside!)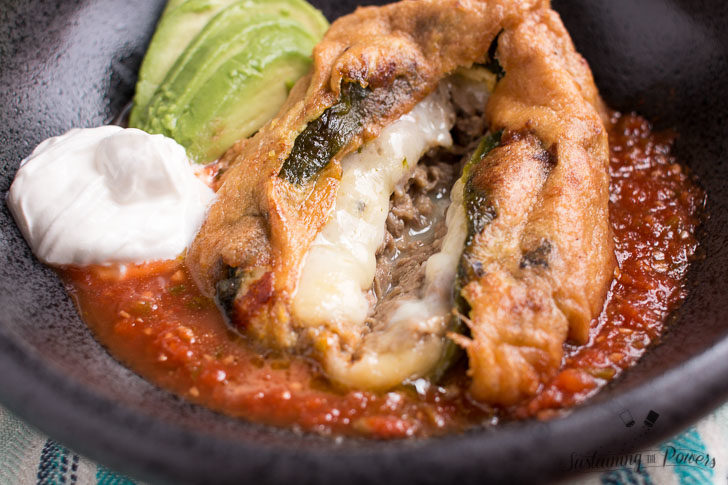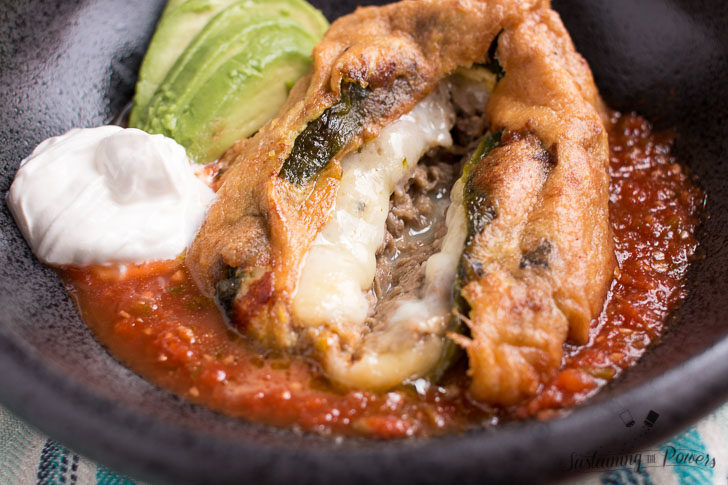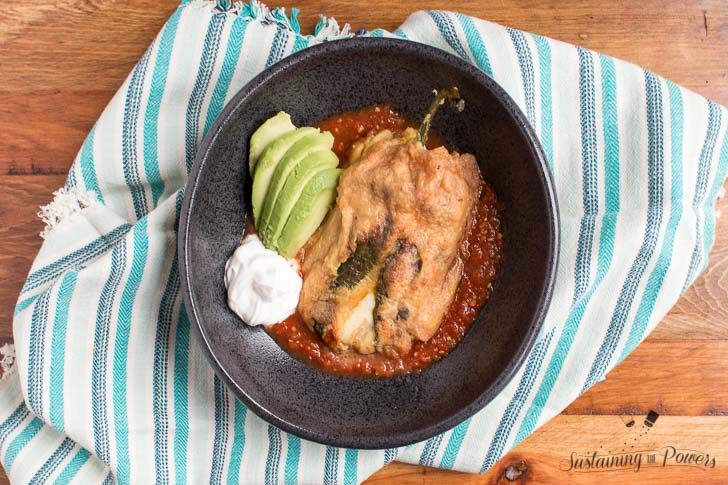 Low-Carb Chiles Rellenos
2016-10-19 22:16:41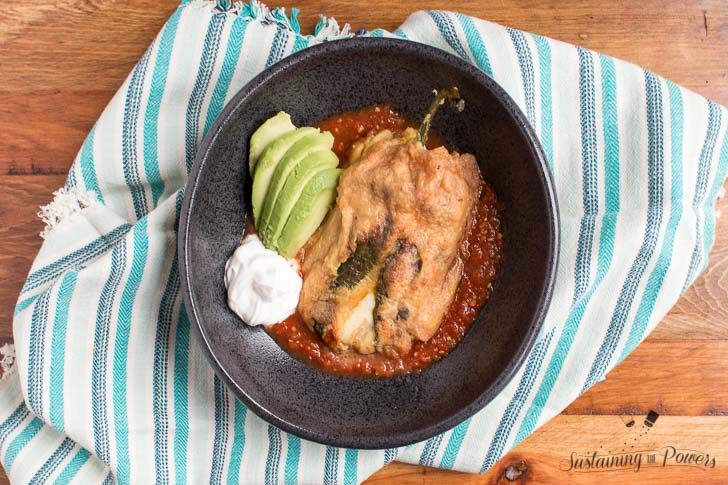 A traditional method for making battered and fried stuffed peppers.
Ingredients
6 whole poblano peppers
3/4 lb shredded beef or chicken (I used store-bought carne deshebrada, but a rotisserie chicken would work just as well)
8 oz meunster cheese, shredded or cut into sticks
3 Tablespoons coconut flour
1 tsp salt
4 large eggs
Coconut oil for frying
Instructions
Over a gas grill or burner, blister the poblanos until they're black on all sides.
Place peppers in a large bowl, cover them, and allow them to steam in their own heat for at least 20 minutes.
While the peppers steam, separate the eggs into whites and yolks in separate bowls and place them back in the fridge so they stay cold.
Once the peppers have steamed, remove them from the bowl and use a butter knife to scrape off the blistered skin. They don't have to be perfectly skinned, but get off as much as you can.
Slice a T shape across the top of each pepper, making sure not to slice through both sides and not to slice down through the tip of the pepper. You want to leave a nice "flap" you can stuff.
Carefully clean out the seeds and pith of each pepper with a spoon.
Stuff each pepper with about half cheese and half shredded meat, just until the peppers are full. (You need the flaps to close back up.)
Once all the peppers are stuffed, combine the salt and coconut flour in a medium bowl.
Using a stand mixer or a whisk, whisk the egg whites until just before they stiffen and peaks begin to form. You want them to have lots of air, but not be a meringue.
Scramble the yolks and gently fold them into the whites.
Heat up the coconut oil until it's a good frying temp. (About 375 degrees, or until the handle of a wooden spoon begins to sizzle when quickly poked into the oil.)
Working quickly, dredge the stuffed peppers in the coconut flour and then coat them in the egg mixture (a spatula helps to pile it on top) and then place them in the frying oil using tongs.
You may need to work in batches so you have enough room to turn them.
Once they've browned on all sides, remove them to a wire rack over some paper towels to cool.
Repeat until all peppers are cooked.
Serve immediately with low-carb salsa, avocado, and sour cream.
Notes
Macros per pepper: 380 Calories, 29g Fat, 4g Net Carbs (7g carbs - 4g fiber), 25g Protein
Gluten-free: These are gluten-free!
Vegetarian: Leave out the meat and just add more cheese.
Sustaining the Powers https://www.sustainingthepowers.com/
Pin these Low-Carb Traditional Chiles Rellenos for later!