As I mentioned in my previous post, we've been struggling with infertility for about 3 years now. All along the way, my doctors have run tests, done bloodwork, tried me on different medications, and a whole host of other things. All without being able to find the root of my problem. Last week, I was finally able to get a referral to an endocrinologist who is pretty much my new favorite person. She looked over my years of test results, and asked me about my experiences, and then came up with a hypothesis of what's been going wrong (PCOS and insulin resistance) which she later completely confirmed with additional blood work. Part of the new treatment plan she has me on is a super low-carb ketogenic diet.
As a food blogger, I've become pretty familiar with all the different eating styles out there. Gluten-Free, Vegetarian, Vegan, Low-Carb, Paleo, etc. But the one I'd never really understood was the ketogenic diet. So of course, that's the one I end up on. Haha. At this point, I'm not planning for this blog to become a "How to live a keto life" kinda blog, but I thought it would be helpful to chronicle some of the things I'm learning along the way and share about my personal experiences. I will also be sharing all the yummy keto recipes we invent. Y'all can help keep me accountable and enjoy this diary of my first week on keto!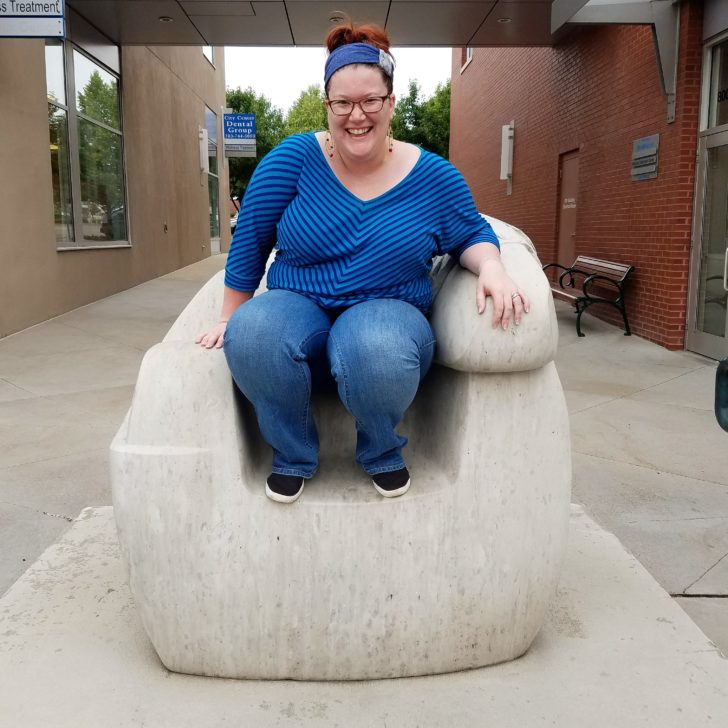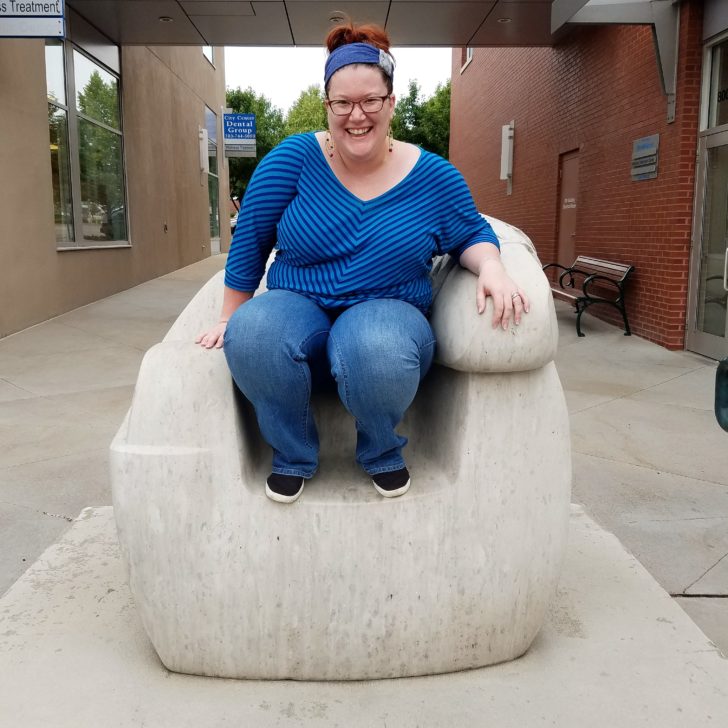 We're gonna call this my "before" photo. Taken a few weeks ago.
Disclaimer: I am on this diet under the close supervision of a doctor. This website does not provide medical advice and the information below is for informational purposes only. It is not intended to be a substitute for professional medical advice, diagnosis or treatment. Always seek the advice of your physician or other qualified health care provider with any questions you may have regarding a medical condition or treatment and before undertaking a new health care regimen, and never disregard professional medical advice or delay in seeking it because of something you have read on this website.
My Stats
---
Starting weight: 261lbs, 45% body fat (Thanks several years of hormone treatments for infertility and comfort food eating!)
Height: 5'9″
My Individual Macro Goals:
1656 Calories
20g Net Carbs (5%)
78g Protein (19%)
141g Fat (76%)
My Personal Goals: Weight loss would be nice. My body is much happier around 180-190lbs than it is at 260lbs. Getting in better shape is also a big goal. I don't like bordering on not fitting into "typical" size clothing. The main goal though is to get my PCOS under control so we can finally get pregnant.
Day 1
---
Wednesday. First thoughts: Okay, what on earth can I eat now? I hit up Trader Joe's on my way home from a blood test and pretty much just bought everything on this Reddit TJ's Keto list.
Breakfast: Got home, cooked a boatload of their uncured "bacon ends & pieces," 2 fried eggs, and tried to eat a whole avocado that was not quite ripe, so I cooked it in the pan until it was soft. Still didn't work to become a "ripe avocado" but it was okay. Wondered to myself how bacon can be a diet food.
Lunch: Made a salad with what I had on hand: spinach, hard boiled egg, a boat load of cheese, realized I didn't have a keto-approved dressing, but my favorite Panera poppyseed dressing wasn't too far off with 2.4 carbs, so I went with that. (It's actually a fairly okay keto choice, but there's zero fat in it, so it's a missed opportunity to add some good Omega-3s.)
Dinner: Running out the door and forgot I'd need to eat dinner. Made a poorly engineered lettuce wrap with a bunch of sliced chicken and sliced cheddar from Trader Joe's and shoved it in my face as we drove to church. Successfully avoided cookies after the church event.
Drank: 12 glasses of water
Feeling: Surprisingly full and not really craving anything.
Today's Macros: 1120 Calories, 76g Protein, 10g Net Carbs (21g carbs – 11g fiber), 83g Fat
Goals: Get in a LOT more fat tomorrow.
Day 2
---
Thursday. Hubby is jumping on board as well. If I have to be tortured for our future baby, I shouldn't have to do it alone. 😉 Planned ahead last night and made us both breakfast and lunch.
Breakfast: 3 eggs scrambled with some spinach, ricotta cheese, and half a can of Rotel tomatoes and pepper scrounged from the fridge.
Lunch: I had prepped a spinach salad like yesterday's, but got invited to go out to lunch with a friend after our Bible Study. Panicked because I suddenly had to navigate eating out! But Reddit saved my bacon and we ended up going to Qdoba where I confused the guy by ordering a taco salad with no bowl, double lettuce, double ground beef, no beans, no rice, queso, fajita veggies, cheese, sour cream, and guac. It was quite delicious and I didn't really miss the bowl, only the crunch. Went shopping after lunch for more specific groceries.
Dinner: We were doing a free trial of Blue Apron before I found out I needed to start on keto, so I made an attempt to use up one of the meals we had received with a few modifications. The recipe was for Basque-style Wild-Caught Pacific Cod with a sauce made from onions, garlic, apple cider vinegar and chili powder. I left out the grain side dish, swapped the tomatoes for some frozen artichoke hearts from Trader Joe's (I will be buying a lot more of these! Only 2g net carbs and ready in a few minutes!), and added some grass-fed Kerry Gold butter to both the veggies and the fish. I would definitely do this meal again and it took only 20 minutes.
Snack: 1 Tilamook sharp white cheddar square.
Dessert: Nick desperately wanted a sweet treat, so we googled a keto dessert and found this mostly keto cheesecake recipe. It baked up into a great little cheesecake, but Splenda tastes way too bitter and chemically sweet to me, so I don't like them. He loves them though, and it's curbed his sweet tooth for the time being. I plan to re-work the recipe for the blog really soon because I already have some good ideas about how to make it better and more low-carb.
Drank: 1 cup of coffee with a tbsp of melted butter (I was shocked that this tasted really good. I need to research bulletproof coffee, but haven't gotten around to it when I'm not half asleep and in need of caffeine.) + 10 glasses of water.
Feeling: Still no carb cravings. I woke up before my alarm this morning. So feeling pretty good!
Today's Macros: 1714 Calories, 106g Protein, 29g Net Carbs (47g carbs – 18g fiber), 127g Fat
Goals: I overdid it a tiny bit on the carbs, mostly from the keto cheesecakes hubby asked to make. So keep those more in check tomorrow.
Day 3
---
Friday. Hubby is working from home today, so maybe we can meal plan a bit better? I have dinner planned already!
Breakfast: 3 fried eggs, and more TJ's bacon ends and pieces. 1 cup of coffee with some half and half.
Lunch: A Spinach salad with canned dark & light chicken (not as bad as it sounds), greek yogurt ranch dressing, avocado, and shredded mozzarella.
Dinner: Cinnamon Orange Beef Stew with Cauliflower "rice" (Basically TJ's riced cauliflower cooked on the stove until tender with some Kerry Gold butter.) I was not really a fan of the stew mainly because I realized I don't like cinnamon on beef. The smell kinda turned me off to the savory flavor. Hubby loved it though.
Snacks: A whole can of black olives (olives are a favorite food of mine, I love that they're keto!), another square of tilamook white cheddar
Drank: 14 glasses of water. Most with a bit of salt and lemon to keep electrolytes. This diet is most definitely a diuretic as you purge carbs!
Feeling: The "keto flu" seems to be kicking in today. I had a headache and felt kinda meh so I took some electrolytes and packed in some more salt with the olives. I'm also struggling with the lovely digestive side effects of a new dose of metformin, the effects of coming totally off my thyroid medication (per my Dr.), and my "shark week" cycle started today. So I am riding the struggle bus hard core in terms of not feeling hot. I'm still not craving any carbs though. 🙂 I went to bed early.
Today's Macros: 2111 Calories, 118g Protein, 19g Net Carbs (27g carbs – 8g fiber), 162g fat (Super close to all my targets!)
Day 4
---
Saturday. Today we went to the Autonomous Vehicle Competition at SparkFun HQ. Since all they would have for food was unknown food trucks, we decided to plan ahead and pack a keto-friendly lunch. I was really proud of us for sticking to it.
Breakfast: 3 fried eggs, and more TJ's bacon ends and pieces. 1 cup of coffee with some half and half. (Same as yesterday.)
Lunch: Same salad as yesterday, packed on ice to-go, and eaten sitting on the sidewalk in the parking lot of the event. We got strange looks. I (mostly) got over it.
Dinner: I attempted to make a "melted cheese crust" pizza in a pan while Hubby went out with friends for the evening. I ended up burning cheese to the bottom of one of my pans, in a possibly permanent capacity. I started over using a silpat under the broiler and managed to melt cheese into a "crisp" that made a decent pizza base. Topped it with pepperoni and more olives.
Drank: More coffee this morning, so much water I lost count.
Feeling: Still pretty "keto flu" -like. Drank some more electrolytes, and went to bed early.
Macros: 1960 Calories, 125g Protein, 6g Net Carbs (8g carbs – 1g fiber), 154g fat
Day 5
---
Sunday. Went to church this morning and managed to avoid the donuts, juice, and fruit they usually have. Quizzed our barista on what exactly goes into everything in the iced coffee. Realized today that I had calculated my macros at maintenance, not for loss, so I re-did them with new goals.
Breakfast: Plain Greek yogurt with a bit of vanilla extract. This tasted like eating sour cream. I won't be doing that again.
Lunch: Hubby invented some amazing bacon wrapped cheddar burgers.
Dinner: I was so sick of cooking every meal that we decided to eat out at Qdoba for dinner. We had the same shell-free taco salads I had a few days ago.
Snacks: Made some of these Low Carb Keto Raspberry Cream Fat Bombs and they're delicious!
Feeling: Starting to feel much better! Definitely had a lot more energy. I wrote a post about my Blackberry Lemon Bars and didn't even mind staring at them while I edited photos.
Macros: 1437 Calories, 98g Protein, 14g Net Carbs (24g carbs – 10g fiber), 105g Fat
Day 6
---
Monday. I had a ton of work to get done today and I rocked most of it.
Breakfast: Tried Bulletproof Coffee today. I used the unrefined coconut oil and it was the grossest thing I've ever consumed. It tasted like I was drinking coconut flavored liquid butter. I'll have to try it again with the flavorless oil and see what it's like.
Lunch: A leftover bacon-wrapped burger from yesterday turned into a salad. Yum!
Dinner: Lettuce wrapped tacos with some taco seasoning on ground beef
Feeling: Like this could be a new normal. My blood sugar has been steady as a rock since I started this. And I'm not feeling the keto flu anymore.
Macros: 2189 Calories, 86g protein, 10g net carbs (21g carbs-11g fiber), 189g fat
Day 7
---
Tuesday. I made it through a whole 7 days and I think I'm starting to adapt.
Breakfast: Running late, so a couple of those fat bombs I made a few nights ago and a couple hard boiled eggs.
Lunch: I went to Costco, so I ended up eating a whole bunch of samples (it seemed to be meat and cheese sample day!) and a bunch of macademia nuts. I may or may not have bought out the whole store. Don't tell my husband.
Dinner: Broccoli Cheddar Soup from Costco along with some crumbled bacon.
Feeling: I really feel like I can make this work! I've learned a lot already, and after a week of tracking, I'm getting a lot better about estimating portion size and guessing what will probably be keto. Also, I realized today that all the inflammation I've had in my joints and my shoulders seems to be totally gone. I wasn't begging my husband to rub my shoulders as soon as he got home or nursing the beginnings of a tension headache over the past few days as is my normal for a day of computer work. Also, I'm a lot less bloated and my clothes already seem to be more comfortable.
Macros: 2157 Calories, 65g Protein, 14g net carbs (24g carbs – 10g fiber), 188g fat
Weigh-in for the first week: 252lbs – I'm already down 9lbs in just 7 days! Granted a lot of that is probably water weight since carbs cause you to retain water, but still! I haven't had that kind of scale victory in a couple of years, even when trying to work my butt off (literally).
Final Thoughts
---
I wish I would have grabbed some electrolytes and made a meal plan before jumping in, but when your doctor tells you she has a solution for your infertility, you kinda just go for it. I also want to find an easier way to cook for this diet without getting every pan we have dirty every day. So I'm definitely going to invent some slow-cooker recipes and find some great make-ahead breakfasts. Crocktober is coming up in a week and I'm probably going to be a little bit behind as I need some extra time for recipe testing meals that fit in our new low-carb lifestyle. So I may have to start on week 2 of October instead of week 1.
Have any of you ever tried the keto diet? I'd love to hear your recipe ideas!