These Blackberry Lemon Bars have just the right balance of sweet, fresh blackberries and tart lemon goodness with an extra-thick shortbread crust!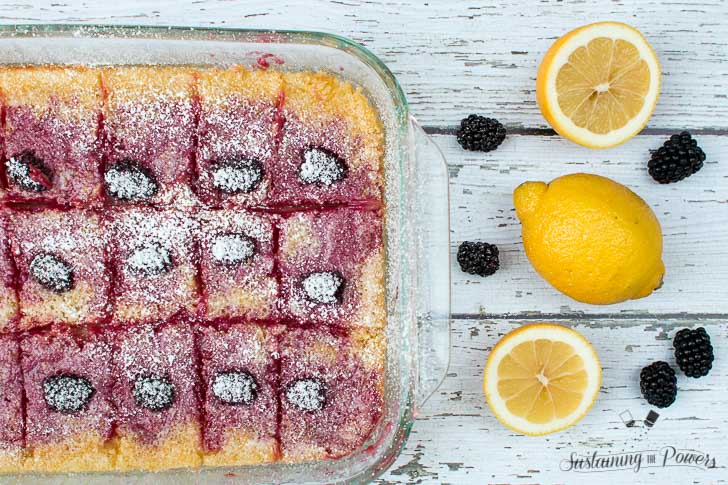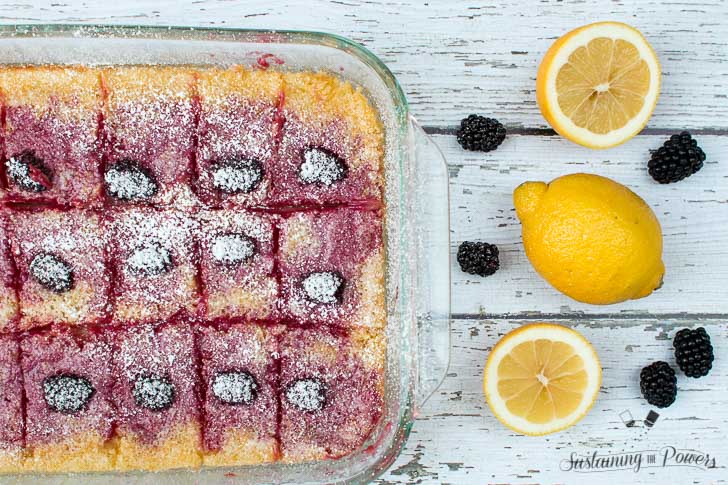 This past week has been quite the whirlwind in the Powers house! I finally got a referral to see a reproductive endocrinologist to get her thoughts on our 4+ years of infertility struggles and she had a whole lot of answers for me!! Which is excellent news because we've had a bazillion tests done over the past couple years, tried several different treatments, etc. and the whole time my doctors kept saying "everything looks normal on your test results" when I knew things weren't normal and I wasn't ovulating on my own. It turns out I have a combination of PCOS and insulin resistance. So, she put me on a super strict ketogenic (keto) diet (high in good fats, adequate protein, very low carb) and I talked Hubby into starting it with me too.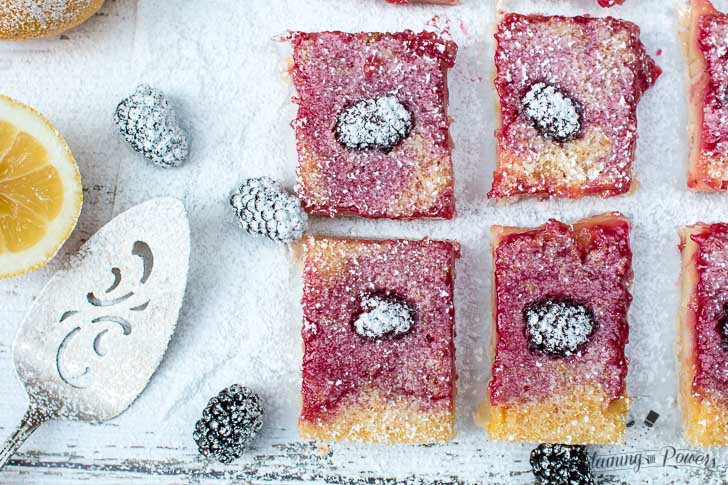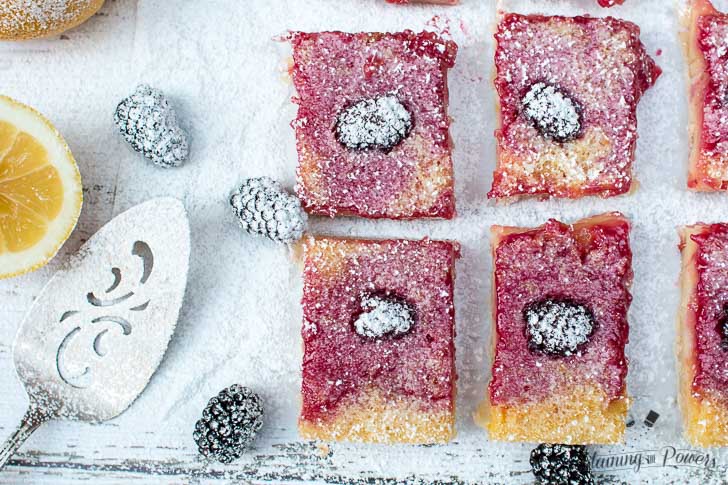 Because I'm pretty much only going to be cooking for this new diet, the recipes are going to start changing a lot around here to match our day to day meals. If you're a fan of low-carb (and gluten-free), this likely means a ton of new options for you to try out! Since going keto means a lot of big lifestyle/meal plan changes, I'm thinking I'm going to blog a bit about my experiences and weight-loss updates so other people can benefit from what I'm learning as I teach myself to cook all over again with this new set of rules. I'm not sure we will stay keto long-term, but the hope is I will be able to lose about 50-60 lbs and get my insulin levels and fertility back to normal. Worst case, I just end up skinny again. 😉 So I really hope you'll stick around and cheer me on as I go on this journey to better health!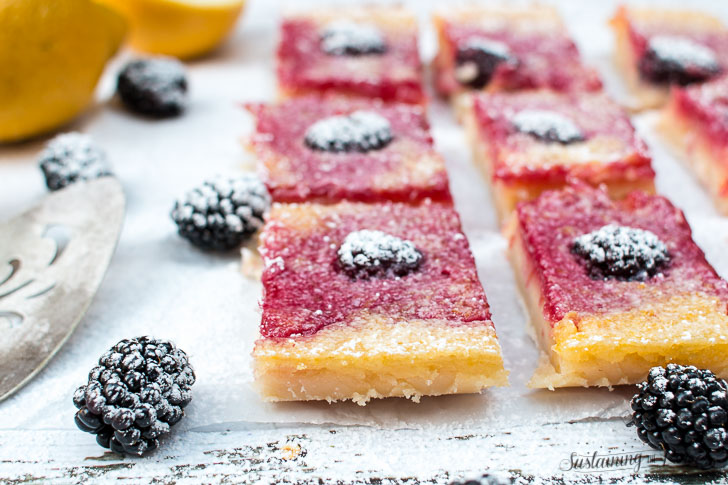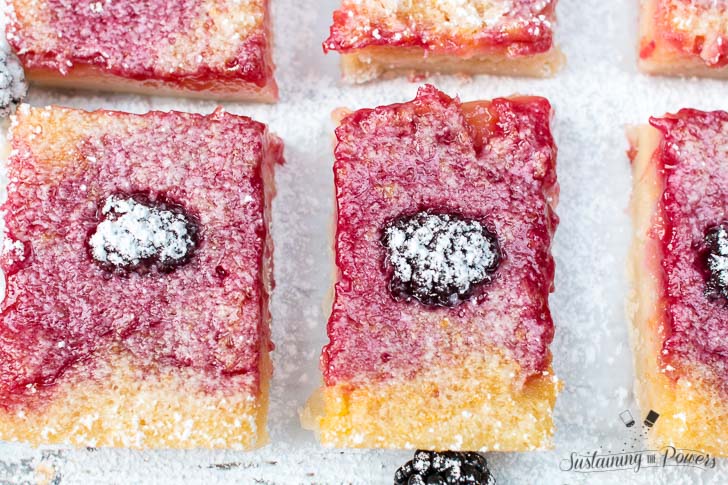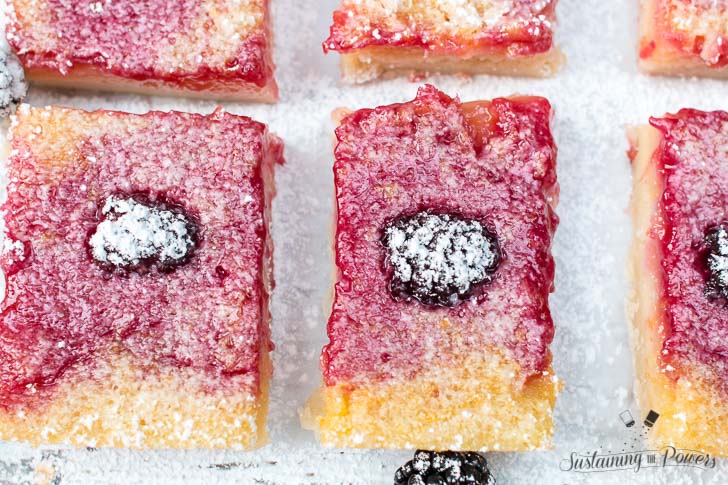 In the meantime, I still have a few "regular" carb recipes ready to share with you over the next few weeks before I start trying to invent more keto recipes. So today I wanted to share with you these blackberry lemon bars. They are pretty much the most delicious lemon bars you will ever have the chance to eat. I made the crust nice and thick and swirled the blackberry sauce around to give them a marbled look. The sweetness of the blackberries offsets some of the tart of the lemon custard and really makes for a more balanced dessert than plain old lemon bars in my opinion. If you need a great recipe to take to a get together, these are sure to be a big hit! I hope you enjoy them as much as we did! (And eat an extra one for me since they're off-limits on my current diet plan.)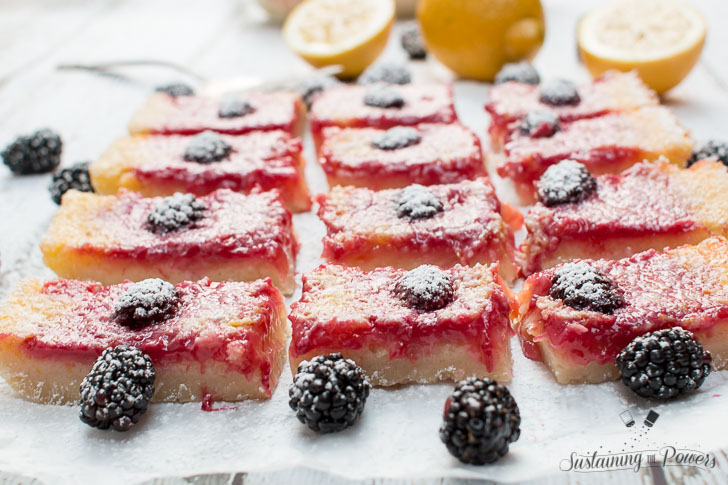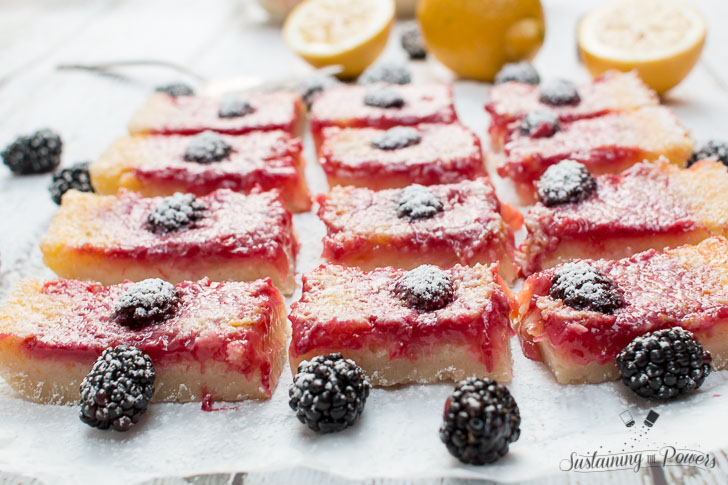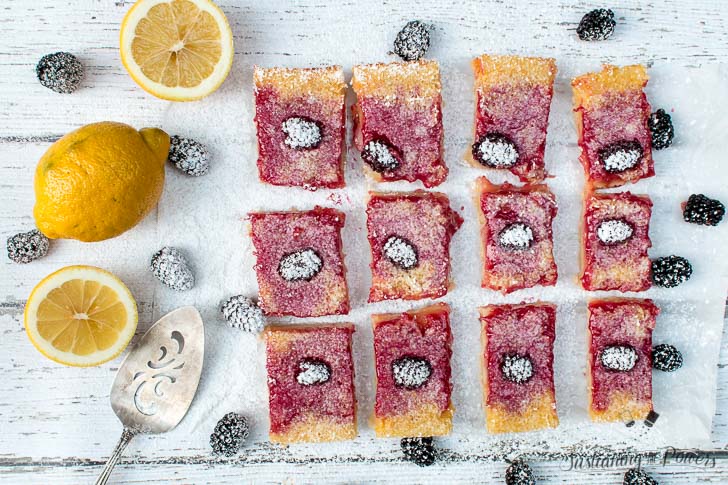 Blackberry Lemon Bars
2016-09-18 19:42:27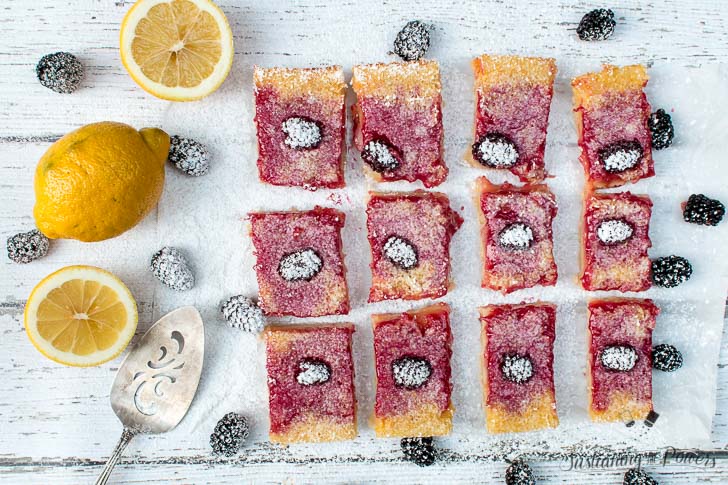 For the Crust
2 cups flour
1/2 cup sugar
1/4 teaspoon salt
2 sticks (1 cup) butter, cubed
For the Filling
1-1/2 cup sugar
1/4 cup flour
4 large eggs
lemon zest from 3 medium lemons
juice from 3 medium lemons
For the Blackberry Syrup
1 pint blackberries
1/2 cup water
1/4 cup sugar
Make the Syrup
In a medium sauce pan, add the water, sugar and half the blackberries. Muddle the blackberries with a muddler or the back of a wooden spoon to release the juice. Bring mixture to a boil, then reduce to a simmer and allow the mixture to thicken, about 5-10 minutes. Pour through a strainer into a cup with a pour spout and set aside.
Make the crust
Preheat oven to 350.
Combine flour, sugar, and salt in a medium bowl.
Use a pastry cutter to cut the cubed butter into the flour mixture until it's fully blended and a crumbly dough has formed.
Press into the bottom of a greased 9x13 pan and bake in the oven for about 20 minutes, or until golden.
Make the filling
Combine the sugar and the flour.
Whisk in the eggs, lemon juice, and lemon zest until mixture is well combined.
Pour over the crust in the pan.
Gently swirl in the blackberry syrup and top with fresh blackberries. (I spaced mine out to be about 1 per bar.)
Bake for about 20 minutes, or until mixture has set.
Cool in the fridge for about 2 hours then slice and enjoy!
(Dust with powdered sugar, if you like, for that "lemon bar look.")
Notes
Gluten-free: these are not gluten-free, but should bake up pretty well with GF flour.
Vegetarian: These are vegetarian.
Vegan: These are not vegan.
Adapted from Pioneer Woman
Sustaining the Powers https://www.sustainingthepowers.com/
Pin These Blackberry Lemon Bars for Later!