Crunchy, healthy, oven-baked jicama fries with a homemade balsamic vinegar ketchup. The perfect summer party snack.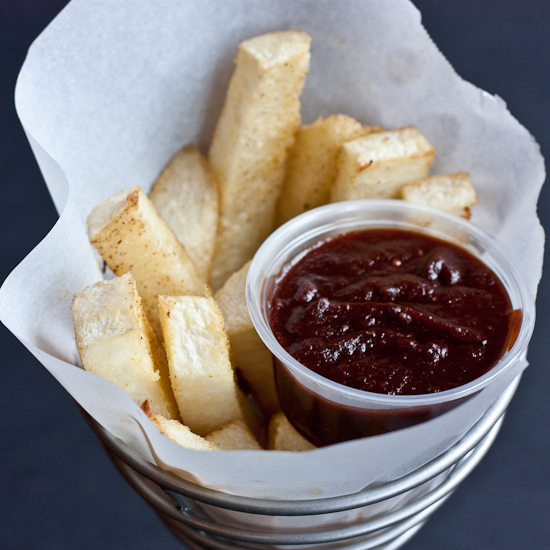 My top two favorite things to eat in the summer are roasted garden vegetables and french fries. If I could get away with eating fries daily, I probably would. Unfortunately, eating that many potato fries would leave me huge, so I like to roast veggies in the shape of fries that I can dip in ketchup and not feel so guilty about. One of my favorite guiltless french-fry veggies is jicama (pronounced "HEE-kah-muh" or /ˈhɪkəmə/ if you're a linguist.)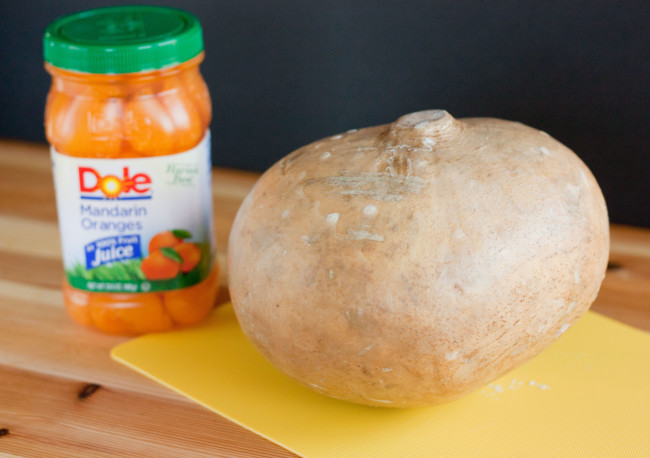 Jicama, also known as the Mexican Turnip, is a large tuberous root that's actually part of the bean family. It comes in various sizes, but most are shaped like the one pictured above. This one is the size of a large cantaloupe (oranges for reference), though I've seen some that are the size of a grapefruit. When choosing a jicama, you want to find one that is very smooth, has few clefts, and doesn't have any brown or mushy spots. This one came coated in a layer of wax to keep it well-protected, and likely to keep you from trying to eat the skin which can make you very sick. I found this one at Sprouts for just $0.66/lb. I've seen them at Whole Foods, some regular grocery stores (depending on region) and most Asian grocery stores (they often use it in soups and spring rolls).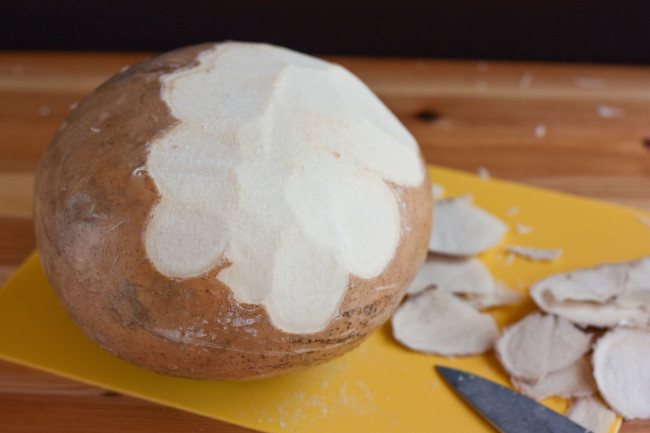 Since they are often coated in wax, and the peel is quite thick, you won't be able to use a regular vegetable peeler on the jicama. You'll need to peel it carefully with a sharp knife. You should also note that the flesh will slowly begin turning brown once you peel it, so only peel as much as you plan to use at a time. The rest will keep in the fridge for up to a week. The inside flesh of a jicama has a consistency like a coconut or a water chestnut. It's fairly juicy and has a lovely crunch. You can eat it raw, roasted or boiled, but much like the water chestnut, it will retain its crunch even when cooked. I love the crunchy roasted fries!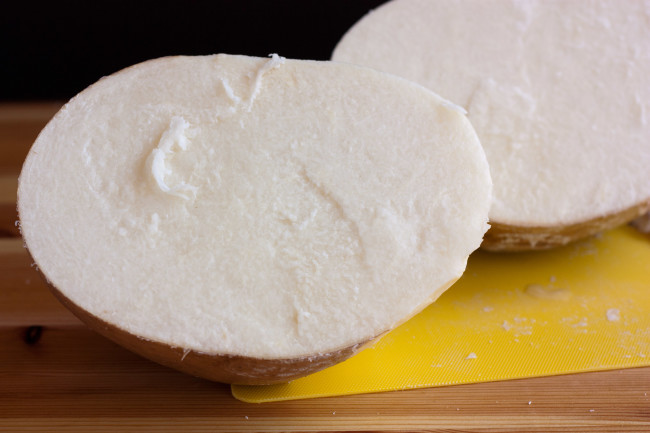 Here's the inside of the jicama. The older ones can get pretty fibrous in the center, but this one ended up being perfect for a huge batch of fries. Jicama is rich in vitamin C, low in fat and calories, and a great source of soluable fiber, so I don't feel guilty eating the entire batch of jicama fries. It has a slightly sweet and starchy flavor. Kind of a cross between a potato and an apple, so I find it easy to use in sweet or savory dishes.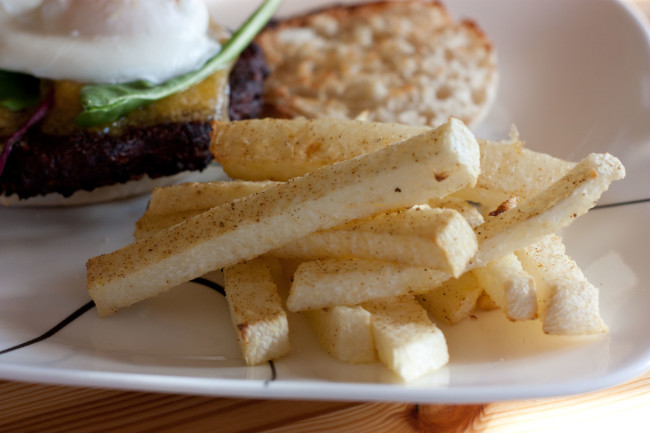 While the jicama fries roasted in the oven, I realized that we had used up every bit of ketchup in our house! (How did that happen?!) You can't have fries without ketchup, so I decided to whip up some of my husband's favorite – balsamic ketchup! Ketchup is actually quite easy to make yourself. The first time I read a ketchup recipe I was shocked by how simple it was. Making it yourself also means you don't have the added high fructose corn syrup and preservatives of store-bought ketchup. All you have to do is stir a few ingredients together in a sauce pan, simmer it on the stove to let the flavors meld, then eat it.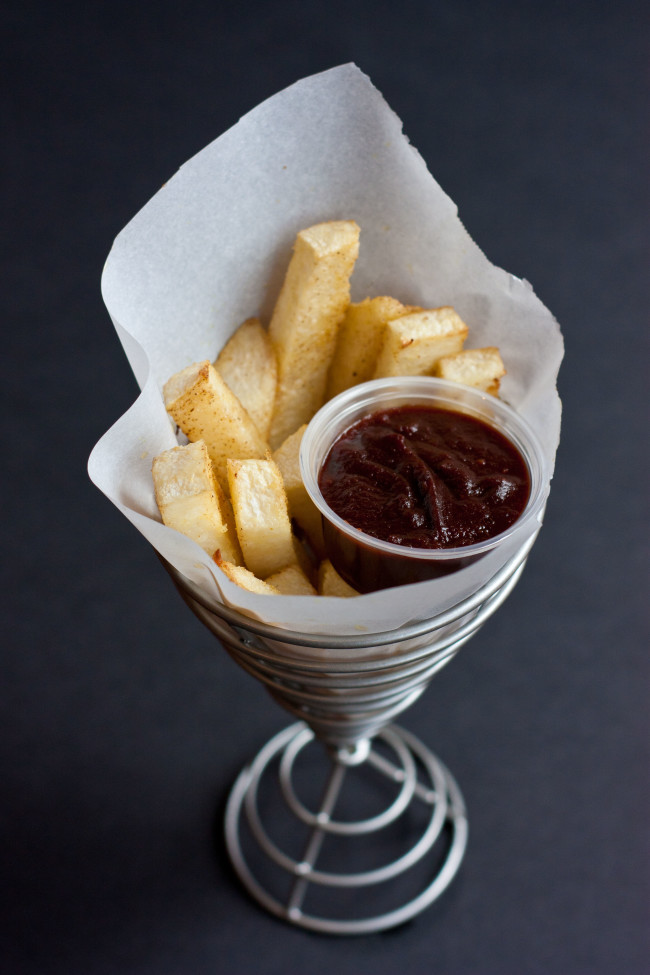 Wouldn't you love to come home to this beautiful, healthy, afternoon snack?
Have you tried jicama before? Did you like it? Tell me what you think in the comments!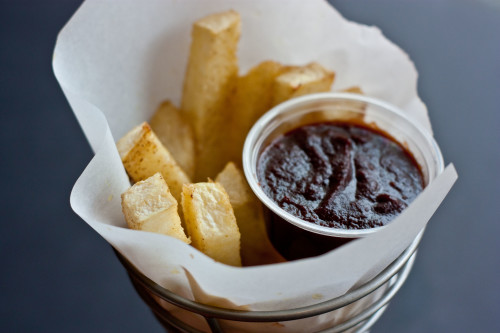 Jicama Fries with Balsamic Ketchup
2014-06-22 17:26:40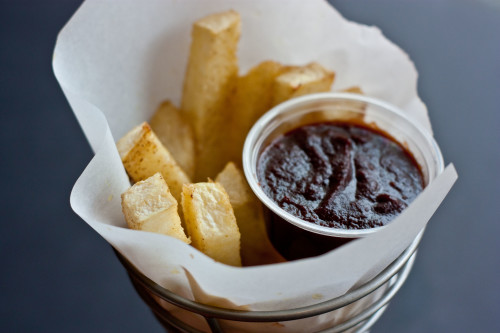 Serves 4
Crunchy, healthy, oven-baked jicama fries with a homemade balsamic vinegar ketchup. The perfect summer party snack.
For the Jicama Fries
1 lb of jicama (1/2 large root), sliced into thick french fry sticks
2 teaspoons Lowry's seasoning salt
1 teaspoon garlic powder
3 Tablespoons olive oil
For the Balsamic Ketchup
1 (6oz) can of tomato paste
1/4 cup balsamic vinegar
1/4 cup water
2 Tablespoons brown sugar
3/4 teaspoon dried mustard
1/2 teaspoon dried oregano
1/2 teaspoon dried basil
1/4 teaspoon garlic powder
1/4 teaspoon kosher salt
For Jicama Fries
Preheat oven to 400 degrees.
Place a sheet of foil on a large baking sheet and drizzle with 3 Tbsp olive oil.
Spread jicama sticks on the oiled pan and roll around to coat with oil.
Sprinkle half the seasoning salt and half the garlic powder over the top of the fries.
Bake fries for 20 minutes.
Remove fries from oven, flip over with tongs, and sprinkle with remaining garlic powder and seasoning salt.
Return to 400 degree oven for another 20 minutes, or until fries reach the desired level of brownness. (Note, fries will remain crunchy no matter how long they cook.)
For Balsamic Ketchup
While fries are roasting, whisk together tomato paste, balsamic vinegar, water, brown sugar, mustard, oregano, basil, garlic powder, and salt in a medium saucepan.
Heat over medium until mixture begins to bubble, then lower heat and simmer, uncovered, for about 10 minutes whisking occasionally.
Allow to cool before serving with jicama fries.
Notes
Gluten-Free: This whole recipe is already gluten-free!
Vegan: This whole recipe is already vegan! (and can be "raw" as well if you skip the baking process.)
Want regular ketchup? Swap apple cider vinegar for balsamic. Prefer super duper balsamic ketchup? Use 1/2 cup balsamic and skip the water.
Sustaining the Powers http://www.sustainingthepowers.com/