Crunchy, raw jicama and fresh strawberries take center stage in this bright Jicama Strawberry Summer Salad.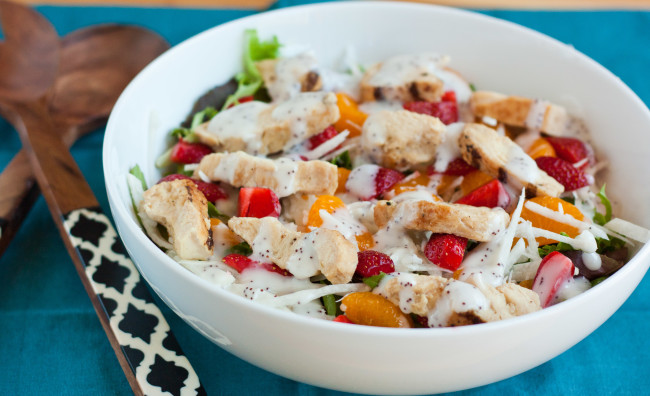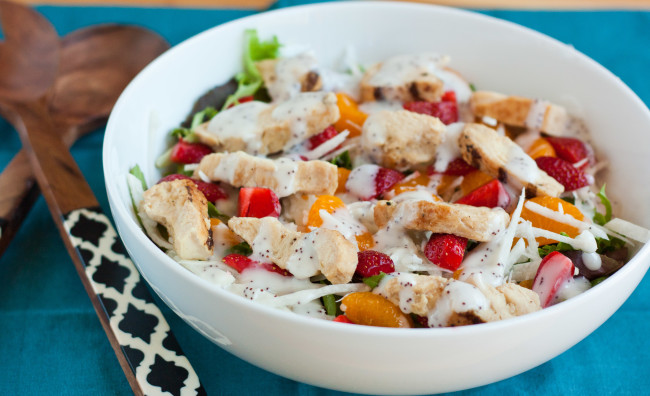 Last week I shared about how to buy, prepare, and roast a jicama into my favorite Jicama Fries with Balsamic Ketchup. The jicama I found in Denver are ENORMOUS, so this week, I wanted to share this recipe for a jicama strawberry salad you can make with all the leftover jicama.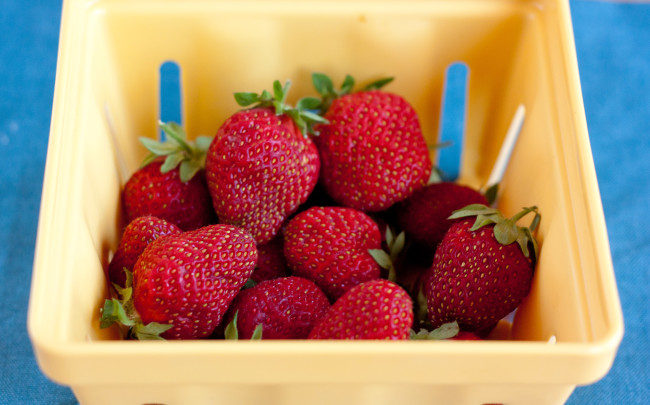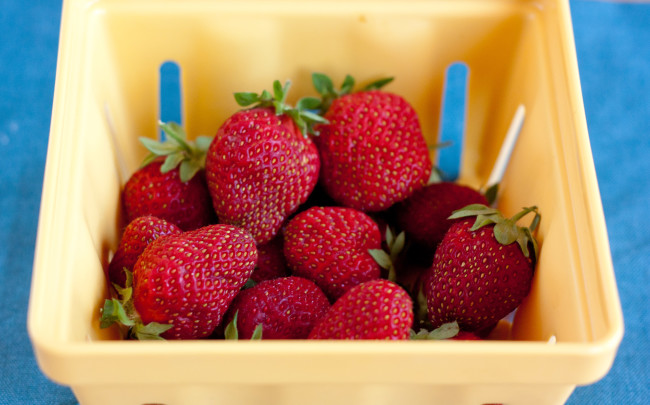 Now that hubby and I own a house, we've been getting into gardening. (Okay, it's more like I've been getting into gardening and I've talked hubby into lifting the heavy things and making sure the plants get enough water when I ignore them for a week.) The former owners of our house were just starting a strawberry patch when they decided to sell 2 years ago, and I'm excited to say that we've nurtured it into growing some beautiful berries! Nothing can beat a fresh-picked organic strawberry. The taste has pretty much ruined me for all other strawberries. I had no idea what a true strawberry tasted like until I bit into one of these. Even the color is delicious – centers in strawberries that are fully ripe are actually a luscious, deep red. I mean, LOOK at those!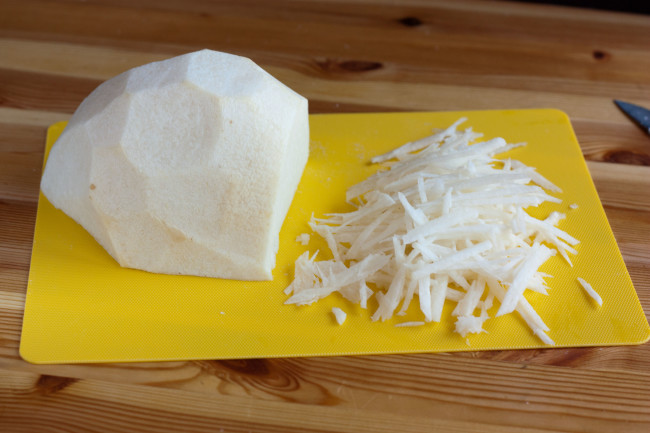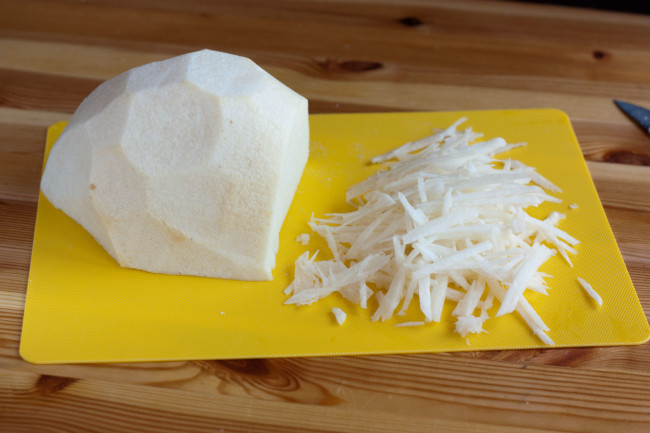 So, back to the salad. This one is super easy to throw together. Just take your raw jicama, peel it carefully with a knife, cut off a few, thin disks and julienne them. I happen to have a mandoline slicer, so I used that to get the pretty, even sticks you see in the photos, but you can cut it up however you feel is easiest for your salad. I've often seen it diced or chopped by hand or in a food processor, so it should turn out okay however you decide to slice it.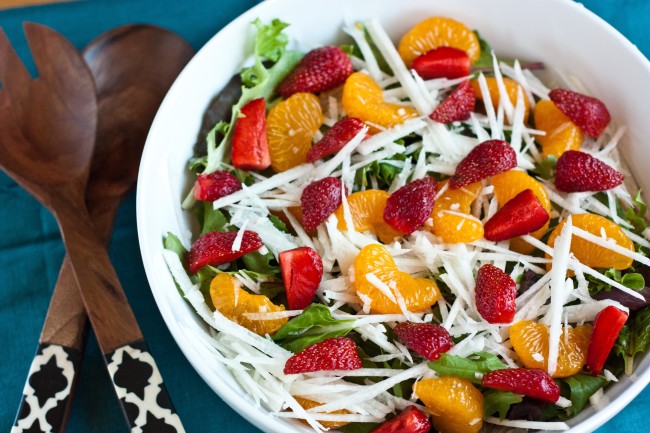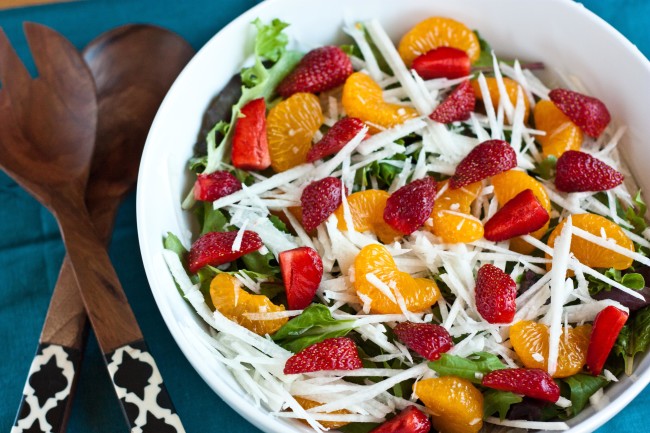 Now that the jicama is shredded, dice up your strawberries, grab a can of mandarin oranges and layer them in a large bowl on top of your favorite lettuce. I added some leftover grilled chicken for protein, but that's entirely optional. Top it with some poppy-seed dressing and add some sliced almonds (not pictured) for crunch and you have the essence of summer in a bowl!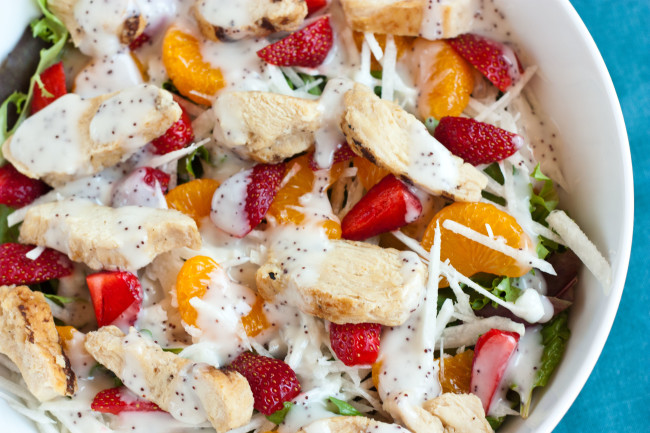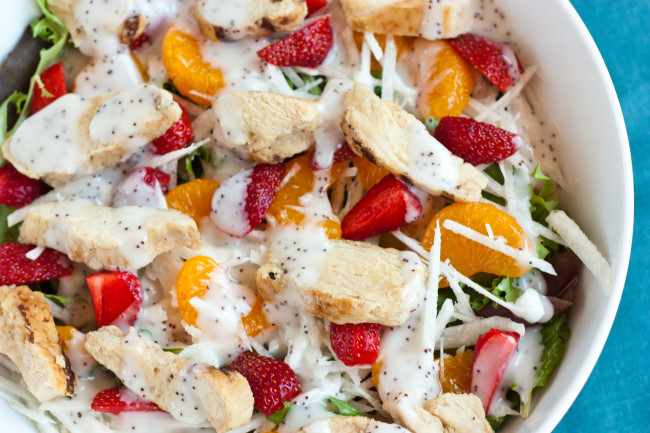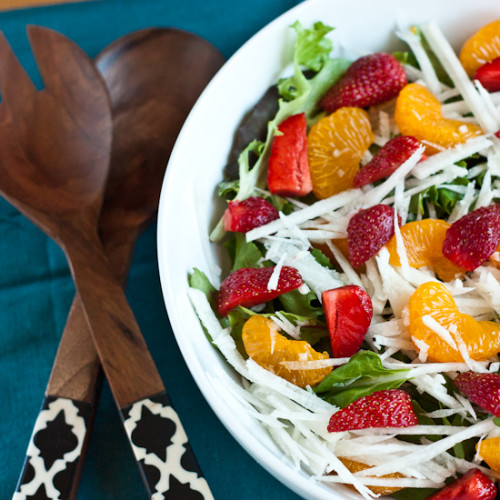 Jicama Strawberry Summer Salad
2014-07-02 14:01:49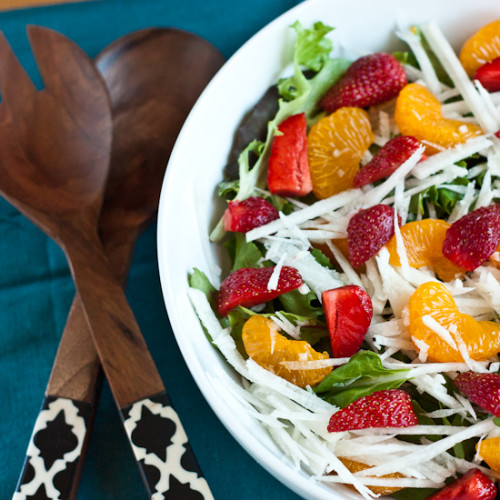 Serves 2
Crunchy, raw jicama and fresh strawberries take center stage in this bright Jicama Strawberry Summer Salad.
Ingredients
1 pound mixed salad greens
1/4 pound jicama, shredded or diced
1/2 pound fresh strawberries,hulled and quartered (about 1/2 pint or 1 cup when cut)
1 small (10 oz) can mandarin oranges, drained
1-2 chicken breasts, grilled and sliced (or use the pre-cooked frozen chicken breasts) (optional)
3 Tablespoons poppy-seed dressing (or to taste) (I like Breanna's Homestyle Dressing)
2 Tablespoons sliced, toasted almonds
Instructions
In a medium bowl, layer lettuce, jicama, oranges, strawberries, and chicken.
Add the desired amount of dressing and toss to coat.
Sprinkle with toasted almonds before serving.
(To be honest, I eyeball all my salads, so feel free to use my photos as a reference and change up the measurements to suit your personal tastes.)
Notes
Gluten-Free: As always, check your dressing labels, but this should be gluten-free!
Vegan: Leave off the chicken, and use Breanna's dressing to make sure it's vegan!
This will serve 2 for a lunch or 4-6 side salads.
Sustaining the Powers https://www.sustainingthepowers.com/