How many of you watch The Walking Dead? If you've been around for a while, you probably remember that we host a weekly watch party at our house every Sunday night. This Sunday was the season finale, so I decided to make an extra special dessert to celebrate.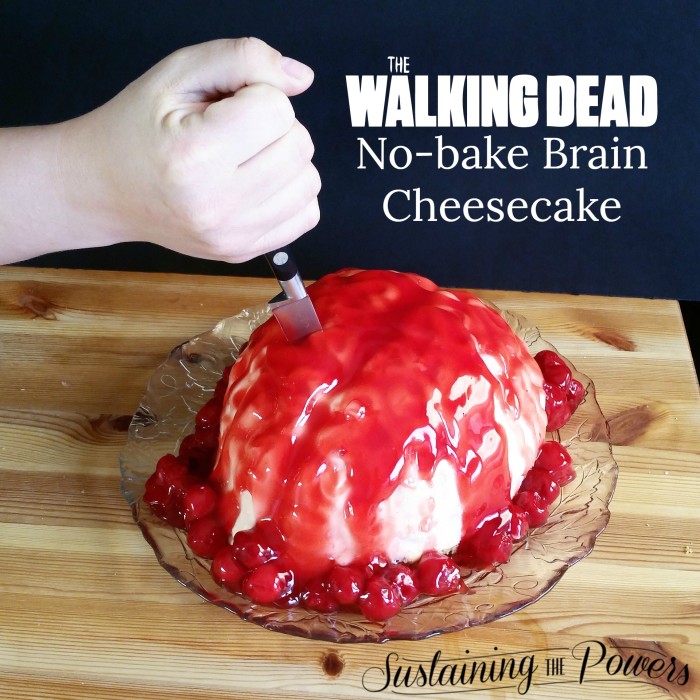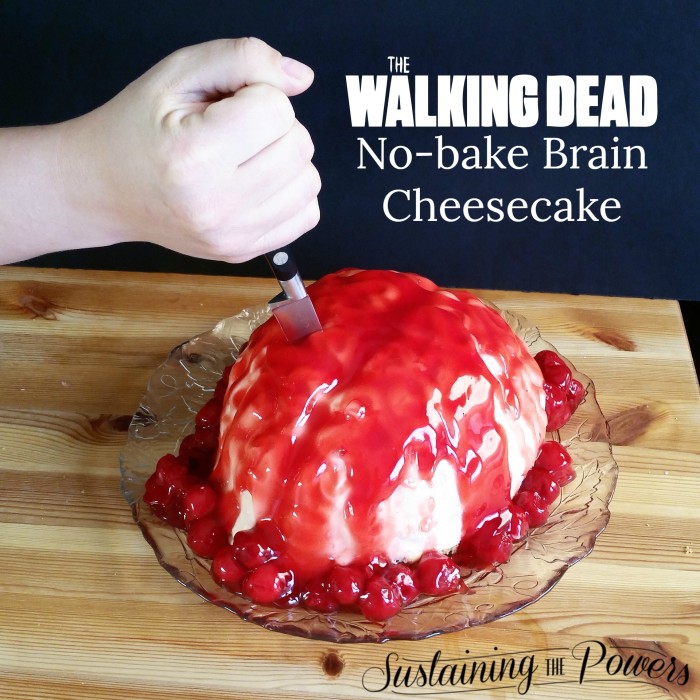 Yep, that's a Walking Dead brain cheesecake. An oozing, gooey, cherry-filled, graham cracker crusted brain cheesecake. Don't you just love it? I know it's probably not the first thing you think of for Monday morning, but I thought it was too fun not to share it with you today.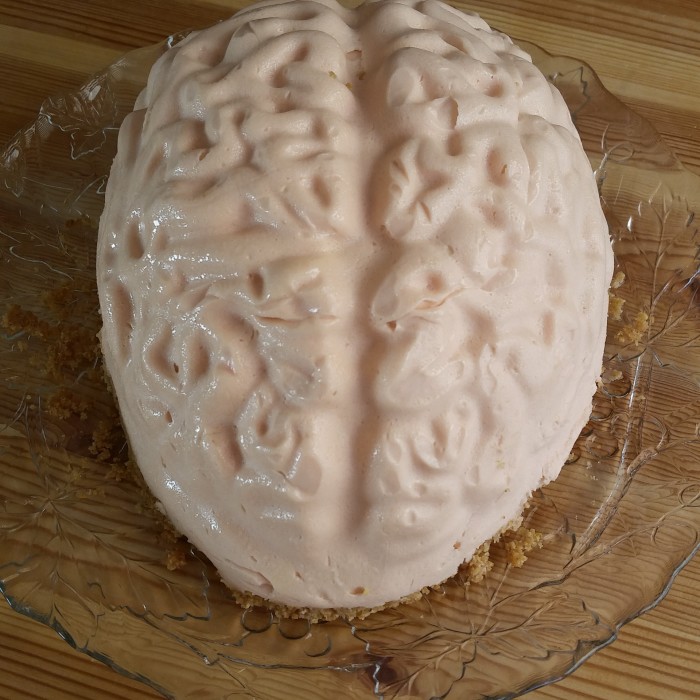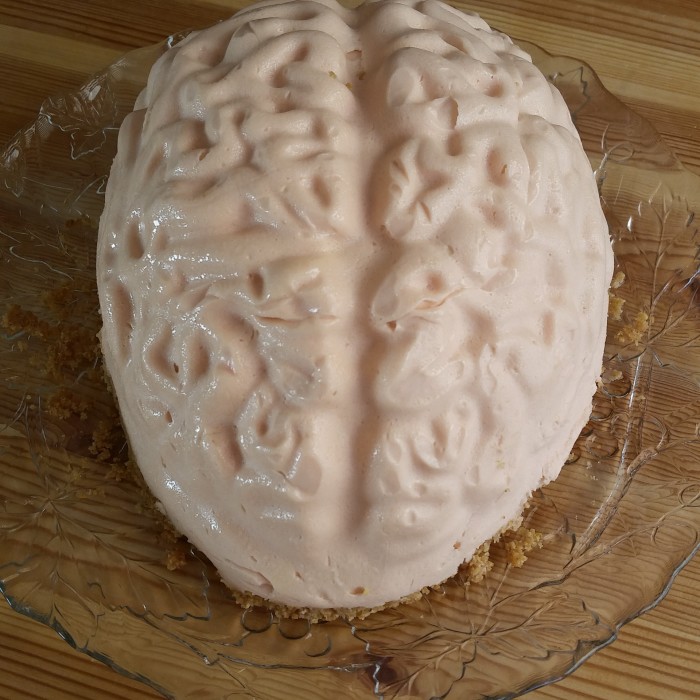 Here it is before the cherry filling was added on top. Believe it or not, you can purchase brain jello molds on Amazon and have them sent to you. So, of course I did this as soon as I discovered it was a thing. (What food-loving Walking Dead fan wouldn't?!) You can also find mini brain molds, hand molds, and a million other non-zombie jello molds. This method should work with almost any of the jello molds you can find out there.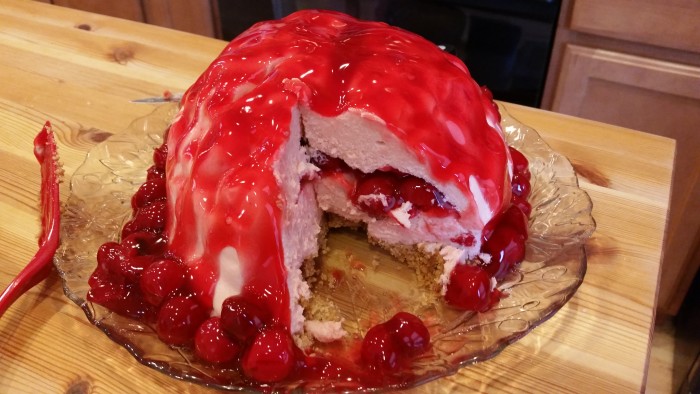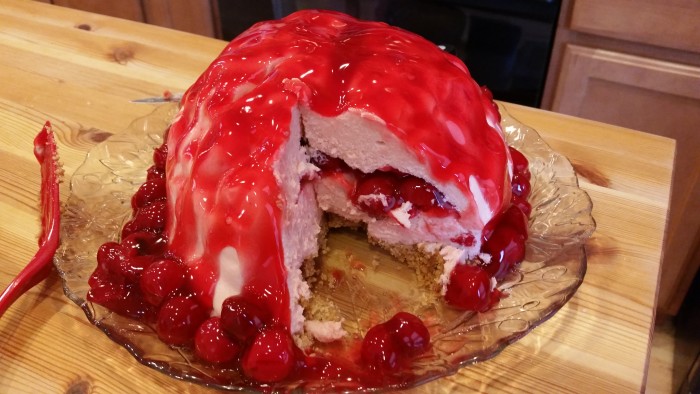 Here's a shot of the inside of the brain after we removed part of the frontal lobe and consumed it. (Braaaaaaaaaains.) It's got a lovely layer of cherry filling inside which oozes out when you cut into it. Totally a hit for your next Walking Dead party!
Walking Dead Brain Cheesecake
2015-03-30 00:09:24
Serves 10
A fun brain-shaped cherry cheesecake for your next walking dead or zombie party!
Ingredients
2 (11oz) boxes Jello no-bake cheesecake mix (regular, not strawberry flavor)
3 cups milk
5 tablespoons margarine, melted
2 tablespoons sugar
5 drops red food coloring
1 drop black food coloring
1 can cherry or strawberry pie filling.
1 large brain Jello mold
Instructions
Prepare graham cracker crust as directed on box with margarine and sugar, but set aside in a bowl to be added to the brain later.
Combine milk and cheesecake mix and add in red and black food coloring. Whip as directed on the package.
Give the brain mold a light spray with cooking spray.
Turn the mold upside down (so it's like a bowl) and place inside a slightly larger bowl. Fill the bowl with dried beans to stabilize it if your mold shifts around.
Spread half the cheesecake mix in an even layer inside the the brain mold with a spatula, making sure to fill in the crevices and coat up the sides so the cherry won't show through.
Pour in half the can of pie filling.
Add the remaining cheesecake carefully over the top to seal in the pie filling.
Carefully press the graham cracker crust in a layer over the top of the cheesecake to form the bottom crust.
Refrigerate for at least an hour.
To remove from the mold: Run hot water over the outside of the mold to loosen up the cheesecake and carefully invert on a plate. The brain should pop out cleanly with a few taps. Repeat hot water if it doesn't loosen immediately.
Pour remaining cherry pie filling over the top.
Serve immediately and refrigerate leftovers.
Notes
Gluten-free: This is gluten-free if you leave out the crust.
Vegetarian: This is vegetarian.
Sustaining the Powers https://www.sustainingthepowers.com/
Meal Plan Monday 3/30-4/5:
This meal plan is designed to feed approximately 4 adults at each meal or two adults with lunches left over. Feel free to double or add to it as needed. **You'll need to open it with the free Adobe Reader App (Android or iOS) to be able to use the check boxes on mobile, so install that first if you don't have it already.**
Monday: Quinoa Chicken Parmesan from Damn Delicious (gluten-free option)
Tuesday: Turkey Taco Lettuce Wraps from Skinny Taste (gluten-free)
Wednesday: Slow Cooker Mongolian Beef from Six Sisters' Stuff (gluten-free)
Thursday: Spinach Salad With Chicken, Avocado and Goat Cheese from Recipe Girl (Gluten-free, vegetarian/vegan option)
Friday: Margherita French Bread Pizza from The Chic Table (gluten-free if using gf french bread, vegetarian)
Saturday: Date Night – Eat Out.
Sunday: Y.O.Y.O. (You're on your own.)
Linked up with: