This DIY streak-free appliance cleaner works especially well on black and stainles steel appliances to get them shiny clean with no streaks!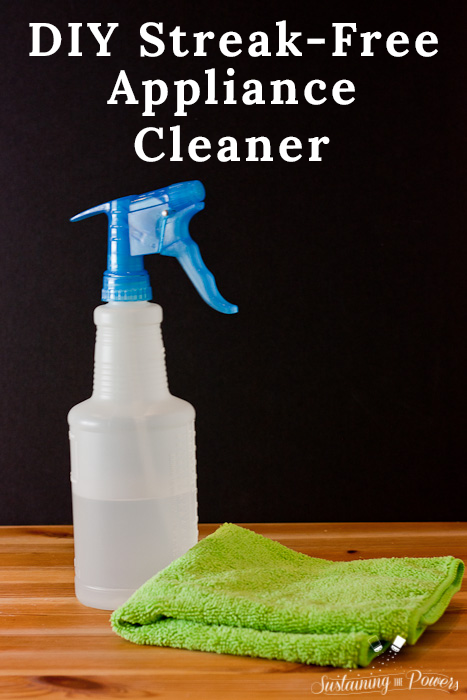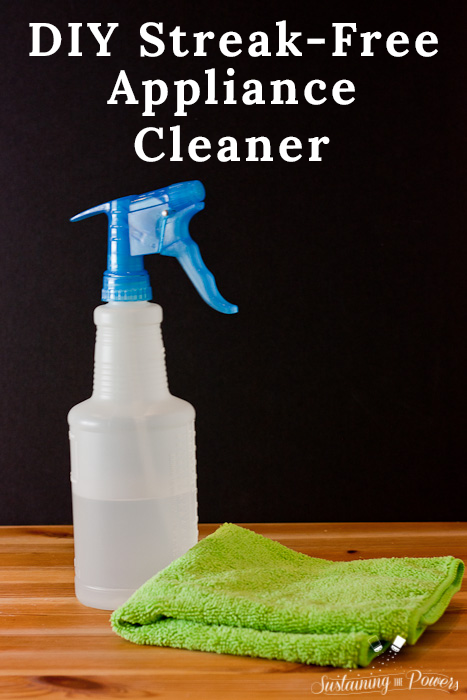 I'm bringing you a bit of a different recipe today. One of the biggest problems with cooking is that you make messes. If you're a food blogger, you make a LOT of messes. Like 2 loads through the dishwasher each day size messes. On top of the dishes, I feel like I'm always cleaning off the stove and microwave.
When we moved in, I was actually a bit excited to have black appliances. We had stainless previously, and it seemed like it was always picking up ALL THE FINGERPRINTS! Stainless won't be discolored, but it will always be covered in fingerprints. Seems like a pretty big downside. Plus, they're not magnetic (where do I put my fridge magnet collection?!) So, you can see why I was really excited to have magnetic black appliances and no fingerprints. Until I discovered their downside: visible streaks! Can I get a cleaning break please?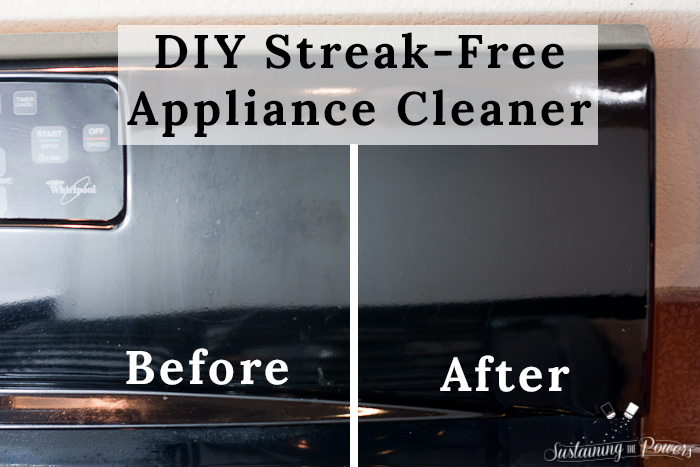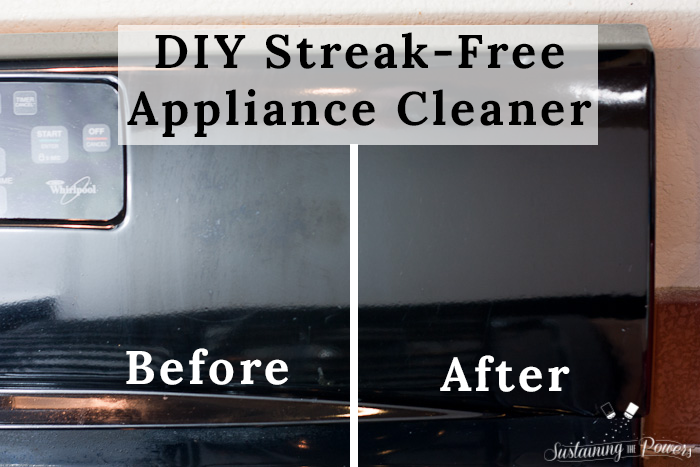 Fortunately, I ran out of appliance cleaner one day and tried some of my homemade laminate floor cleaner on the stove. Lo and behold, no streaks! The "before" photo above shows the streaks left by one of those cleaning wipes. The right side is after a spray of my DIY Streak-free Appliance Cleaner and a swipe with a microfiber cloth. So much better right?! This works pretty similarly on our stainless steel trashcan and microwave, so maybe you can solve the fingerprint issue on stainless too. (By the way, it's super-hard to get good photos of streaks on your appliances. This shot involved both my hubby and I, 2 light sources, and 2 pieces of foam board.)
I think the biggest secret to this trick, besides the rubbing alcohol, is to use a microfiber cloth to wipe down the appliances after you spray them with the cleaner. Paper towels will work okay, but it's really worth investing $10 in a huge pack of microfiber towels at your favorite big box store and washing them every so often. (To keep them absorbent, avoid using fabric softener in the wash.) Enjoy!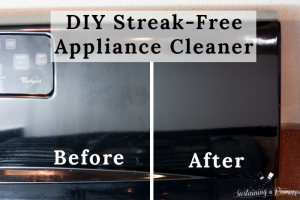 DIY Streak-Free Appliance Cleaner
2015-02-17 23:39:16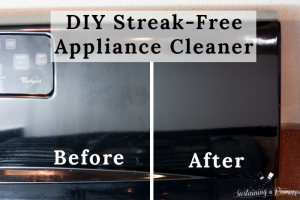 This DIY streak-free appliance cleaner works especially well on black and stainles steel appliances to get them shiny clean with no streaks!
Ingredients
1 cup water
1 cup white vinegar
1 cup rubbing/Isopropyl alcohol (The stuff you'd find in the pharmacy for first aid, not the drinkable kind.)
2-3 drops liquid dish soap (Dawn, Joy, Castile, etc.)
3-4 drops of your favorite essential oil (or extract your own from orange peels - see notes)
Other Materials Needed
1 24oz plastic spray bottle (found in the cleaning aisle)
1 microfiber cloth (found in the cleaning aisle)
Instructions
Add all ingredients to a 24 oz misting spray bottle and shake to combine.
Spray cleaner onto your appliances in a small area.
Wipe up with a microfiber cloth (microfiber is the key to no streaks).
Repeat until cleaned.
Enjoy your streak-free finish!
Notes
**I take no responsibility for any damages that may occur from this cleaner. When using homemade products, always test in a small area to ensure no damages will occur.
*The first time I used this, there was a small amount of waxy buildup on the appliances that fogged over. It was streak-free after a second pass with the cleaner.
This also works wonders on my laminate (not hardwood) flooring. Spray a small area and mop up with a microfiber cloth on a swiffer.
To extract your own orange oil: Soak 2-3 orange peels in the 1 c vinegar for 1-2 weeks, then strain out and discard peels. Use the orange essence vinegar in place of plain white vinegar to make the recipe as directed above.
Sustaining the Powers https://www.sustainingthepowers.com/