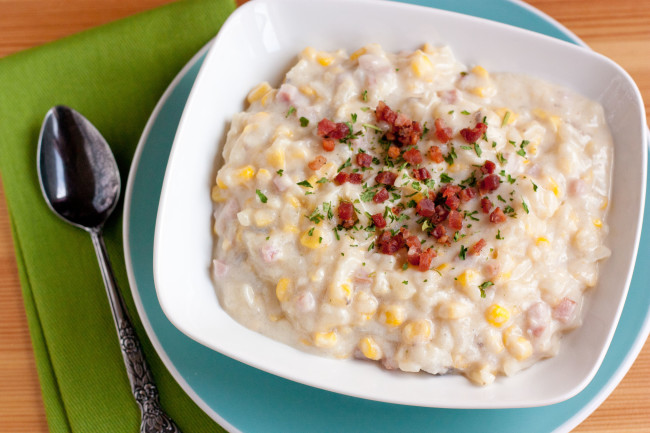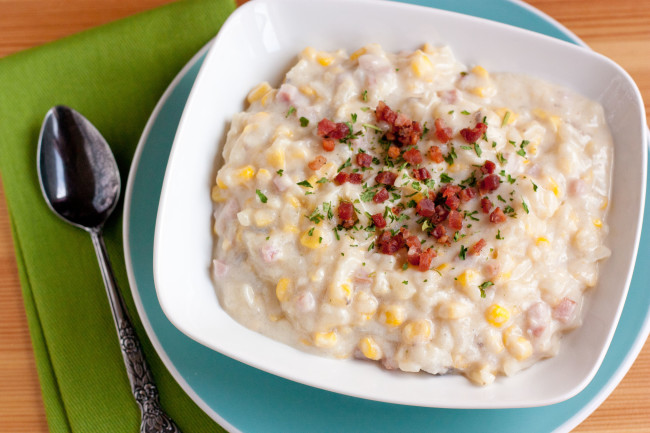 I hope everyone had a lovely Valentine's Day! Hubby was gone on a business trip all last week, but he made sure to come home on Thursday night so we could spend most of Friday together. I'm still getting in the swing of working again and having dinner on the table, but my slow cooker/Crock-Pot has been helping a lot. (Side note: I know not all "slow cookers" are made by Crock-Pot, but can't we just all agree that "Crock-Pot" has become a synecdoche like "Kleenex", "Band-Aid", or "Coke" and stop trying to push the PC use of "slow cooker"?) I'm not a huge fan of going out to a fancy restaurant on a popular evening. Something about waiting for a table and having the whole place so abuzz with conversation that you almost need to yell doesn't appeal to me. Especially not when I am just as able to cook something delicious at home.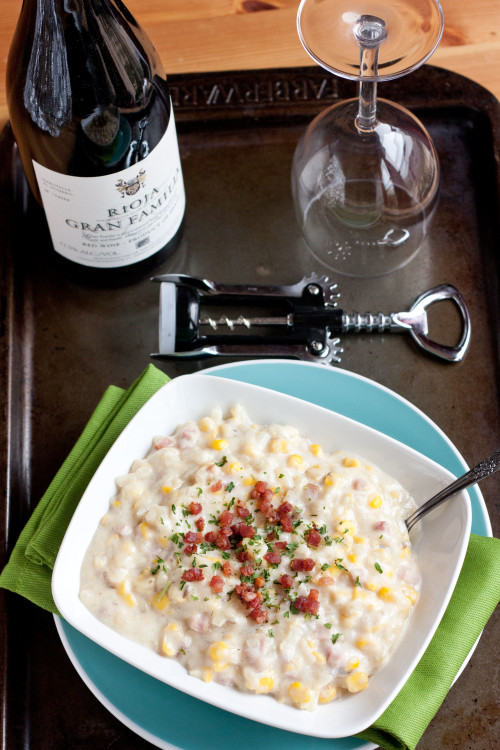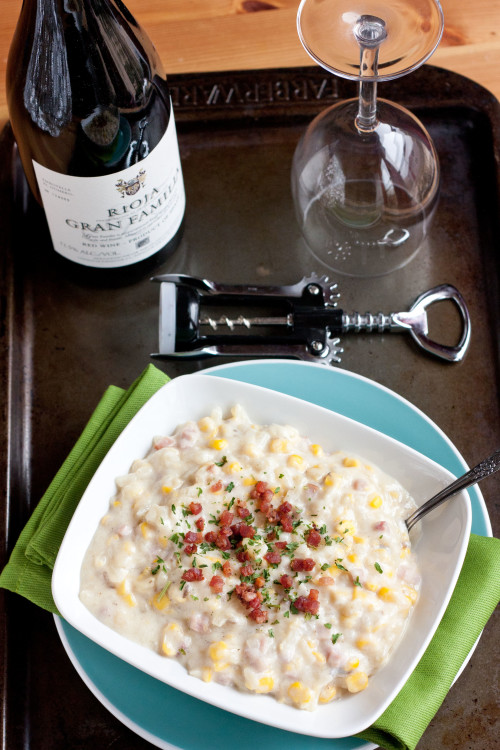 While brainstorming something "special" that I could toss in a Crock-Pot for a Valentine's Day in, I came up with this recipe for a corn chowder with Parmesan rind and pancetta. I've been making a version of this corn chowder since my mom sent me the recipe several years ago, but it always felt like there was something missing. After this last iteration though, I can tell you it's now absolutely perfect! After dinner I actually paused to debate for a good minute over whether I wanted Hubby to bring me the ice cream I'd purchased for dessert or another bowl of the chowder. Yep, good enough to favor over ice cream. If you know me, that's gotta be good!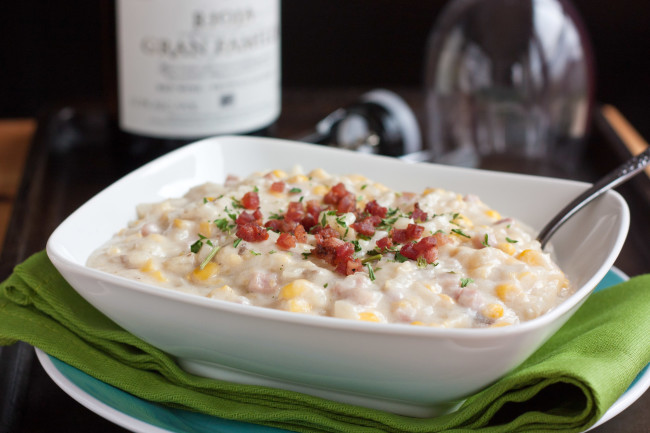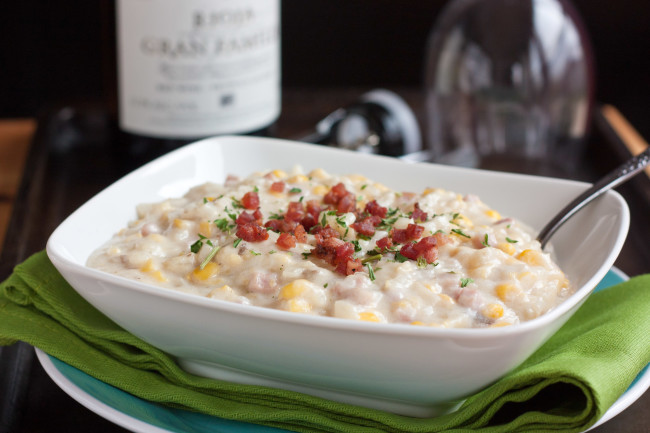 If you're like I was a little while ago, you're probably wondering what a Parmesan rind is. Well, most Parmesan cheese has an edible rind (it's just hard cheese) on the outside that is incredible for flavoring broths and soups. It adds umami-an intoxicating, nearly indescribable savoriness-to the corn chowder that it was missing before. If you don't acquire your Parmesan rind by using up a large wedge of Parmesan cheese and saving the rind, you're often able to ask for just the rind at cheese shops or grocery deli counters. I've heard some give it away for free, but my grocery store sells it as the leftovers from shredding the cheese. I'm pretty sure that Parmesan rind is going to become the next bacon. It's been used in Italian restaurants to flavor broths for years, but I'm starting to see recipes calling for it more and more often. I've started throwing it into my butternut squash risotto and even putting some in a jar of olive oil to make a Parmesan oil infusion.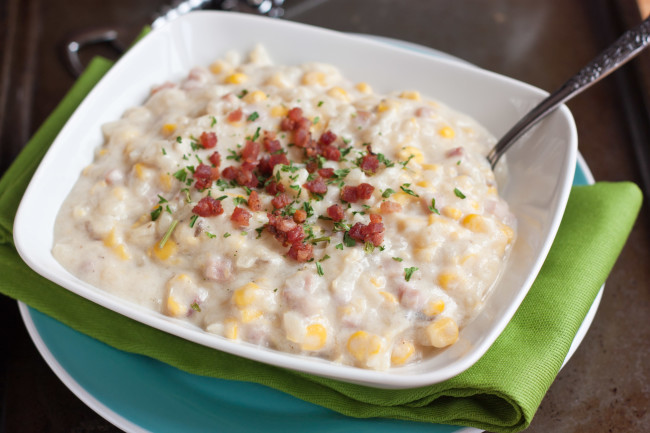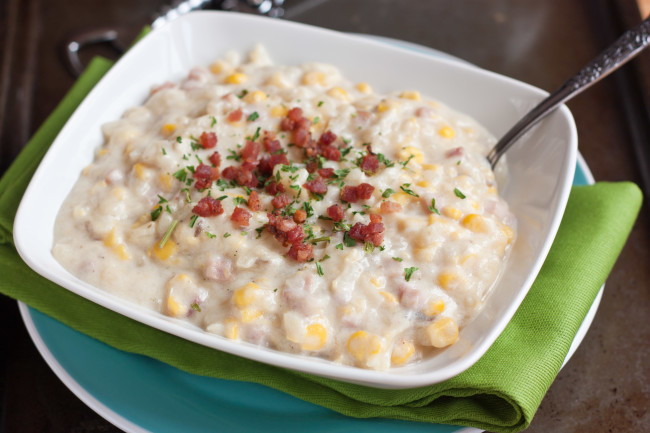 The other "oh yum!" component to this recipe is the cubed pancetta that I fried up and sprinkled on top. Pancetta is the Italian equivalent of bacon. It's a salt-cured pork belly that's similar to streaky bacon. You can buy it in strips or cubes, but I've found that the cubes (below the glass deli case of sliceable meats at our grocery) don't sell as well and are often on Manager's Special, so I keep an eye out for them when I'm at the store. Pancetta is a bit too salty to replace the diced ham entirely, but a bit of pancetta on top carefully rationed and spooned into each bite from the bowl kick it over the flavor edge.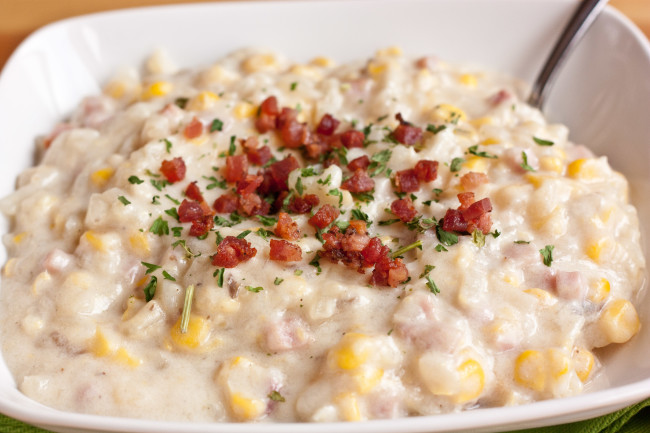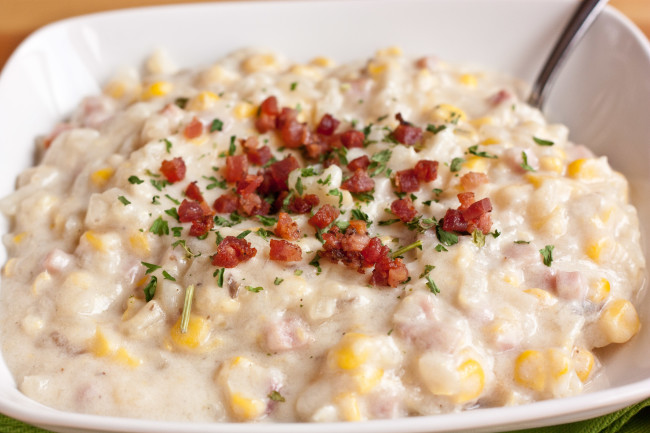 The last thing I'd recommend to kick the foodie component of this recipe up a notch is to brown the onions and garlic in some butter or pancetta fat before adding them to the corn chowder. It will still taste good if you're doing the 7am throw-dinner-in-the-slow-cooker-before-leaving-for-work-thing, but if you have the time, it's worth doing. Plus, who doesn't love a kitchen that smells of browned onions and garlic?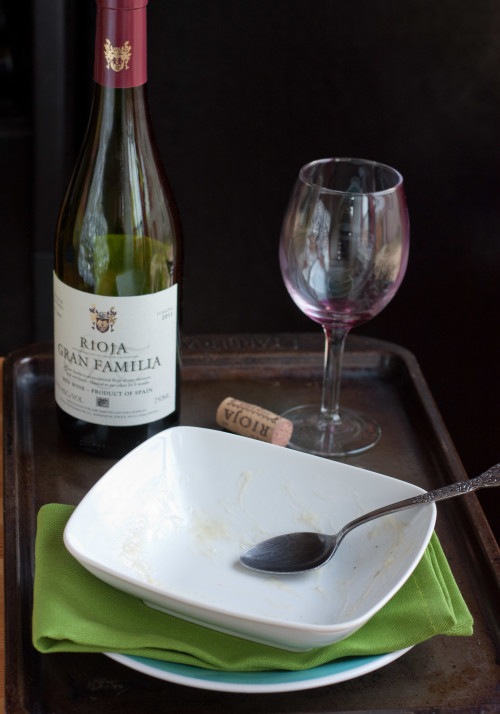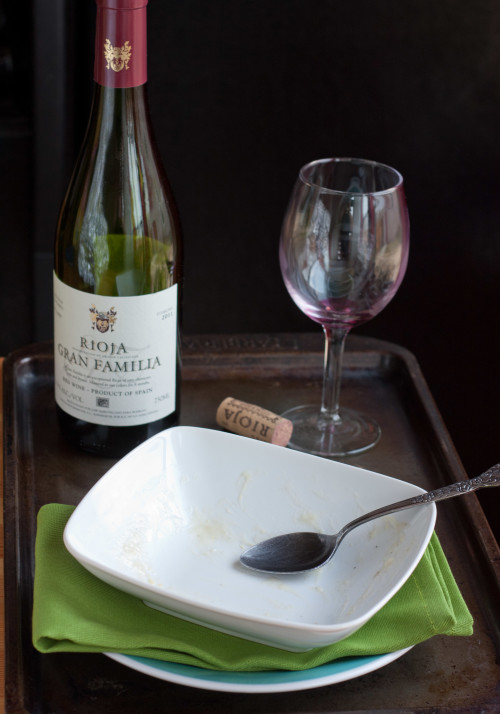 So, we've talked about the exciting foodie ingredients. The last part of the recipe is really just to throw all the ingredients in a lined Crock-Pot and wait for the Parmesan rind to meld into the rest of the corn chowder that will later dance heavenly across your tongue. Easy-peasy right? Also note: for those of you who don't like using canned "Cream of" soups, look below the chowder recipe for a DIY version.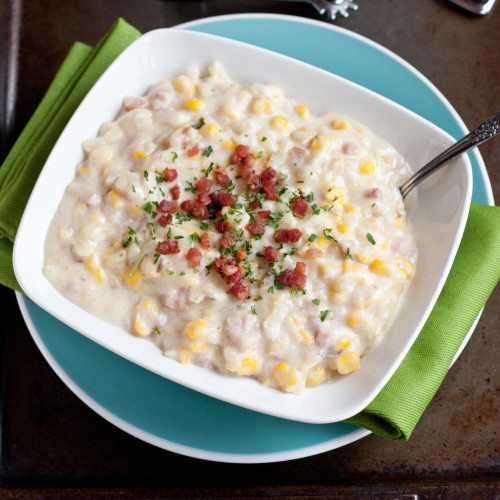 Crock-Pot Corn Chowder with Parmesan Rind and Pancetta
2014-02-15 15:00:43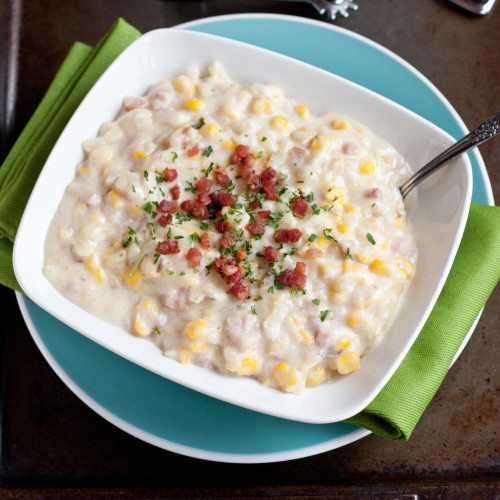 Serves 8
A foodie delight- corn chowder with salty, rich Parmesan rind, creamy, sweet corn, savory onions and crispy pancetta.
Ingredients
3/4 cup onion, diced
1 tsp minced garlic
3 Tbsp butter or margarine, divided
4-6 inches Parmesan cheese rind (at your local deli or cheese counter)
2 cups fresh or frozen shredded hash brown potatoes
1 cup diced, cooked ham (I often purchase it pre-diced at the deli)
1 can (15.25 oz) of whole-kernel sweet corn, drained
1 can (15.25 oz) cream-style corn, undrained
1 can (10 3/4 oz) cream of mushroom soup, undiluted (or DIY recipe below)
2 1/2 cups half & half or milk
1/2 tsp rubbed sage
salt & pepper to taste
To Top
4oz diced pancetta, fried (thick, diced bacon can be substituted)
parsley flakes
Instructions
Lightly brown the onions and garlic in 1 Tbsp of butter.
Combine onions, garlic, butter, Parmesan rind, hash brown potatoes, ham, corn, cream of mushroom soup, half & half, sage, salt, and pepper in a Crock-Pot.
Cover and cook on high 4-5 hours.
Fish out remaining Parmesan rind with a slotted spoon. (You can eat it with crackers while it's melty)
Garnish with pancetta and parsley flakes. Serve.
Notes
I find this works best when done on "high" to melt the rind and then keep on "warm" until ready to eat. If you don't have a timer for your Crock-Pot, I'd recommend 6-8 hours on low then switch it up to high for the last hour.
Gluten-Free: See below for a GF "cream of" soup substitute.
Vegetarian: just skip the ham and pancetta and add some smoked salt if you have it on hand
Vegan: Earth balance butter, skip the parm, pancetta and ham, use the soup sub below, and use unsweetened almond milk + 1Tbsp of conrstarch or a cashew cream in place of the half & half
Adapted from Sue Jordan
Adapted from Sue Jordan
Sustaining the Powers https://www.sustainingthepowers.com/
Gluten-Free "Cream of" Soup
2014-02-15 15:41:35
A gluten-free (and optionally vegan) replacement for canned "cream of" soups.
Ingredients
1 cup cold milk (or milk substitute)
3 Tbsp sweet/glutenous rice flour or 2 Tbsp cornstarch
1 Tbsp butter, margarine, or olive oil
1 tsp chicken bouillon granules or 1 bouillon cube (be sure it's gluten free)
½ tsp salt (or to taste depending on how the soup will be used and how salty your bouillon is)
pepper to taste
Instructions
In a sauce pan, whisk together the milk and rice flour or cornstarch.
Add the remaining ingredients and heat to a boil while whisking frequently.
Reduce heat and simmer about a minute until thickened.
Use this soup in recipes in place of one can of creamed soup.
Notes
Variations: Add ½ cup chopped chicken, cooked or canned mushrooms, or cooked celery.
Adapted from Linda Etherton
Sustaining the Powers https://www.sustainingthepowers.com/
Recipe
Remix:
If you buy new packages at the store, you'll likely have some hash browns and pancetta left over. Fry them up and microplane a bit of the remaining Parmesan rind over the top. Add a poached egg and you have a lovely breakfast. 🙂