Traditional Homemade Flour Tortillas – so much better than store bought!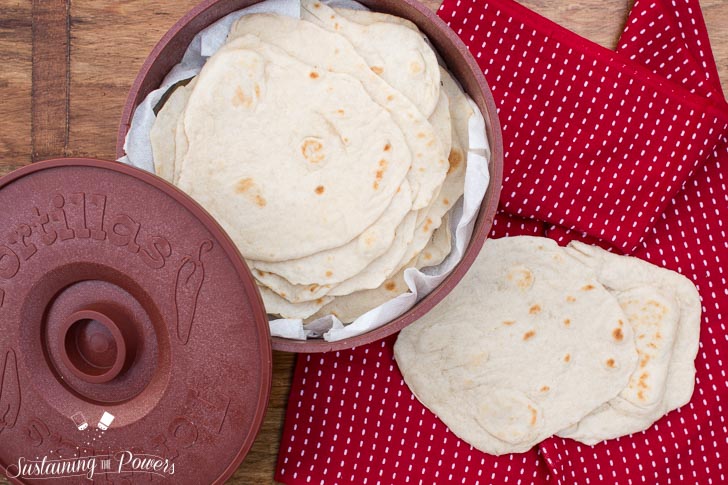 Cinco de Mayo is coming! Are you ready? My home in Denver is an official #TexMexEmbassy, so we are ALWAYS ready with plenty of Mexican and Tex-Mex food. In recent years I've resorted to buying tortillas, but there really isn't anything that beats a homemade flour tortilla! Given a large enough supply of cheese, I could easily live off of nothing but tortillas and cheese for a REALLY long time. (Hubby can attest to this.)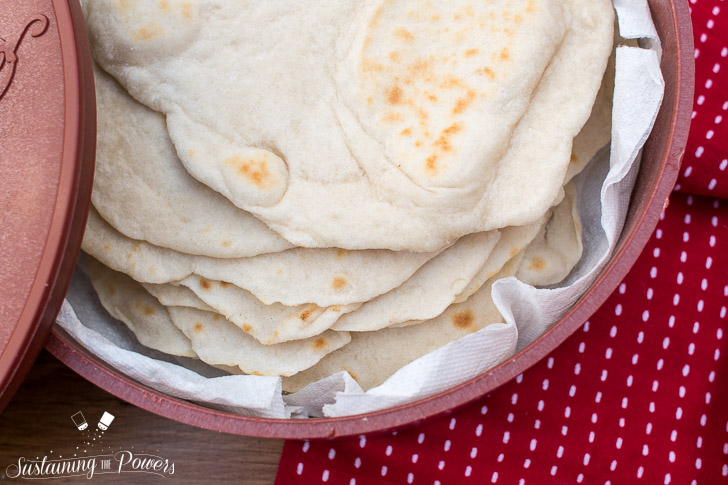 My cousin was in town visiting this week, so I thought I'd show her how to make her own homemade tortillas. She did most of the work, including most of the rolling out of the tortillas, so these are totally doable even if you are a complete beginner. She was definitely surprised at how easy they are to make.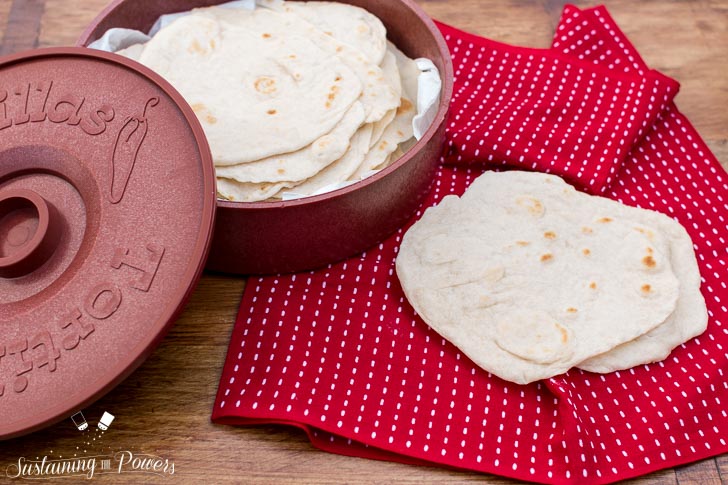 Tortillas, like other flat breads are meant to be something quick you add to extend a meal. They're mostly flour, water, and fat (lard or shortening) with a little bit of baking powder to give them the slight puff you associate with a tortilla. I prefer to use actual lard in my tortillas because you really can't beat the flavor.
Before you freak out over the use of lard, you should know that lard used to be something you'd pick up at the local butcher shop and people would use it regularly in place of butter in pastries. (You can't beat the flakiness from lard!) When everyone started freaking out about fats back in the 90's, most Americans ditched lard for vegetable shortening (like Crisco), but we all know how the "healthy" and fat-free trends from the 90's panned out – turns out the processed, "healthy" foods are usually worse for you than their full-fat origins. So fats like lard are back in vogue, especially with artisan bakers. You can also now get pure white, rendered lard in a pretty box at the grocery instead of the un-rendered lard of past decades, so you really won't be able to tell the difference between lard and Crisco just by looking at it. That being said, lard is a pork by-product, so it's not vegetarian and not for people who avoid pork. I hoe you enjoy these as much as we do!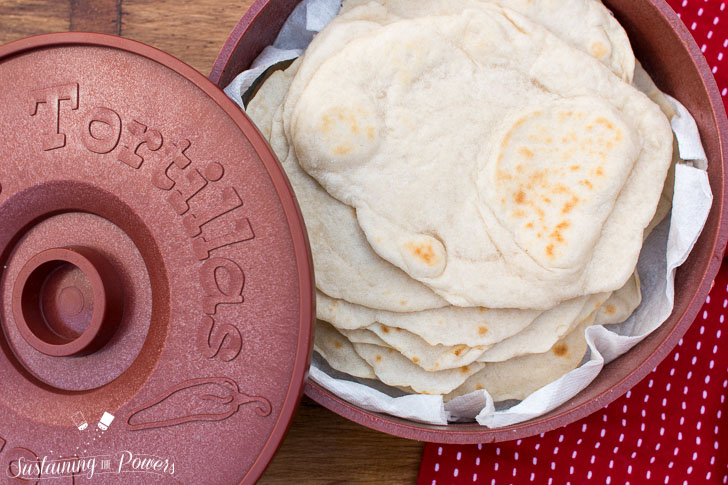 Traditional Homemade Flour Tortillas
2016-04-25 00:19:01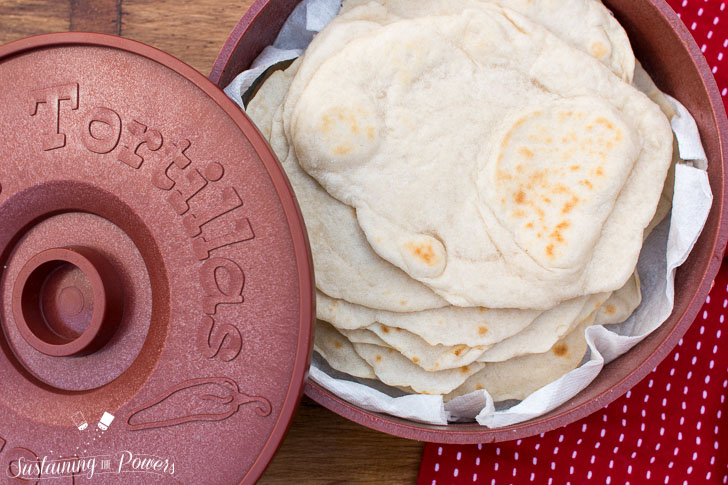 Ingredients
3 cups (375g) all-purpose flour
6 Tablespoons lard or vegetable shortening
2 teaspoons baking powder
1 teaspoon salt
1 cup warm water
Instructions
In a medium bowl, combine flour, baking soda, and salt.
Using a pastry cutter or your hands, cut the lard into the flour mixture until thoroughly combined.
Add in the warm water and mix well until a dough has formed.
Turn dough out onto a lightly floured surface and knead about 12 times, adding a little bit of water or flour if needed to create a smooth dough. (The actual amounts vary depending on your specific climate.)
Cover with a damp cloth and allow to rest for about 10 minutes.
Once dough has rested, divide into 12 equal portions.
Cover and let the dough rest again. (This will allow the gluten to soften forming fluffy tortillas and make it easier to work with.)
Once the dough has rested, roll each ball into a 7 inch circle or your desired tortilla thickness.
Heat a dry skillet or griddle over medium-high heat and cook each tortilla until brown blisters begin to form and the dough is cooked through, approximately 1 minute per side.
Serve warm or store in a zip top bag in the fridge for 3-5 days.
Notes
Gluten-free: These are not gluten-free, though the process has worked successfully with gluten-free flour. You'll have to adjust the water and lard ratios for your particular GF flour blend.
Vegetarian/vegan: These are vegetarian/vegan if using vegetable shortening.
Since they don't contain preservatives, these will begin to spoil much faster than store bought tortillas, so use them up quickly. The dough can be frozen once rolled out and cooked up at a later date. Cooked tortillas can also be frozen, but tend to dry out and become flaky once defrosted.
Sustaining the Powers http://www.sustainingthepowers.com/