This Starbucks Copycat Protein Bistro Box is such an awesome lunch for the kiddos or an after workout protein snack! I've also got a link up for the Lunch Box Recipe Challenge and another Meal Plan Monday in today's post!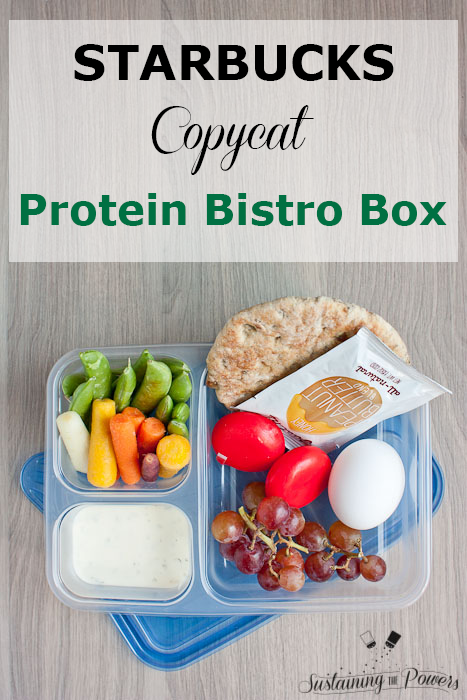 Last week my friend Nichole from Vintage Frontier and I were out for our weekly walk and chat time when we passed a brand new Starbucks. This sparked a discussion of how much we love Starbucks, how we might need to go get our wallets and come back to check out the new spot, and then how we probably shouldn't spend any more money at Starbucks. I confessed that I'm not the biggest fan of their actual coffee (I like my coffee black with a bit of milk and they just don't have very good black drip coffee), but I LOVE their baked goods and lunch offerings. We both agreed that our favorite lunch/snack is one of their protein bistro boxes.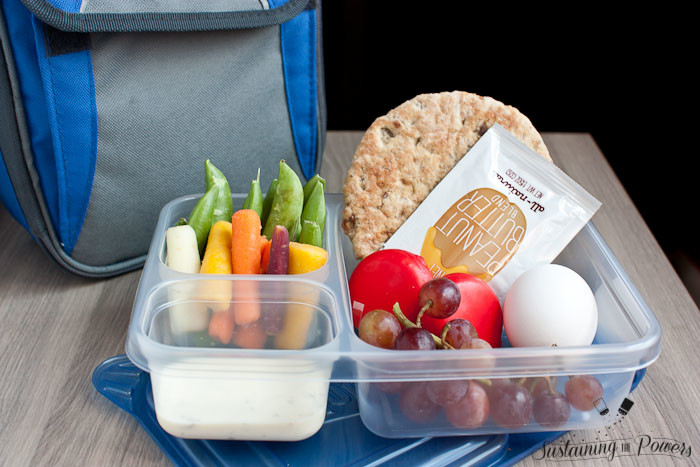 As we walked back towards my house I mentioned that I was working on this month's Lunch Box Recipe Challenge that I host with Jenna from A Savory Feast and wanted to pick her brain on ideas. Nichole pointed out that we'd just come up with the perfect idea: Starbucks Copycat Protein Bistro Boxes! So, here you go!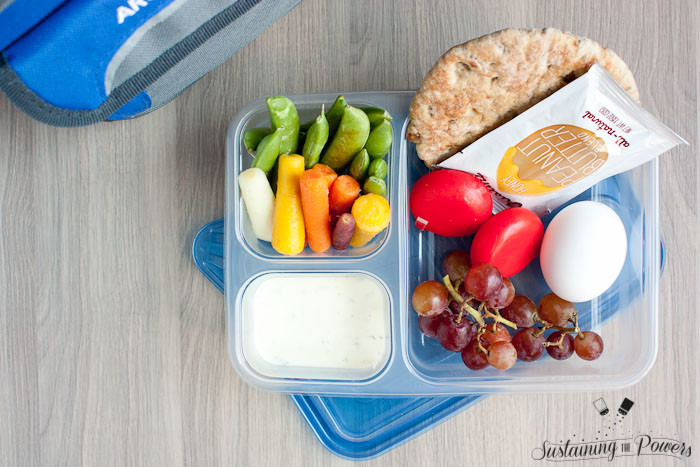 This recipe is pretty flexible since you can mix and match depending on what you or your kiddos enjoy and what's on sale. As a lunch box for the kiddos I think this is plenty of food, but if I was packing it for my hubby I would probably add a side salad with some grilled chicken or some other extra low carb side for a bit more substantial lunch. (He's requesting cookies!)
If you're serving this at home, feel free to get creative with your food. This is Spike. Spike says hello.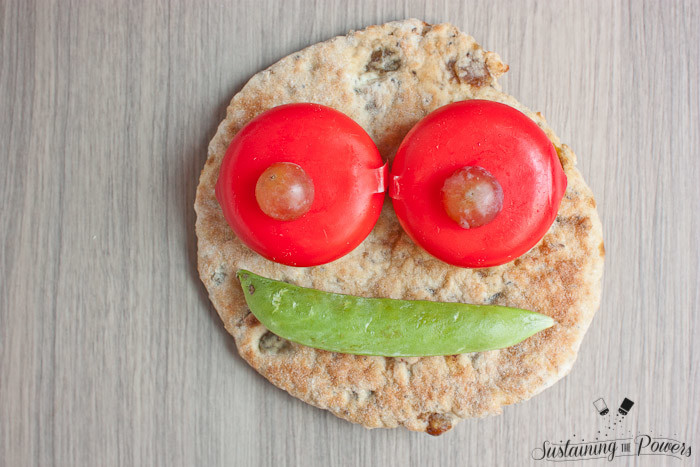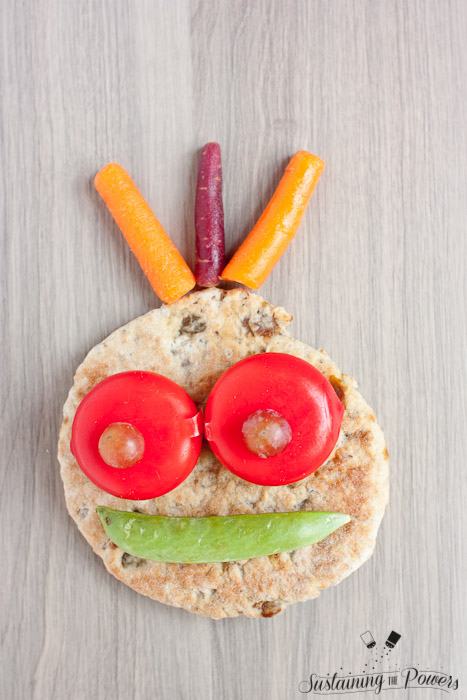 A couple notes on packing: I put this overnight in the fridge to see if I could pre-pack a bunch for the week and I noticed that the muesli round (the bread) got a bit soggy from the carrots and grapes. I wrapped the others in saran wrap and had no problems, so you may want to wrap it up if you're going to pack several at once. The container in the photo is one of my favorites, but Ziploc stopped making them for some reason, so you can't purchase your own. I suggest packing a few in plastic baggies or one of the larger flat containers that doesn't have dividers.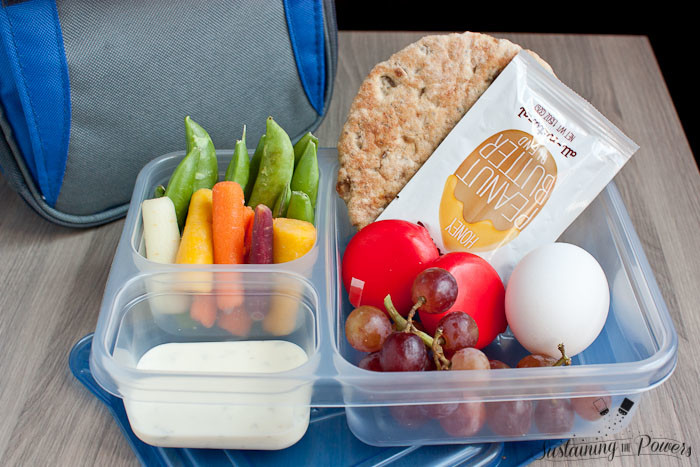 Starbucks Copycat Protein Bistro Box
2015-08-23 22:17:33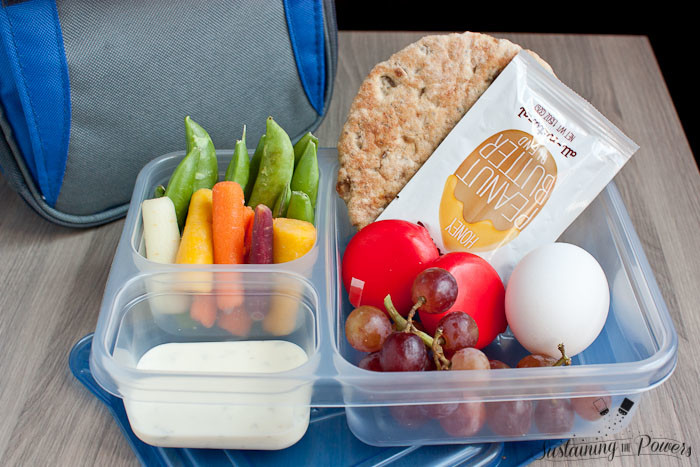 Serves 1
Such an awesome lunch for the kiddos or an after workout protein snack!
Ingredients
1 muesli round or other small, flat bread like an English muffin or tortilla
1 packet nut butter (to spread on bread) + knife if you need it
1-2 small wax-covered cheeses, chunks of cheese, or a cheese stick
1 hard boiled egg (+salt and pepper packets if you have them)
1 bunch grapes, apple slices, or a small cutie orange
1 handful veggie sticks for dipping (pictured are snap peas and rainbow baby carrots)
Ranch dressing, hummus, tzatziki or other veggie dip
Instructions
Wrap the flat bread in plastic wrap to keep it from getting soggy.
Peel the egg ahead of time for the littles or if you plan to eat this at your desk. (Guilty!)
Assemble ingredients in a divided container, undivided container, a few smaller containers, or keep separate in zip top bags.
Enjoy!
Notes
Gluten-free: This is gluten-free if you use a gf flat bread.
Vegetarian: This is vegetarian.
Vegan: Skip the egg and cheese and swap in some baked tofu, almonds, or other vegan protein source.
Sustaining the Powers http://www.sustainingthepowers.com/
---

This week is another recipe challenge: The Lunch Box Recipe Challenge!
With school starting back up around the country and time in short supply, we wanted to share some easy back-to-school lunch box ideas with you. Be sure to check out what Jenna shared over at A Savory Feast and link up your own lunch box recipe ideas below! For next month's challenge, we plan to kick off Fall with the Pumpkin Spice Challenge, so be thinking about your pumpkin spice ideas for next time!
---
Meal Plan Monday 8/24-8/30:
This meal plan is designed to feed approximately 4 adults at each meal or two adults with lunches left over. Feel free to double or add to it as needed. **You'll need to open it with the free Adobe Reader App (Android or iOS) to be able to use the check boxes on mobile, so install that first if you don't have it already.**
Monday: Baked Potato Bar with your favorite toppings! (gluten-free, vegetarian/vegan depending on toppings chosen)
Tuesday: Honey-Lime Sweet Potato, Black Bean and Corn Tacos from Cooking Classy (gluten-free, vegetarian, vegan option) – this is easily one of our favorite fast recipes!
Wednesday: My King Ranch Chicken Casserole (gluten-free option)
Thursday: Chicken with Creamy Sun Dried Tomato Sauce from Recipe Tin Eats (gluten-free)
Friday: Pizza Night! Margherita French Bread Pizza from Gather For Bread (gluten-free if using gf french bread)
Saturday: Date Night – Eat Out.
Sunday: Y.O.Y.O. (You're on your own.)
Linked up with: