Nothing beats homemade enchiladas! Make the filling for these Slow Cooker Red Chicken Enchiladas in your crock pot to save time!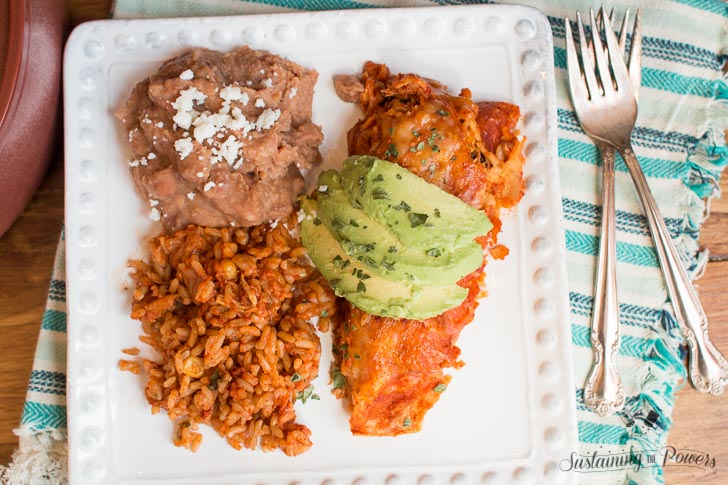 Raise your hand if you love enchiladas!! Growing up in Texas, we ate a LOT of enchiladas. My sister always loved cheese enchiladas and my mom always ordered the spinach and mushroom enchiladas, but my favorites have to be traditional chicken enchiladas with red sauce. There's just something to be said about sticking to the classics you know?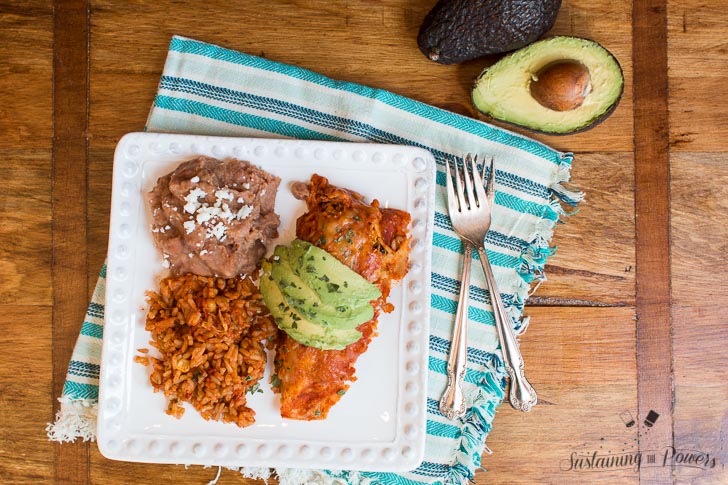 Enchiladas are a pretty easy concept. You take corn tortillas, roll up some filling inside, and douse them with sauce and cheese then pop them in the oven. Really, they're a saucy, rolled-up version of a quesadilla. Or a tube-shaped, mini version of a burrito. Or a flauta that hasn't been deep fried. Possibly even just a taco that's been baked in the oven while tucked under a blanket of cheese. Basically, a lot of my favorite Mexican food is a variation on the same ingredients: tortillas, spicy meat, sauce, and cheese. (Maybe this is why I can never decide what to make!) Today, enchiladas are going to win out in our kitchen, but you can't ever go wrong with anything Mexican food. So I teamed up with some of my blog friends to bring you 34 of the best Cinco de Mayo recipes. Check them out at the bottom of the post!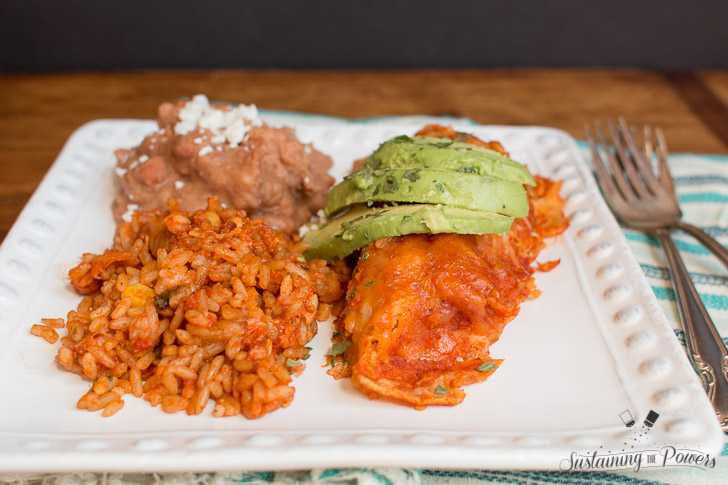 These chicken enchiladas are some of my favorites to make because they re-mix the leftovers from one of our favorite meals: Slow Cooker Tex-Mex Chicken Chili. (It's a yummy black bean and corn variation on the "salsa chicken" you see popping up on Pinterest these days, though I had it first!) I usually get 2-3 meals out of just 1 batch of chili because we can serve it for dinner one night and then make the leftovers into the filling for 2 pans of enchiladas the next day. You can also make these enchiladas the same day you cook the chicken in the slow cooker and serve them up that night or pop them in the freezer to save for a rainy day. (I always love it when I find that my past self made dinner and tucked it away in the freezer! Thanks past self!)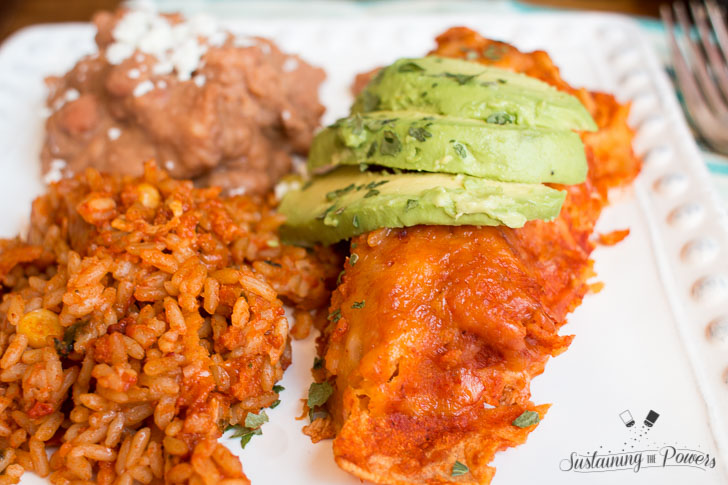 We should probably also talk enchilada sauce while I'm raving about enchiladas. I know it's best if you make it from scratch, but there have been many times that I have said "Ain't nobody got time for that!" and not made my own enchilada sauce. That's cool. I get you! And I'd recommend the Las Palmas brand of enchilada sauce if you decide to buy it rather than make your own. It has the best flavor of any of the canned sauces out there. (I can always find it at Wal-Mart, but haven't really seen it elsewhere here in Denver.) Recently though, I came across this quick and easy recipe for homemade enchilada sauce from my friend Erin over at A Speckled Palate, and I think I would actually be willing to take 30 minutes and make her sauce for my enchiladas. (Or, Erin, we just need to have an enchilada night!)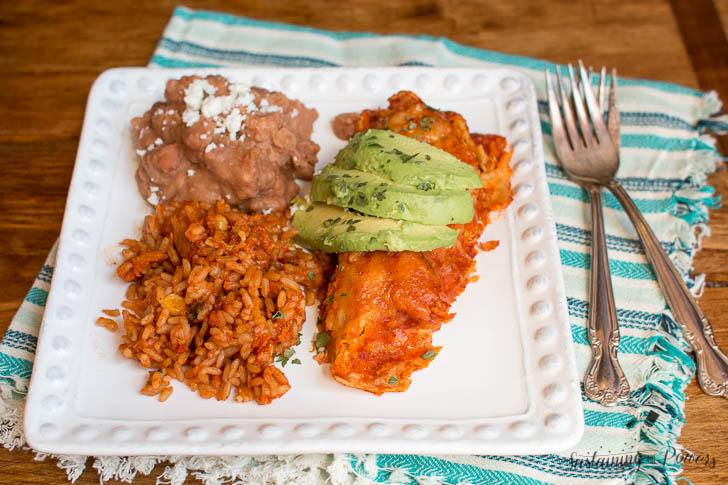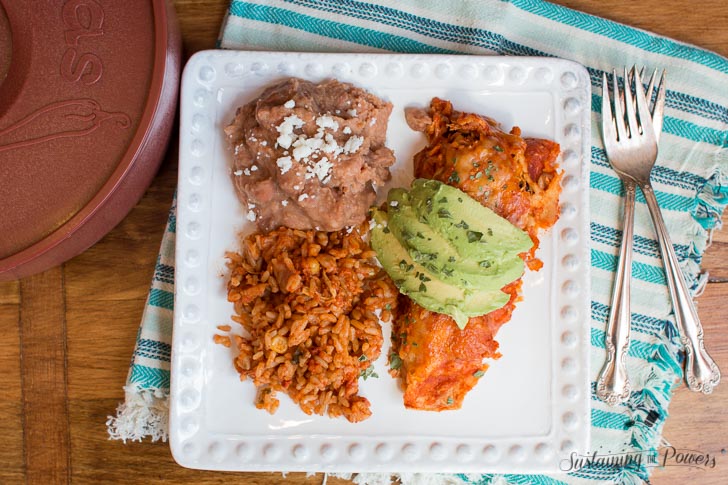 Slow Cooker Red Chicken Enchiladas
2016-04-26 18:46:58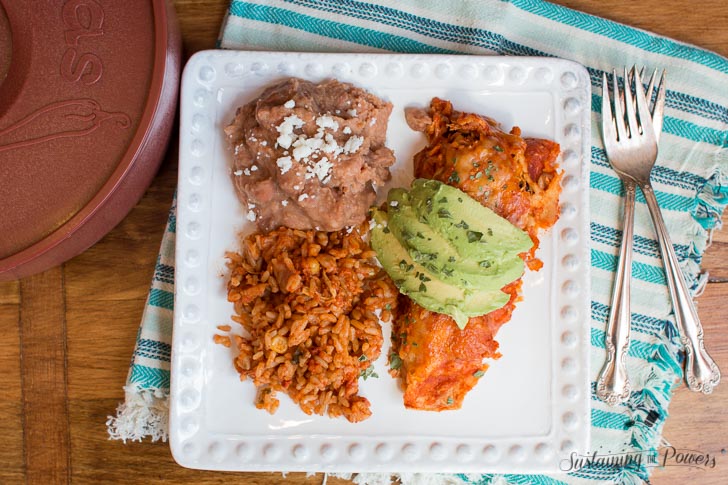 Serves 8
For Two Pans of Enchiladas
1/2 batch of Slow Cooker Tex-Mex Chicken Chili
24 corn tortillas
6 cups or 47oz of red enchilada sauce (I buy one big can + one small can of Las Palmas brand or make my own)
5 cups shredded Mexican blend cheese
For One Pan of Enchiladas
1/4 batch of Slow Cooker Tex-Mex Chicken Chili
12 corn tortillas
3 cups or 28oz of red enchilada sauce (I buy one big can + one small can of Las Palmas brand or make my own)
2.5 cups shredded Mexican blend cheese
For Serving
Sliced Avocado
Sour Cream
Refried Beans
Mexican rice
Instructions
(Directions are for 2 pans of enchiladas, adjust as needed with the ratios above for a single pan.)
Either the morning of, or the day before you plan to make enchiladas, make a batch of Tex-Mex Chicken Chili according to the recipe (it will cook in the crock pot for 6-7 hours) and set aside half for your enchiladas.
Preheat oven to 350 degrees.
Spray two 10x12 inch casserole dishes or disposable aluminum pans with cooking spray.
Pour enough sauce in the bottom of each pan to cover the bottom.
Wrap corn tortillas in a damp paper towel and microwave for 20 seconds to soften.
Pour a bit of enchilada sauce into a small plate.
Working one at a time, dredge each side of a corn tortilla in the plate of red sauce to coat, then fill down the center with 1/4 cup of shredded chicken mixture and some of the shredded cheese, then roll up and place seam side down into the bottom of the pan, placing them as closely together as possible.
Repeat until both pans have been filled with enchiladas.
Pour the remaining sauce over the top of the rolled enchiladas, dividing it between both pans.
Top each pan with the remaining cheese, dividing it between both pans.
Cover with foil and bake until the filling is heated through, about 30 minutes if you started from warm chicken, or 45 minutes if you started with cold enchilada filling. Uncover during the last 10 minutes to melt the cheese on top.
To freeze: Make enchiladas in foil pans, cover tightly with foil, and place in the freezer for up to 2 months. When you're ready to cook them, defrost overnight in the fridge and bake at 350 for about 45 minutes, or until filling is warm.
Notes
Gluten-free: these are gluten-free as long as you are careful to choose gluten-free ingredients.
Vegetarian: Swap the shredded chicken filling for your favorite vegetarian substitute: grilled veggies, black beans, mushrooms, etc.
Sustaining the Powers http://www.sustainingthepowers.com/
If you love Mexican food as much as I do, you are going to love this collection of Cinco de Mayo recipes! We've got everything you need to throw the best party feast ever. Stop by the links, check them out and let them know I sent you!
Cinco de Mayo Party Inspiration and Recipes
by A Joyfully Mad Kitchen
Roasted Strawberry Rhubarb Agua Fresca
Street Corn-style Roasted Potatoes
Crispy Fish Tacos with Cajun Mayo
Strawberry Watermelon Agua Fresca
by Loves Food, Loves to Eat
Mexican Carrot Dogs with Chunky Salsa Verde
Raspberry Lime Rickey Margaritas
Slow Cooked Carnitas Style Chicken
Brussel Sprout, Wild Mushroom, Avocado and Feta Tacos with Tomatillo Salsa
Spiced Chocolate Ice Cream with Roasted Pepitas
Seared Scallop Tacos with Spring Mango Salsa and Avocado Cream
Traditional Homemade Flour Tortillas
Nightshade Free Southwest Salad
by Family Food on the Table
Veggie Stuffed Chiles Rellenos with Avocado Cream
Slow Cooker Red Chicken Enchiladas
by A Joyfully Mad Kitchen
Tequila Lime Cupcakes with Margarita Buttercream
Slow Cooker Chipotle Turkey Tacos