This Low-Carb Parmesan Roasted Acorn Squash is a quick and easy, low-carb holiday side dish.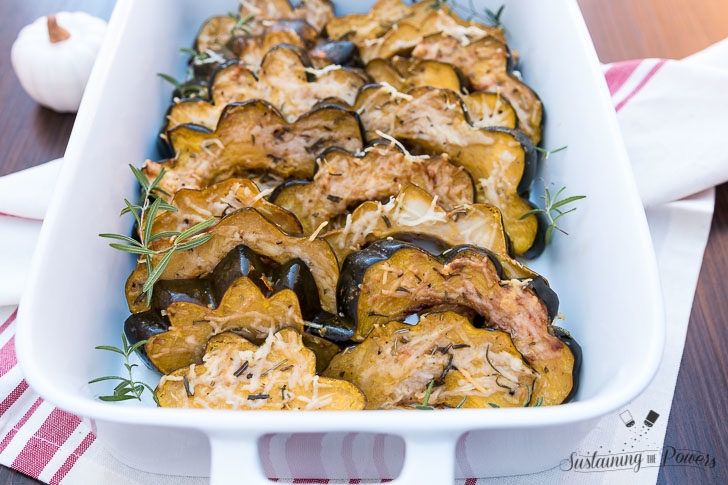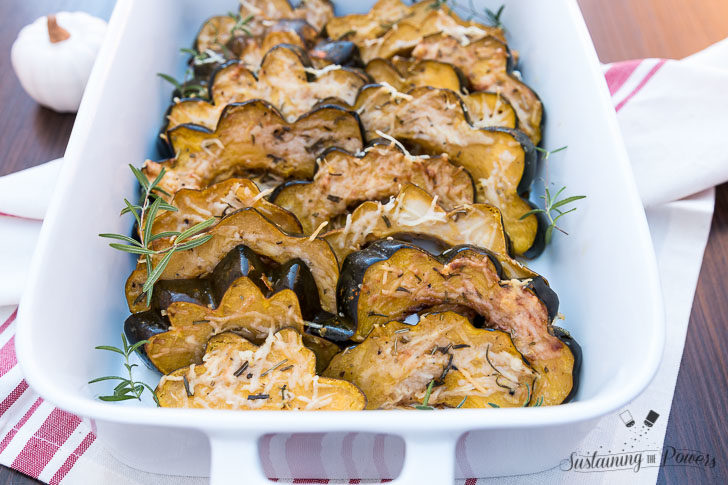 I'm pretty sure I first shared a photo of this recipe waaaaaay back in October of 2016. So much has happened in our lives since then! The biggest thing being that we had a baby!! If you have been around long enough that you remember my keto post, you know our goal was to get pregnant and have a baby after 4.5 years of infertility. Well, I'm thrilled to say that we got pregnant last November after just 6 weeks of strict keto and I gave birth to a healthy baby girl back in August. She has brought so much joy into our lives! We've loved getting to know her little personality and soaking up all the baby cuddles, laughs, and smiles. It's made the sleepless nights so very worth it.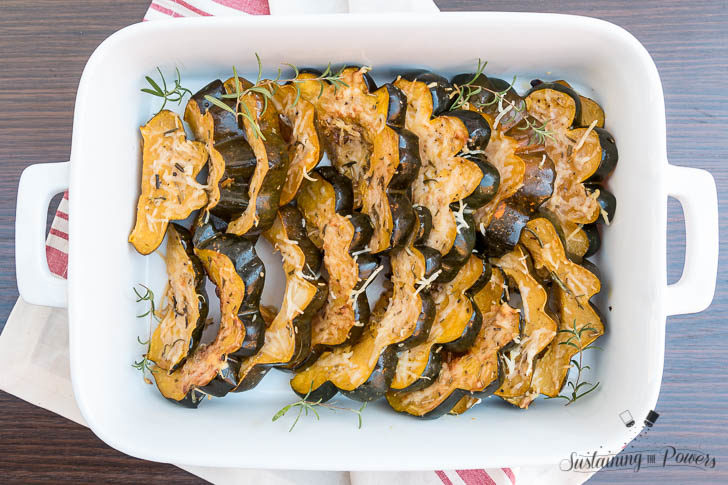 Being pregnant was a bit rough for me though. I had so many food aversions and the idea of cooking anything made me feel sick to my stomach. I also had gestational diabetes, so my food choices were more limited than they would have been otherwise. That, combined with pregnancy exhaustion, meant that I really neglected this little corner of the internet. It was good for me to step away for a while, even if I hadn't intended to. I'm not sure what the future will look like, or if I'll ever be a full time food blogger with a regular posting schedule again, but I know that I'll keep the site up, answer comments when I can, and will stop by and post when I get the urge, and the time, to be creative.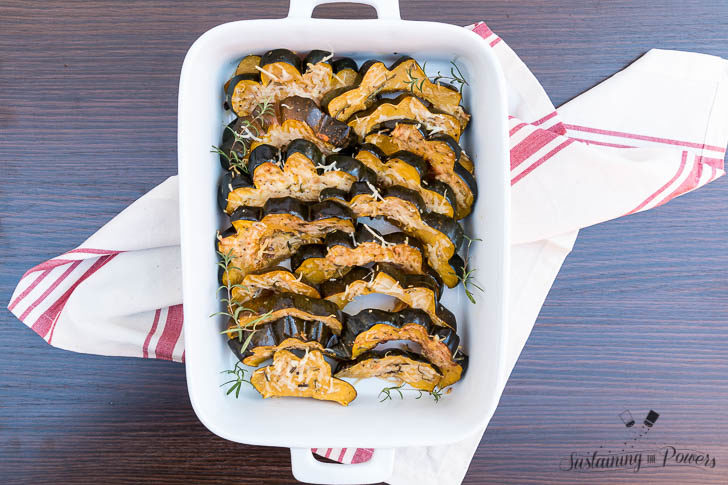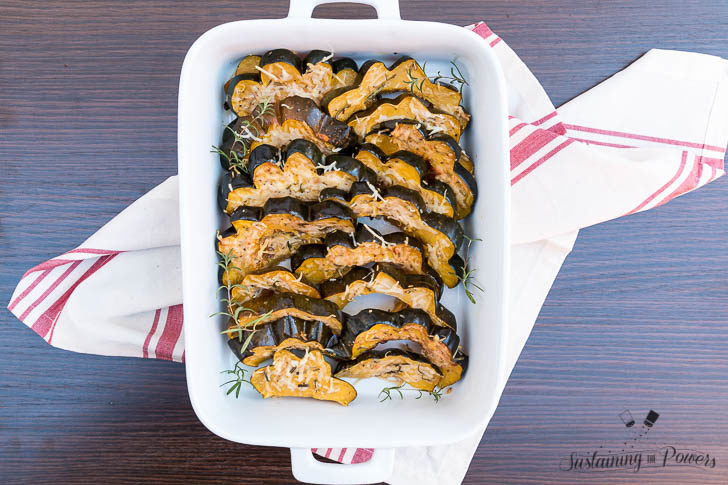 So without much further ado, here's the recipe for this Parmesan Roasted Acorn Squash! I came up with it as a keto side dish for Thanksgiving last year, and we've enjoyed it several times since then since it's quick and easy to throw together. Acorn squash tastes like a mix between spaghetti squash and butternut squash, so if you get a good squash, it's a satisfying combo of sweet and salty. Enjoy!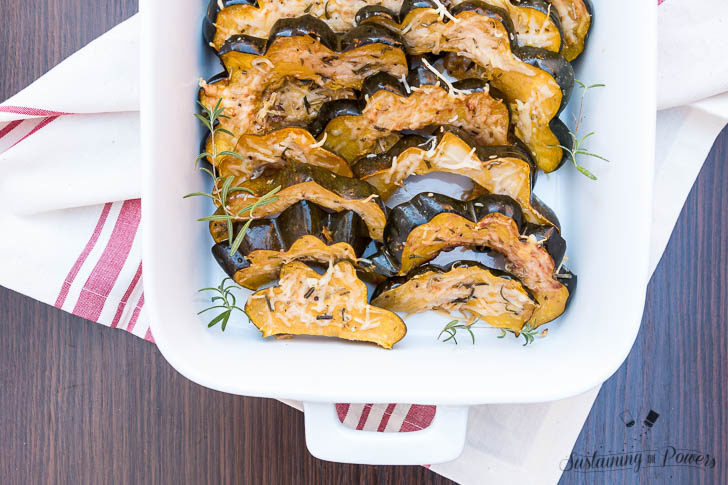 Parmesan Roasted Acorn Squash
2017-11-13 14:48:22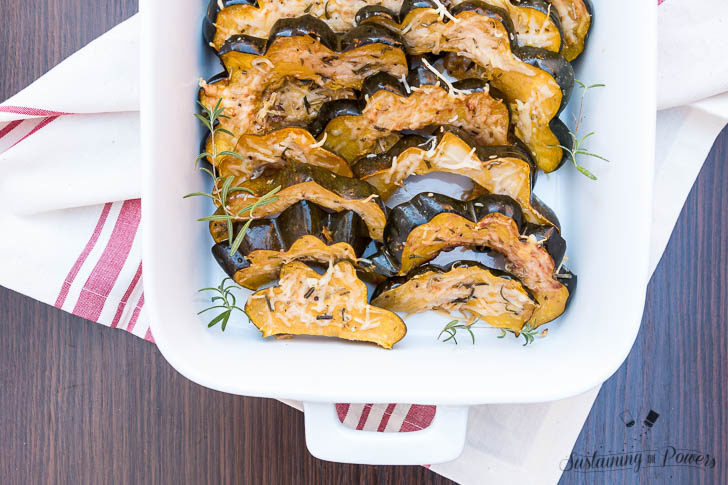 Serves 6
Ingredients
1 medium acorn squash (approximately 4 inches in diameter or 1lbs)
3 tablespoons olive oil
1/2 cup shredded Parmesan cheese
1 teaspoon dried rosemary (or 4 sprigs fresh rosemary, chopped)
salt and pepper to taste
Instructions
Preheat oven to 400 degrees.
Wash acorn squash and cut it in half vertically from stem to end.
Scoop out all seeds and slice squash into half inch slices across the ridges.
Place slices into a large bowl and coat with olive oil.
Lay slices out on a large, foil-lined baking sheet.
Sprinkle with Parmesan cheese, rosemary, salt, and pepper.
Roast for 25-30 minutes or until tender.
Notes
You can either eat the skin of the squash or remove it as you eat it.
Gluten-free: This is gluten-free
Vegetarian: This is vegetarian
Macros per serving: Calories: 117, Fat: 9g, Net Carbs: 6.8 (8g carbs - 1.2g fiber), Protein: 3.1g
Sustaining the Powers https://www.sustainingthepowers.com/
Pin this Parmesan Roasted Acorn Squash For Later!