A recipe for Slow Cooker Sweet and Spicy Pulled Pork and Crocktober 2015 Week 1 Meal Plan!
Welcome back to Crocktober 2015 where I'm sharing new slow cooker recipes each week and challenging you to use your crockpot to cook for the month of October!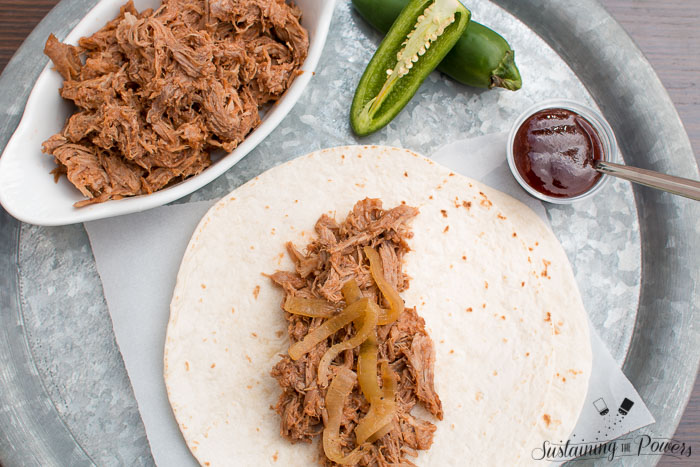 There's a restaurant in Fort Collins, CO called Cafe Mexicali. If you're ever in the area, it's definitely a place worth driving to. One of those places we make excuses to stop by any time we're in Fort Collins because it is SOOOO good! When Hubby and I were in college, we frequented "Cafe Mex" with our friends after church on Sundays because they gave great student discounts and you could easily fit a large group at the seat yourself tables. We'd pile into our cars after the service and try to beat everyone else there so we didn't have to wait in line behind them. Then we'd chow down on our sweet pork enchiladas and enjoy chatting for at least a couple hours. Such sweet times were spent at "Cafe Mex."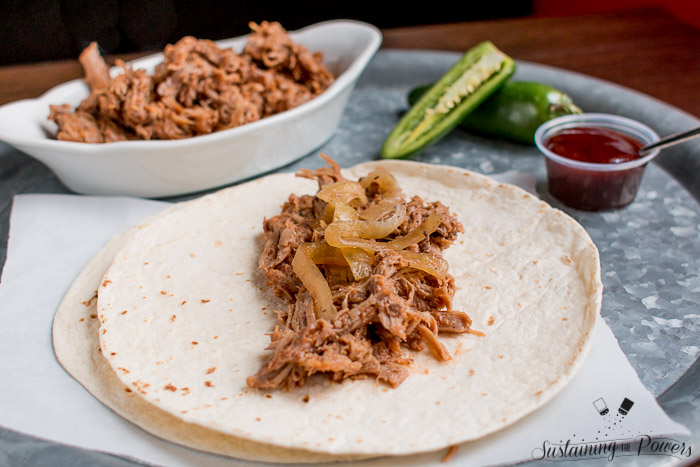 We live in Denver now (about an hour south of Fort Collins), but we have some close friends who still live in FoCo. We've made it a habit to stay over with them every couple months or so, and we always take the opportunity to go out with them for Mexicali if we can. Sometimes they even go pick it up to-go on their way down to Denver and deliver it to us. (We have the best friends!) One thing we all agree on is that the sweet pork is always the way to go.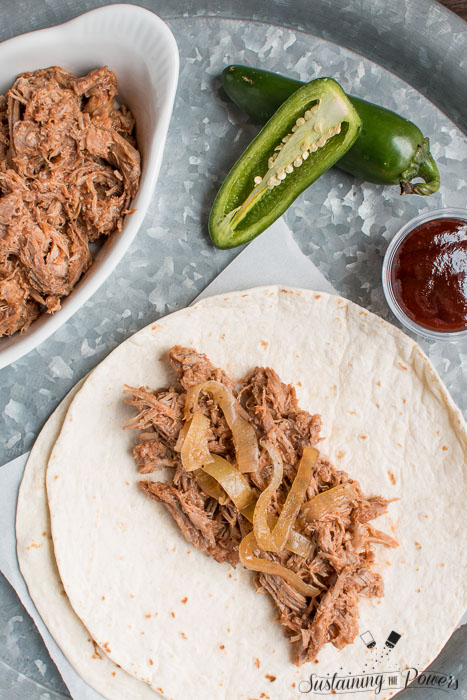 Since we don't have a Cafe Mex nearby anymore, I have been trying to duplicate their sweet and spicy pulled pork for several years. Consequently, I've made a lot of pulled pork in the past 4 years that we've been in Denver. (Hubby hasn't complained yet.) This recipe isn't quite exactly a duplicate of theirs, but so far it's the closest I've been able to come to their recipe without secretly taking a job there just to get it. And this pork is darn good! I love to make a ton of sweet and spicy pulled pork and then use it in a number of different recipes throughout the week since you can re-mix it a number of different ways.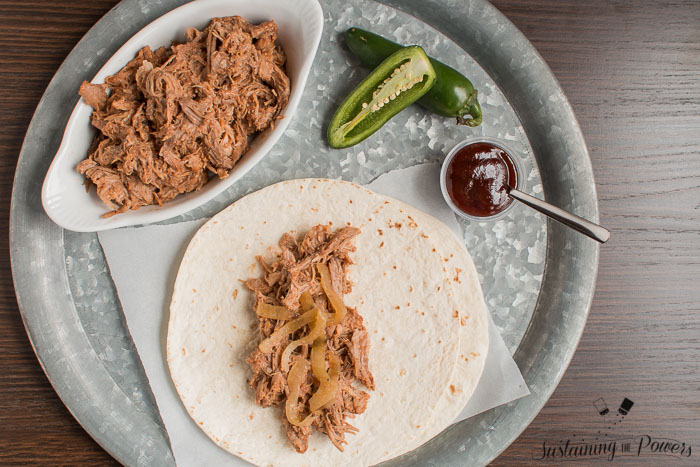 Slow Cooker Sweet and Spicy Pulled Pork
2015-10-04 20:00:57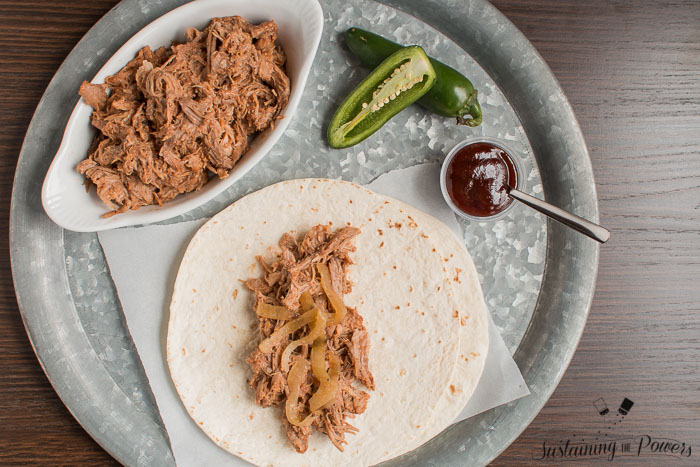 Serves 8
For the Pork
3lb boneless pork butt/pork shoulder (5lb if it's a bone-in shoulder)
1 (12 oz) can Dr. Pepper
1 large white onion, sliced
1/4 cup dark brown sugar
1 tsp garlic powder
1 tsp cayenne pepper
1 tsp chipotle powder (sub another tsp of cayenne if you can't locate it)
1 tsp salt
1/2 tsp ground black pepper
1 tablespoon minced jalapeno (optional - leave out for less spice)
For the Sauce
1 cup Dr. Pepper
1 (18oz) bottle of sweet and spicy BBQ Sauce
Instructions
Slice onions and place them in the bottom of the slow cooker.
Combine brown sugar, cayenne, garlic, chipotle, salt, pepper, and minced jalapenos in a small bowl to make a dry rub.
Rinse the pork butt and pat dry with a paper towel.
Rub the spices onto the pork and place in the slow cooker on top of the onions.
Pour the Dr. Pepper down the side of the slow cooker.
Cook on Low for 7-8 hours or high for 5-6 hours (or until internal temp is 160).
Remove pork from slow cooker and allow pork to rest on a cutting board for 10 minutes. Make sauce while meat rests.
Remove onions and set aside to top pork, or dice them to include them in the pork shreds.
Reserve 1/2 cup of liquid from the bottom of the crockpot for the sauce, and discard the rest.
Shred pork with 2 forks and return it to the crockpot.
Pour sauce (see recipe below) over the top and stir to coat shredded pork.
For Sauce
Combine sauce, liquid from the crockpot, and 1 cup Dr. Pepper in a small saucepan over medium low heat.
Simmer until sauce has thickened again, about 10-15 min.
Notes
Gluten-free: This is gluten free!
Sustaining the Powers http://www.sustainingthepowers.com/

Have you entered our Crocktober Giveaway Yet? It ends on Wednesday, so be sure and pop over to this post to enter to win a fancy programmable slow cooker and $100 visa giftcard!

Crocktober 2015 Week 1 – 10/5-10/11
---
This meal plan is designed to feed approximately 4 adults at each meal or two adults with lunches left over. Feel free to double or add to it as needed. **You'll need to open it with the free Adobe Reader App (Android or iOS) to be able to use the check boxes on mobile, so install that first if you don't have it already.**
Monday: My Slow Cooker Sweet and Spicy Pulled Pork (See recipe above.) (gluten-free)
Tuesday: Slow Cooker Chicken Tacos from 2 Cookin' Mamas (gluten-free if using gf tortillas)
Wednesday: Crockpot Chicken and Squash Coconut Curry from Bright Green Door (gluten-free if using gf fish sauce)
Thursday: Slow Cooker Mexican Quinoa from Chelsea's Messy Apron (gluten-free, vegetarian/vegan option)
Friday: Crockpot Sweet Potatoes from The Frugal Girls topped with your favorite leftovers from the week. (I love them with my pulled pork!) (Gluten-free, vegetarian, vegan)
Saturday: Date Night – Eat Out.
Sunday: Leftover Night
Linked up with: