A recipe for Breakfast Sausage Bread, Meal Plan Monday, and a Fall Giveaway!!

This week I've teamed up with A Savory Feast for Fall Welcome Week and I am bringing you one of my family's favorite Fall recipes. I'm currently in Austin, TX for Texas Antiques Week with my friend Nichole from Vintage Frontier, so it doesn't quite feel like Fall as we melt in the 90 degree heat, but it was definitely starting to be Fall back home in Denver when I baked up this amazing breakfast sausage bread.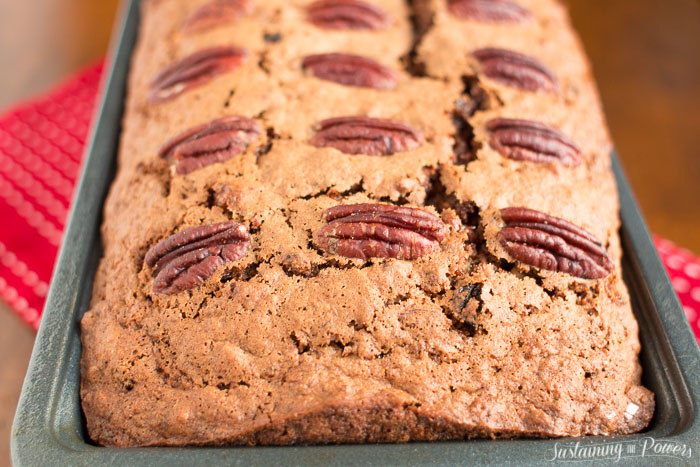 This sausage bread recipe comes from my mom and was originally published in a newspaper in Kansas City. My parents lived there for a few years before I was born while my dad went to school, and this bread was one of their cheap breakfast staples. Growing up, I always remember baking mini loaves of this sausage bread for neighbors around Christmas time. We'd make mini loaves for each neighbor and then my sister and I were often responsible for their delivery. The smell of this bread baking in my oven brings back so many amazing holiday memories of (mild) winter in Texas and baking with my mom. I suppose it's one of those comfort food flavors for me because it's so tied to family and my favorite Fall season.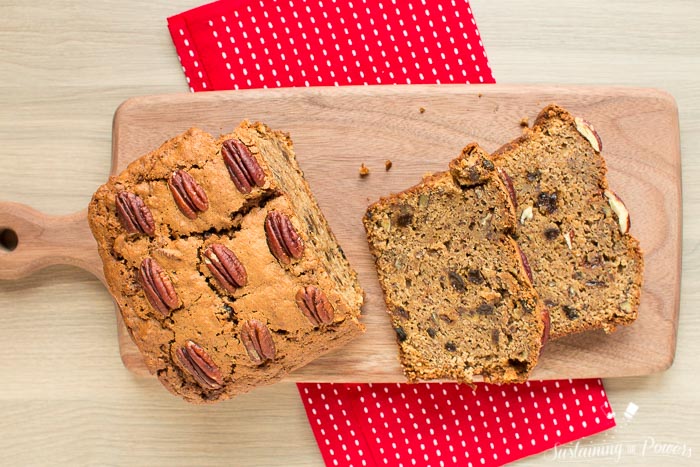 When you look at the ingredients for this bread, you're probably going to think I'm a bit crazy. Among the ingredients are a pound of raw, ground sausage and a cup of coffee. Trust me, it's AMAZING, and you absolutely have to try it. When the bread is baked up, you can't really tell the sausage is there, and the coffee gives it a rich, deep aroma that brings out the spices and nuts. Bread like this really makes me wish that smells could be shared over the internet because the smells alone scream Fall!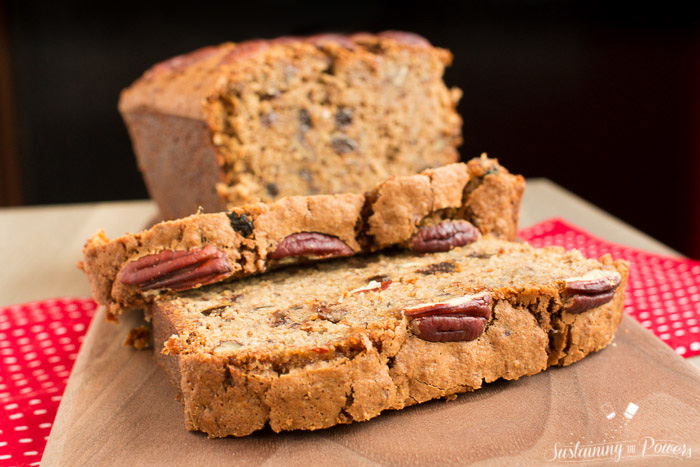 This bread really is a solid breakfast in and of itself. I mean you have bread, sausage, eggs, coffee, nuts, (dried) fruit, and if you toast it and slather it with butter (as you should with any bread) you have your dairy included as well. Plus it is so dense! This recipe bakes up a huge loaf, and really a single slice is dense enough for a solid breakfast. I love to bake up a couple mini loaves and keep the second one in the freezer. Then I just grab a slice of this in the morning, and munch it down on the go. The thick, crunchy golden crust is always the part of the slice I save for last.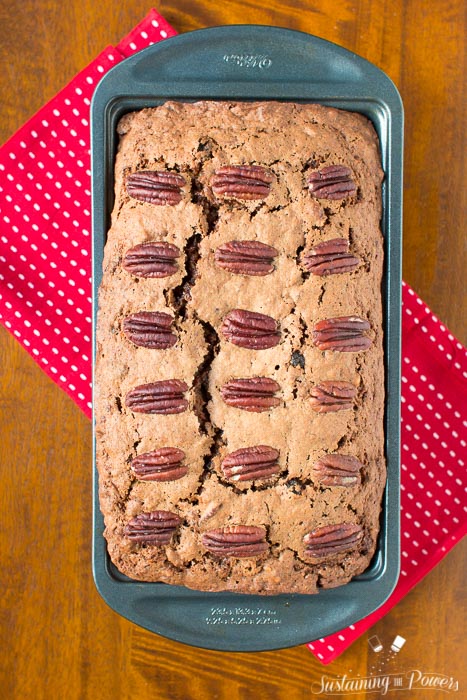 This sausage breakfast bread is also a favorite for when we host house guests since I can bake it fresh the night before and everyone can serve themselves in the morning when they wake up. It was even toddler approved a few weeks ago. It's probably best not to tell them what's in it until they've smelled it though as people seem to think it's a bit "unique". More for you and me that way. I'll happily eat any of it that they don't want! 😉
Have you Entered the Giveaways yet?
As a reminder, I'm doing a giveaway for 3 sets of Raku knives as well as a giveaway for Fall Welcome Week you can enter below the meal plan, so be sure to get your entries in! There will also be a huge Crocktober giveaway going live on Thursday, so giveaways for everyone!! I feel like Oprah this week!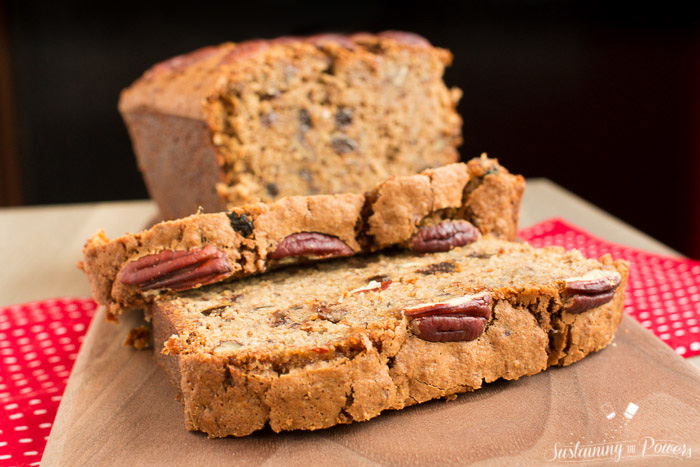 Breakfast Sausage Bread
2015-09-26 20:24:21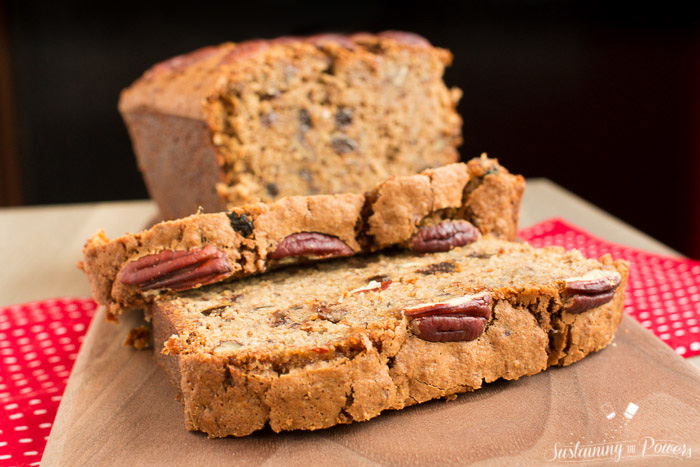 Serves 12
A fall spice bread
Ingredients
1 cup raisins
1 pound ground hot sausage, raw
1 1/2 cups brown sugar
1 1/2 cups granulated sugar
2 eggs
1 cup chopped pecans
3 cups flour
1/2 teaspoon ginger
1 teaspoon pumpkin pie spice
1 teaspoon baking powder
1 teaspoon baking soda
1 cup cold coffee
Instructions
Preheat oven to 350 degrees.
Add the raisins to a small saucepan and cover them with water. Simmer over medium heat for about 5 minutes to plum them, then drain and set aside.
Mix raw sausage, brown sugar, granulated sugar, and eggs in a medium bowl.
Stir in nuts and plumped raisins.
Stir baking soda into cold coffee, then blend into sausage mixture.
In another bowl, mix flour, spices, and baking powder.
Combine into sausage and coffee mixture.
Pour into a greased, floured 9-inch loaf pan.
Bake for 1 1/2 hours, or until a toothpick inserted into the center of the loaf comes out clean. If loaf begins to brown before the center is cooked, tent the loaf with foil.
Notes
I prefer to use the Jimmy Dean roll of "Hot" sausage and it doesn't make the bread very spicy, but you can use the regular or the maple versions to mix it up.
Mini Loaves: Bake for about 45 minutes, or until toothpick comes out clean.
Muffins: Bake for 15-20 minutes, or until toothpick comes out clean.
Gluten-free: Use gf flour, and make sure your sausage is gluten-free.
Vegetarian/Vegan: Since this recipe relies on raw sausage for the texture and structure of the bread, this recipe doesn't have a vegan/vegetarian option.
Adapted from The Kansas City Star Newspaper
Adapted from The Kansas City Star Newspaper
Sustaining the Powers http://www.sustainingthepowers.com/
Meal Plan Monday 9/28-10/4
---
This meal plan is designed to feed approximately 4 adults at each meal or two adults with lunches left over. Feel free to double or add to it as needed. **You'll need to open it with the free Adobe Reader App (Android or iOS) to be able to use the check boxes on mobile, so install that first if you don't have it already.**
Monday: Cauliflower Steaks with Ginger, Turmeric, and Cumin from The Kitchn (gluten-free, vegetarian, vegan)
Tuesday: Lemon Shrimp Pasta from The Speckled Palate (gluten-free if using gf pasta)
Wednesday: Stuffed Spaghetti Squash from A Savory Feast (gluten-free, vegetarian if you leave out turkey)
Thursday: Crocktober Starts! Kicking it off with my Skinny Slow Cooker Chicken Tikka Masala (gluten-free, vegetarian/vegan option)
Friday: Slow Cooker Pizza Chicken from Smile Sandwich (gluten-free)
Saturday: Date Night – Eat Out.
Sunday: Y.O.Y.O. (You're on your own.)
Linked up with: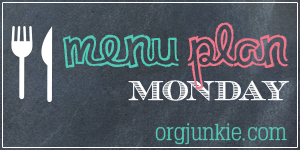 We are so excited about the arrival of Fall, so we are celebrating with a giveaway! Enter to win this fun prize pack filled with all sorts of Fall-themed goodies and a Starbucks gift card. Bring on the Pumpkin Spice Lattes!

To Travel and Beyond // The Beauty Section // Back to Carolina //
Yellow Dog Pink Pig // Natasha Byrd // Glitz & Gritz // Set Free // Mandy Living Life
Wetherills Say I Do // Life w/ Mrs. G. and the Artist // The Gift of Gab
Sustaining the Powers // Bright Green Door // A Savory Feast // No Small Life
Giveaway is open to US residents 18 years of age and older. Entries will be accepted via the Rafflecopter below from 9/23/2015 to 9/30/2015 at 11:59 PM EST. Winner will be randomly selected and will be verified. Winner will be emailed and must respond with a mailing address within 48 hours to claim their prize.