All your favorites from 7 layer dip come together in this easy, cheesy, crowd-pleasing, Mexican lasagna!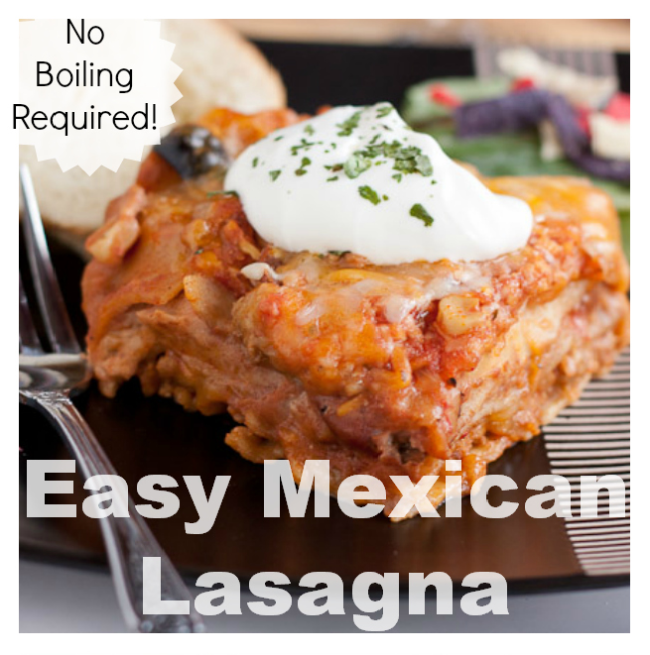 Just before my hubby and I got married, my mom gave me a cookbook called 30 Meals in One Day. The idea behind the book is Once a Month Cooking (OAMC). This is where you make/prep all your dinners for the month in one weekend and then keep them in the freezer until it's time to defrost and eat them. There are tons of great recipes in the book, but one of our family favorites is my adaptation of their Mexican Lasagna recipe.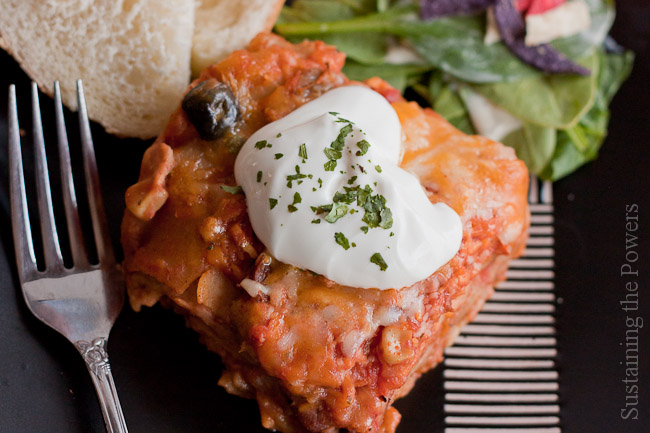 I like to describe this lasagna as a 7 layer dip with noodles. You've got all the melty cheese, tangy sour cream, salty re-fried beans, spicy salsa, savory black olives, and flavorful taco meat that you love, without the guilt of eating a bowl full of chips. That's why this recipe is my most-requested whenever I share this meal with friends. (Who doesn't absolutely love melty cheese?) I love being able to tell people how easy it is to just assemble and bake!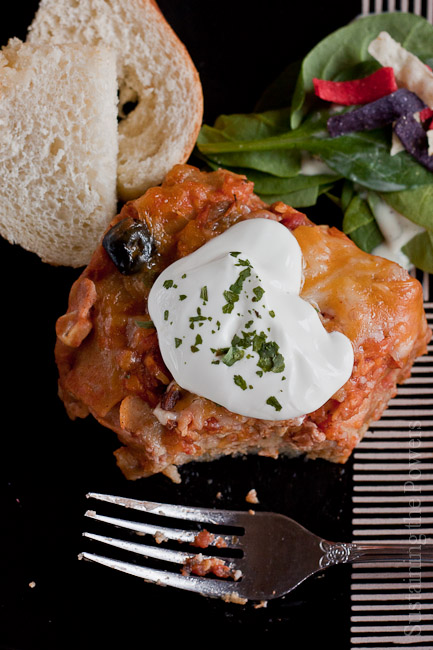 I especially love the no-boil method for making lasagna. If you've ever tried boiling lasagna noodles and then assembling them, you'll know that they're slippery and often tear or make a huge mess. By combining the sauce with water then covering the dish with foil, the noodles boil inside the lasagna as it cooks and you don't have the mess.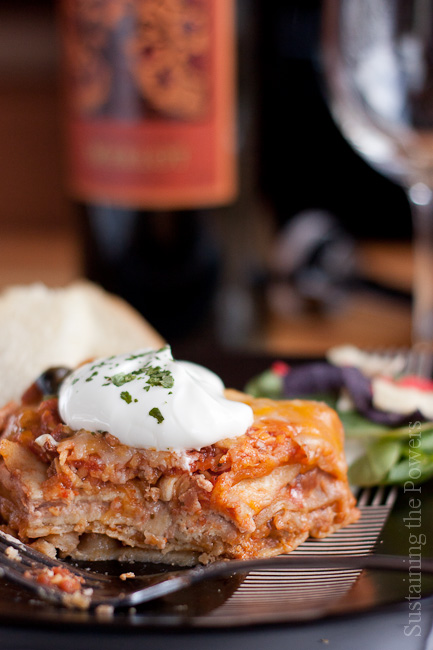 In addition to using the no-boil method, I make it even easier on myself by pre-cooking taco meat when I bring ground turkey home from the store. I keep it in my freezer ready for any last-minute meal prep. You never know when you might need some emergency tacos or lasagna!
Easy Mexican Lasagna
2014-08-25 19:28:05
Welcome back to the weekly Retro Re-pin Party, where everything old is new again! I don't know about you, but I am getting so excited for football season to start up again. I live in Denver, so I always have to cheer for the Broncos, but I am also a huge fan of college football. I'm ready for watch parties with queso, wings, and jalapeno poppers and Sunday afternoons of blogging and doing projects with the game on in the background.
Are you ready for football season? Got any old Pinterest posts with game day ideas? Maybe some back to school or heading off to college posts? We'd love to have you share them below.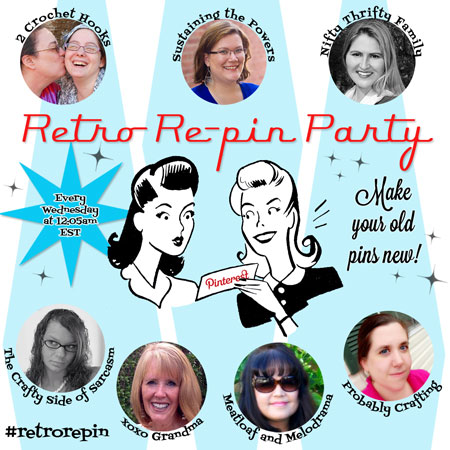 Since there are seven of us, your pins will be seen on seven blogs. We re-pin all links to our main party board, and we also pin those we especially like to our own personal boards. And, since we hope you are also pinning your favorites, that means a lot of exposure and extra love for these older pins!
We would love it if you decide to follow our blogs and our Pinterest pages!
Stephanie @ Sustaining the Powers: Blog/Pinterest
Kristina and Millie @ 2 Crochet Hooks: Blog/Pinterest
Dee @ Meatloaf and Melodrama: Blog/Pinterest
Joy @ xoxo Grandma: Blog/Pinterest
Becka @ Probably Crafting: Blog/Pinterest
Felicia @ Nifty Thrifty Family: Blog/Pinterest
Leslie @ The Crafty Side of Sarcasm: Blog/Pinterest
*~* Are you all ready to party?!? ~
This is a Retro Re-pin Party so works a bit different than the usual link party.
Please DO NOT link up your blog main page, a blog post or your pin boards – link up one of your Pinterest pins and PLEASE… Continue reading →
Throw a Doctor Who season premiere party!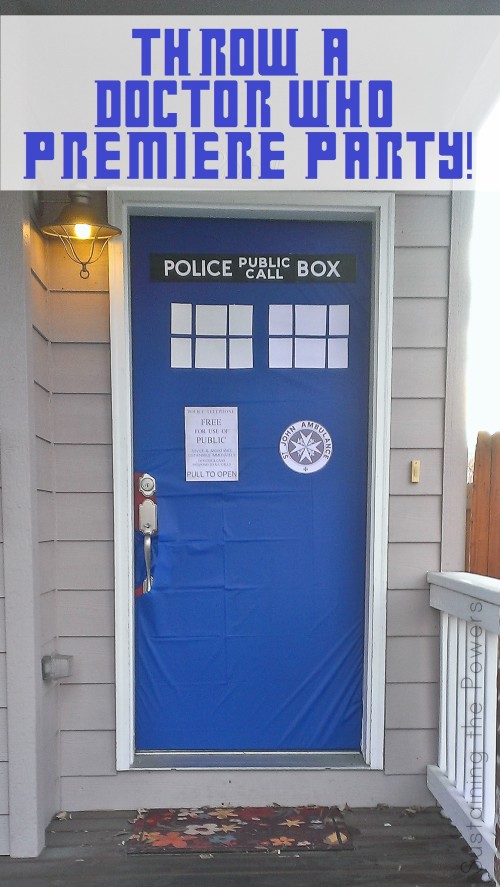 Most of you don't know this about me, but I'm a MAJOR Whovian. Hubby and I have watched all of the 2007 reboot of Doctor Who at least a few times and have been starting in on watching all the original series. We are lucky to have many Whovian friends, so we threw a huge bash for the 50th anniversary episode, The Day of the Doctor, back in November.
With the Doctor Who Premiere coming up in just a few weeks on August 23, 2014, I thought I'd share some photos, recipes, and ideas from our party so you could throw your own Doctor Who season premiere party. I'll apologize in advance for the photo quality. I took them all with my old cell phone and wasn't planning to blog them later.
I'll start out with a few of our decorations:
Cosmos Room
Here's the main floor of our house. It's super open and goes right from the front door sitting area into the dining room and kitchen. We decided to stick with a cosmos/TARDIS blue/Matt Smith's 11th doctor theme.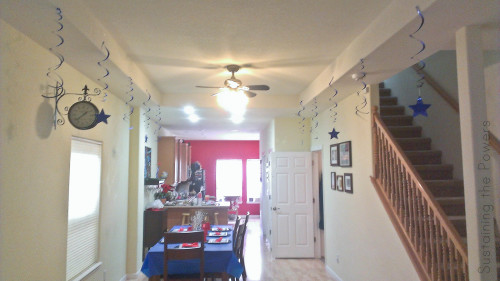 We got some TARDIS blue table cloths from the dollar store along with these blue star swirls that were simple to hang from the ceiling and went with our cosmos theme. Clocks were also brought in from around the house for the food display.
11th Doctor Table Setting
Here's a close-up of the table: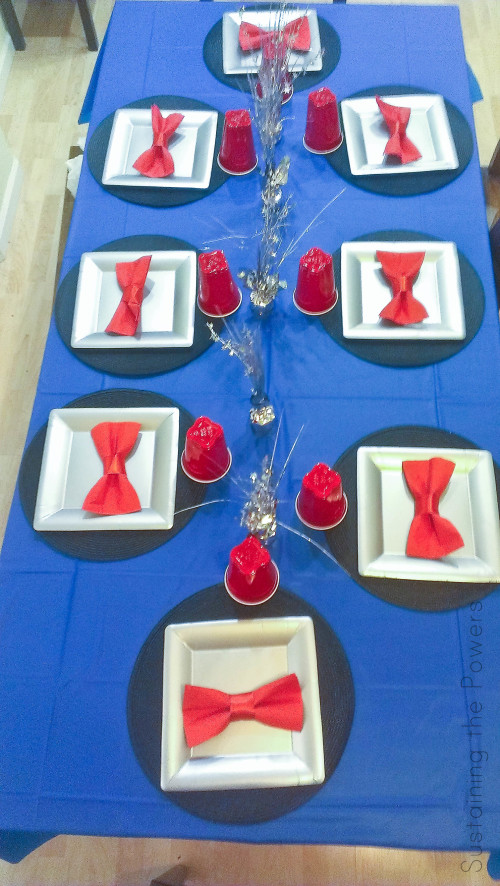 Materials:
TARDIS blue table cloth
For each setting:
Black circle placemat
Red Solo cup
Silver square dinner plate
For the bowties:
Red dinner napkin – 13″ rectangular "guest towel" napkin or a square napkin folded in half
5.5 inches of 1.5″ wide red ribbon- attached around the napkin (wrap after you scrunch it) with a bit of double-stick… Continue reading
A hot, cheesy Mexican Corn Salad adapted from the popular Mexican street corn, elote.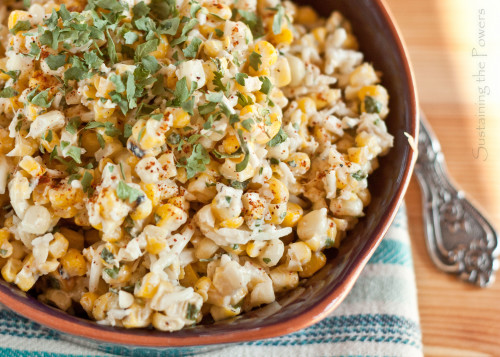 A few weeks ago I got stuck without eggs and made a run to our closest grocery store. I typically avoid this particular because their prices are crazy and they only have what I need half the time. It happened to be a Friday when they were running one of their TGIF specials and corn on the cob was 10 cents an ear.
Yep TEN CENTS!
I decided to take my chances and loaded up on fresh corn.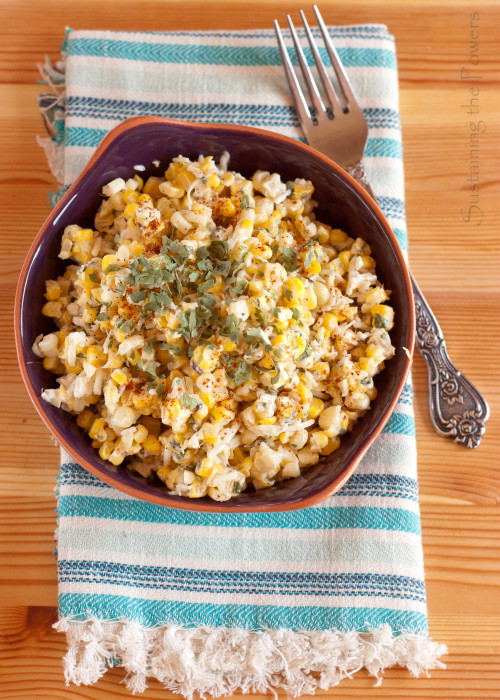 I am so glad I bought so many ears because this was some of the sweetest corn I've ever tasted. We roasted a few ears and slathered them in a traditional cheesy Mexican corn spread of mayo, chili powder, cilantro and Parmesan cheese. The dish is called elote in Mexico.
I grew up with street vendors selling this corn on a stick and have never been able to get enough. This is the kind of corn you eat with your whole face and end up dripping with amazingly delicious sauce hoping that everyone else is doing the same so they don't judge you.
I still had a lot of corn and spread left over, but I knew I couldn't eat corn like that at my desk at work, so I combined them into this cheesy, tangy, hot Mexican corn salad.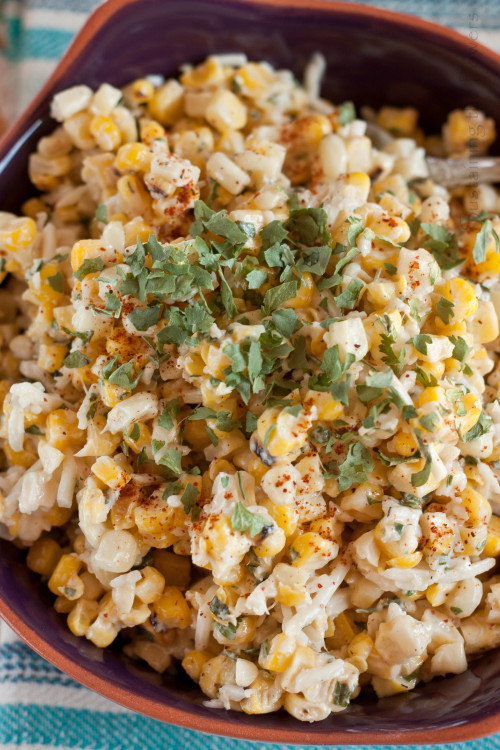 Upon further digging into my cookbooks, I discovered this Mexican Corn Salad already had a Spanish name, esquites. I guess I wasn't the fist one to realize that corn on a stick was quite messy for eating in public.
Either way, I promise you and your family will love this dish on its own, topping some nachos, inside your favorite burrito, on a tortilla chip, or anywhere else… Continue reading →
Black beans, corn, and avocados come together in this quick, fresh, salsa.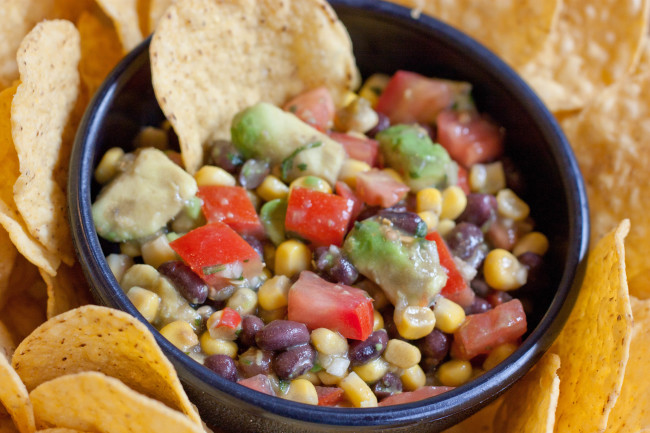 We threw a going away party for some dear friends a few weeks ago and needed a quick salsa for some chips to offset all the desserts. (They were "desserting" us, so we threw them a dessert party.) It just so happened that I had a few cans of corn, some fresh tomatoes from the garden, a can of black beans, and some ripe avocados on hand. That's how this Black Bean, Corn, and Avocado Salsa was born! It was in high demand, and I've since made it three more times for hubby and I to chow down. It goes great in burritos and I've since used it a few times to make scrambled eggs in the morning. I've also added extra avocado and made it into vegetarian street tacos.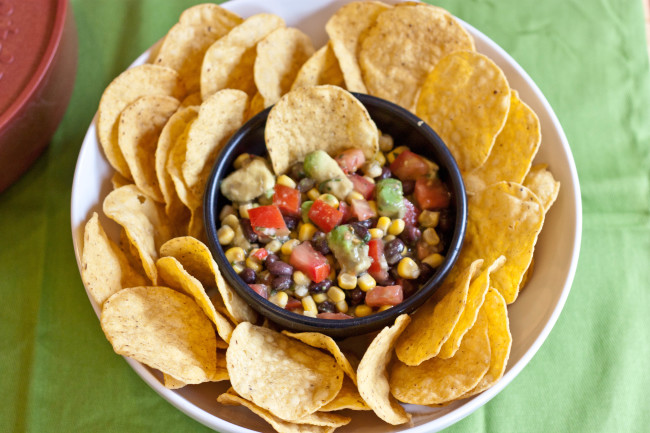 I only had a moment to snap a few photos, so I'll keep this post short and sweet. Buen Provecho!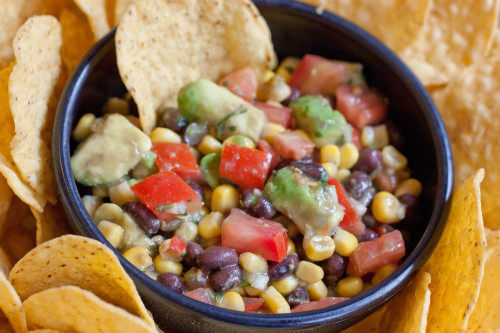 Black Bean, Corn and Avocado Salsa
2014-07-21 15:58:55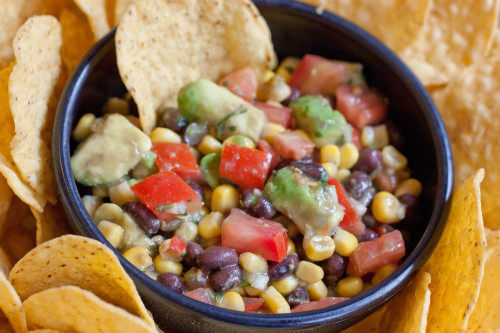 Black beans, corn, and avocados come together in this quick, fresh salsa.
Ingredients
1 (15oz) can corn and peppers (aka: mexi-corn)
1 (15 oz) can black beans, rinsed and drained
2 medium tomoatoes, diced
1 medium red onion, finely diced
1 medium avocado, diced
2 tsp garlic, minced
1 tbsp cilantro, finely chopped (I use freeze-dried)
2 tbsp lime juice or juice from 2 limes
1/2 tsp salt
Instructions
Stir together above ingredients and serve immediately.
Notes
This can be kept sealed in the fridge for up to 3 days, but the avocados will start turning brown within 24 hours.
This is both vegan and gluten free!