I've been blogging for a while now (almost 10 months!), but I've never hosted a link party before. I was invited last week to join the lovely ladies below, so I thought I'd try it out and see how it goes. Let me know what you think in the comments! Please read the details below and join in the fun!

Hey Everyone! Welcome to our second Retro Repin Party!! Last week we had a totally fun time with 39 link ups! Super Awesome!! We appreciate everyone that pinned with us!
This party is all about bringing those older pins back into the lime light and making them new again! For this we need your help – remember to repin!
Meet your Retro Repin hostesses!
Kristina and Millie @ 2 Crochet Hooks: Blog/Pinterest
Becka @ Probably Crafting: Blog/Pinterest
Dee @ Meatloaf and Melodrama: Blog/Pinterest
Leslie @ Crafty Side of Sarcasm: Blog/Pinterest
Joy @ xoxo Grandma: Blog/Pinterest
This week we have a super special co-hostess, Stephanie Powers! Please give her a warm welcome!
Stephanie Powers is the creative mind behind SustainingthePowers.com, her test – kitchen food blog. She's a lover of Tex-Mex, a wife, a traveler, a teacher, a geek, and a foodie."
You can follow her at: Blog/Pinterest
*~* Are you all ready to party?!? *~*
This is a Retro Repin Party so works a bit different than the usual link party. Please do NOT link up your blog main page, a blog post or your pin boards – link up one of your Pinterest pins and PLEASE – Family Friendly posts only!! If the link is not to a previously pinned post, it may not be pinned.
Example: http://www.pinterest.com/pin/555139091540348954/
Very simple rules for this party:
1. Add… Continue reading →
Black beans, corn, and avocados come together in this quick, fresh, salsa.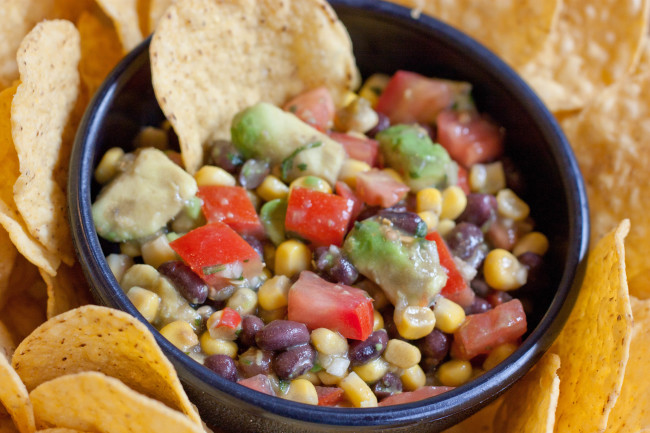 We threw a going away party for some dear friends a few weeks ago and needed a quick salsa for some chips to offset all the desserts. (They were "desserting" us, so we threw them a dessert party.) It just so happened that I had a few cans of corn, some fresh tomatoes from the garden, a can of black beans, and some ripe avocados on hand. That's how this Black Bean, Corn, and Avocado Salsa was born! It was in high demand, and I've since made it three more times for hubby and I to chow down. It goes great in burritos and I've since used it a few times to make scrambled eggs in the morning. I've also added extra avocado and made it into vegetarian street tacos.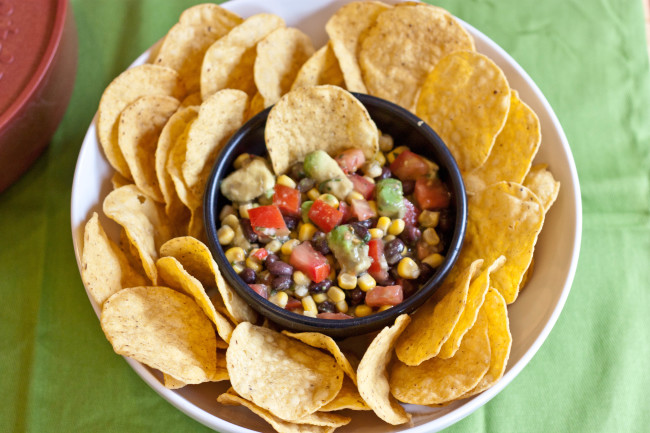 I only had a moment to snap a few photos, so I'll keep this post short and sweet. Buen Provecho!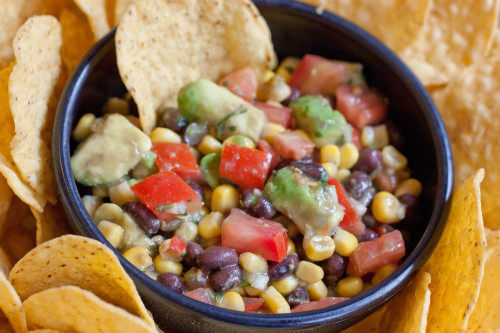 Black Bean, Corn and Avocado Salsa
2014-07-21 15:58:55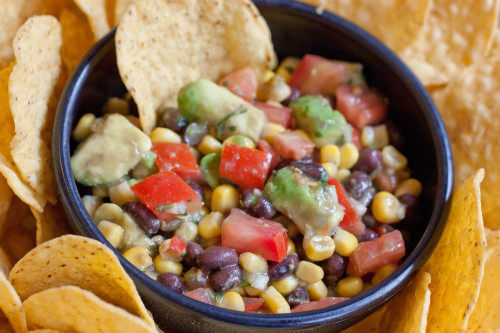 Black beans, corn, and avocados come together in this quick, fresh salsa.
Ingredients
1 (15oz) can corn and peppers (aka: mexi-corn)
1 (15 oz) can black beans, rinsed and drained
2 medium tomoatoes, diced
1 medium red onion, finely diced
1 medium avocado, diced
2 tsp garlic, minced
1 tbsp cilantro, finely chopped (I use freeze-dried)
2 tbsp lime juice or juice from 2 limes
1/2 tsp salt
Instructions
Stir together above ingredients and serve immediately.
Notes
This can be kept sealed in the fridge for up to 3 days, but the avocados will start turning brown within 24 hours.
This is both vegan and gluten free!
Crunchy, raw jicama and fresh strawberries take center stage in this bright Jicama Strawberry Summer Salad.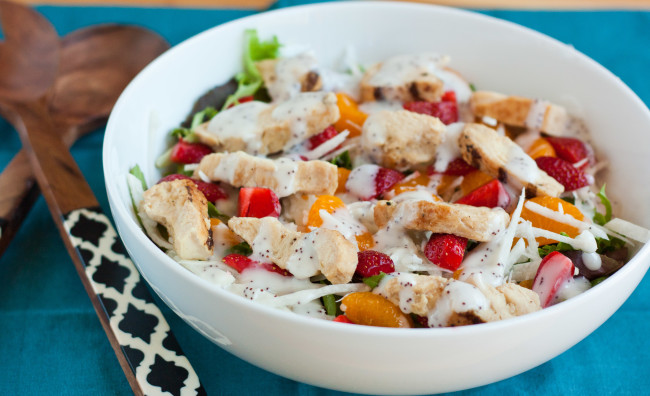 Last week I shared about how to buy, prepare, and roast a jicama into my favorite Jicama Fries with Balsamic Ketchup. The jicama I found in Denver are ENORMOUS, so this week, I wanted to share this recipe for a jicama strawberry salad you can make with all the leftover jicama.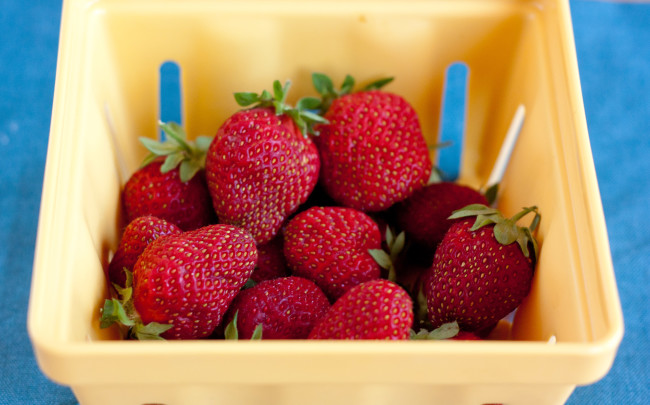 Now that hubby and I own a house, we've been getting into gardening. (Okay, it's more like I've been getting into gardening and I've talked hubby into lifting the heavy things and making sure the plants get enough water when I ignore them for a week.) The former owners of our house were just starting a strawberry patch when they decided to sell 2 years ago, and I'm excited to say that we've nurtured it into growing some beautiful berries! Nothing can beat a fresh-picked organic strawberry. The taste has pretty much ruined me for all other strawberries. I had no idea what a true strawberry tasted like until I bit into one of these. Even the color is delicious – centers in strawberries that are fully ripe are actually a luscious, deep red. I mean, LOOK at those!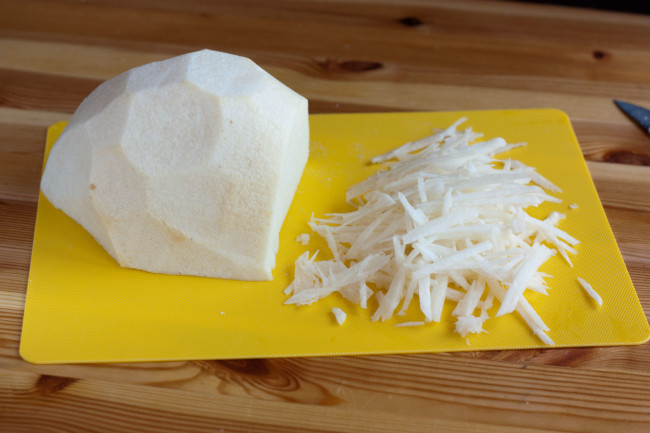 So, back to the salad. This one is super easy to throw together. Just take your raw jicama, peel it carefully with a knife, cut off a few, thin disks and julienne them. I happen to have a mandoline slicer, so I used that to get the pretty, even sticks you see in the photos, but you can cut it up however you feel is easiest for your salad. I've often seen it diced or chopped by hand or in a food processor, so it should turn out okay however you decide to… Continue reading →
Crunchy, healthy, oven-baked jicama fries with a homemade balsamic vinegar ketchup. The perfect summer party snack.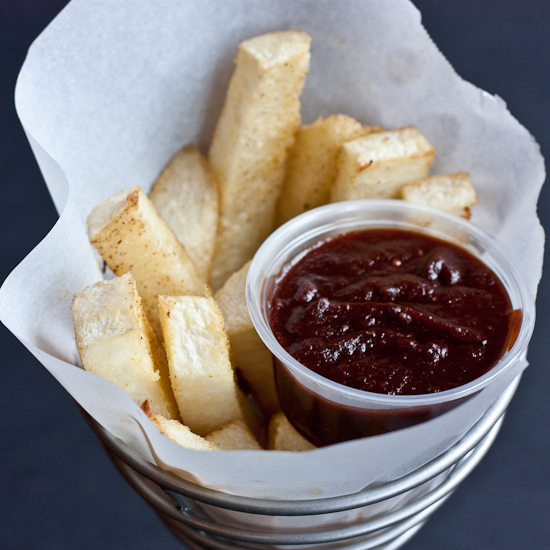 My top two favorite things to eat in the summer are roasted garden vegetables and french fries. If I could get away with eating fries daily, I probably would. Unfortunately, eating that many potato fries would leave me huge, so I like to roast veggies in the shape of fries that I can dip in ketchup and not feel so guilty about. One of my favorite guiltless french-fry veggies is jicama (pronounced "HEE-kah-muh" or /ˈhɪkəmə/ if you're a linguist.)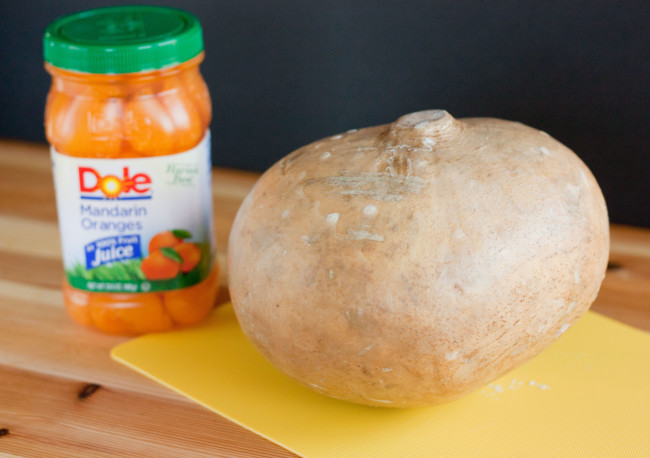 Jicama, also known as the Mexican Turnip, is a large tuberous root that's actually part of the bean family. It comes in various sizes, but most are shaped like the one pictured above. This one is the size of a large cantaloupe (oranges for reference), though I've seen some that are the size of a grapefruit. When choosing a jicama, you want to find one that is very smooth, has few clefts, and doesn't have any brown or mushy spots. This one came coated in a layer of wax to keep it well-protected, and likely to keep you from trying to eat the skin which can make you very sick. I found this one at Sprouts for just $0.66/lb. I've seen them at Whole Foods, some regular grocery stores (depending on region) and most Asian grocery stores (they often use it in soups and spring rolls).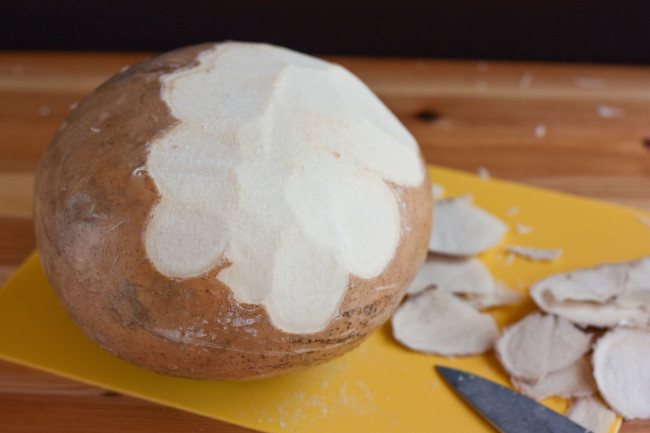 Since they are often coated in wax, and the peel is quite thick, you won't be able to use a regular vegetable peeler on the jicama. You'll need to peel it carefully with a sharp knife. You should also note that the flesh will slowly begin turning brown once you peel… Continue reading →
I'm in love with these savory Bacon and Chive Cornbread Waffles.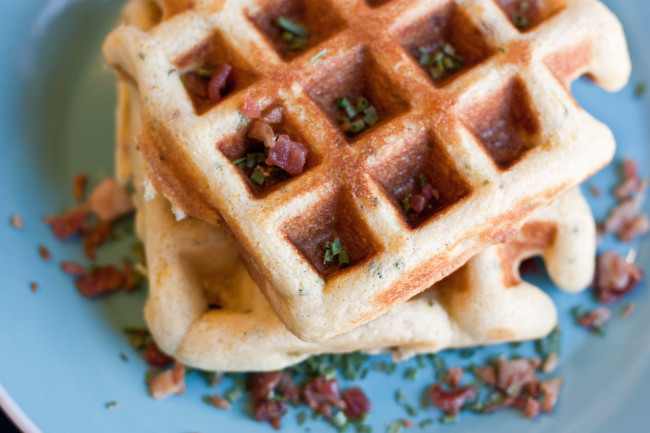 In our house, we LOVE waffles. I remember being a little kid and waking up to my dad surprising us with waffles on a Saturday morning. In college, I found a loophole in policy that allowed me to have a waffle iron in my dorm room. Boy did I get popular! One of my dorm hall-mates gifted us with a fancy 4 waffle iron for our wedding, and we have used it almost every Saturday morning since then. We typically make our Saturday morning waffles with Alton Brown's dry mix I featured as one of My Top 5 Go-To Recipes, but I like to mix it up sometimes, especially when we have breakfast for dinner.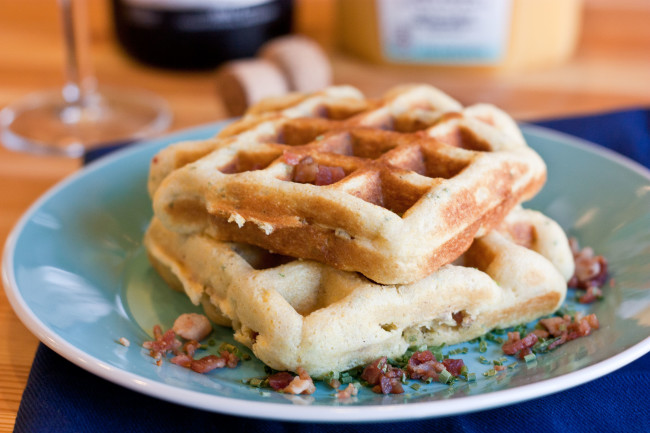 In the last few years, I've become obsessed with savory waffles and have been experimenting with waffles at meals other than breakfast. These savory bacon and chive cornbread waffles are the perfect base for your favorite chili, a poached egg, some fried chicken, pot roast, or just some whipped honey butter. The best part is how fast they are to throw together.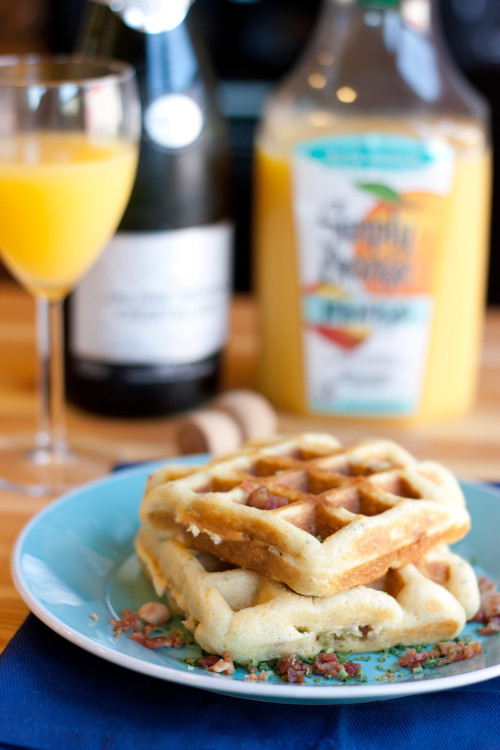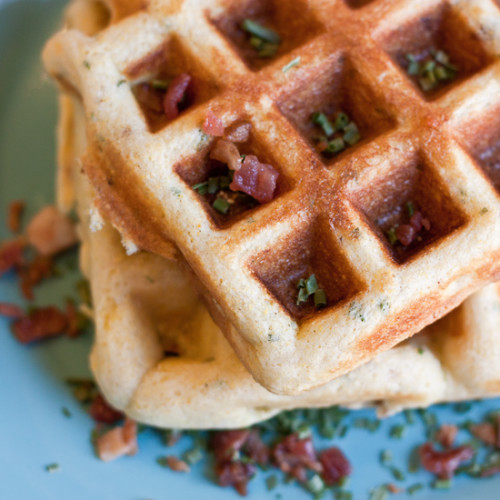 Bacon and Chive Cornbread Waffles
2014-05-15 10:35:15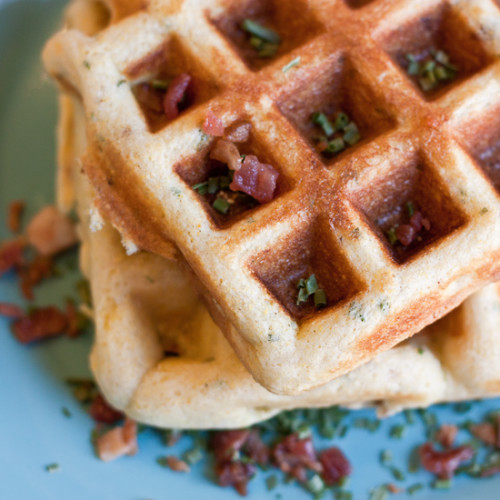 A savory waffle with bacon and chives
Ingredients
*2/3 cup white flour (or gluten-free)
*1/2 cup yellow cornmeal
*3 Tbsp granulated sugar
*1 Tbsp baking powder
*1/4 tsp salt
2 Tbsp vegetable oil
1 egg
3/4 cup milk (or non-dairy milk)
1/4 cup crumbled bacon
2 Tbsp dried chives (4 tbsp fresh)
1/2 cup shredded cheddar
*(1 box of Jiffy corn muffin mix may be substituted for the flour, cornmeal, sugar, baking powder, and salt.)