Welcome back to the weekly Retro Re-pin Party, where everything old is new again! This week I've been collecting ideas to decorate our house for Fall. I brought out my favorite scarecrow wreath and the fall colored candles and holders for our dining table. I've been on the search at the local craft stores and all over Pinterest for a few other decor items that really scream "Fall" to me.
Are you ready for fall? Got any old Pinterest posts with Halloween ideas? Maybe some pumpkin or fall stews? Some great fall home decor ideas? We'd love to have you share them below.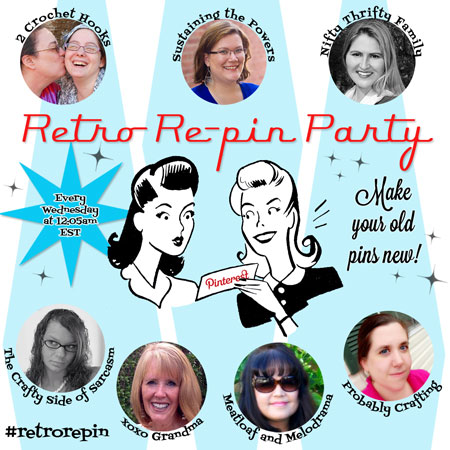 Since there are seven of us, your pins will be seen on seven blogs. We re-pin all links to our main party board, and we also pin those we especially like to our own personal boards. And, since we hope you are also pinning your favorites, that means a lot of exposure and extra love for these older pins!
We would love it if you decide to follow our blogs and our Pinterest pages!
Stephanie @ Sustaining the Powers: Blog/Pinterest
Kristina and Millie @ 2 Crochet Hooks: Blog/Pinterest
Dee @ Meatloaf and Melodrama: Blog/Pinterest
Joy @ xoxo Grandma: Blog/Pinterest
Becka @ Probably Crafting: Blog/Pinterest
Felicia @ Nifty Thrifty Family: Blog/Pinterest
Leslie @ The Crafty Side of Sarcasm: Blog/Pinterest
*~* Are you all ready to party?!? ~
This is a Retro Re-pin Party so works a bit different than the usual link party.
Please DO NOT link up your blog main page, a blog post or your pin boards – link up one of your Pinterest pins and PLEASE – Family Friendly posts only!! If the link is not to a previously… Continue reading →