A recipe for Slow Cooker Lentil Quinoa Lettuce Cups, the monthly Recipe Challenge link up, and another Meal Plan Monday!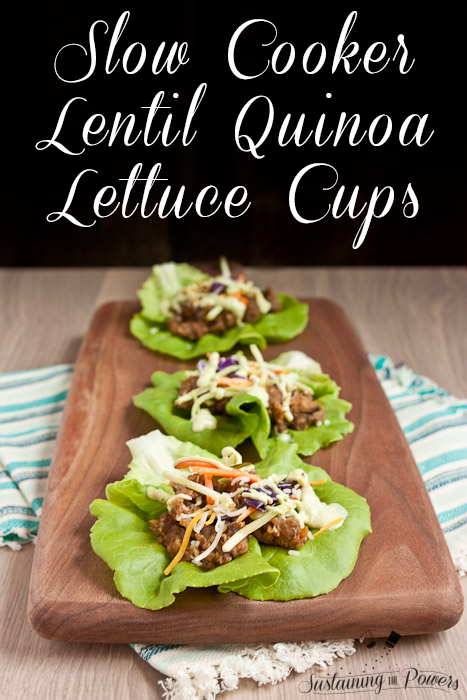 Somehow I always forget about using my slow cooker in the summertime. I love it for winter soups and hearty meals for cold weather, but I always seem to forget about it as soon as it gets hot outside. (Maybe I'm too distracted by my grill.) It's kind of silly really, because the slow cooker is perfect for summer days when you don't want to heat up your house with the oven! Because we wanted an excuse to bust out the slow cookers, this month, A Savory Feast, Bowl of Happiness and I teamed up to bring you some Summer Crock-Pot recipes as part of our monthly recipe challenge.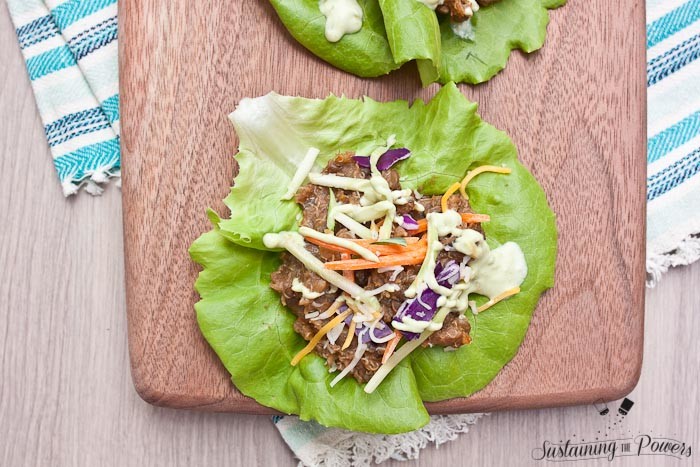 We tend to go through a ton of tortillas in our house. (Have you noticed yet?) I firmly believe that everything can pretty much be turned into a taco, so we pull them out whenever we can. So in breaking out of my forgetting the slow cooker rut, I also wanted to break out of the tortilla taco rut too and pick a lighter, healthier option. Enter these lettuce cups. I'm probably not fooling anyone into thinking I didn't just make some tacos, but at least I tried packing in the veggies right?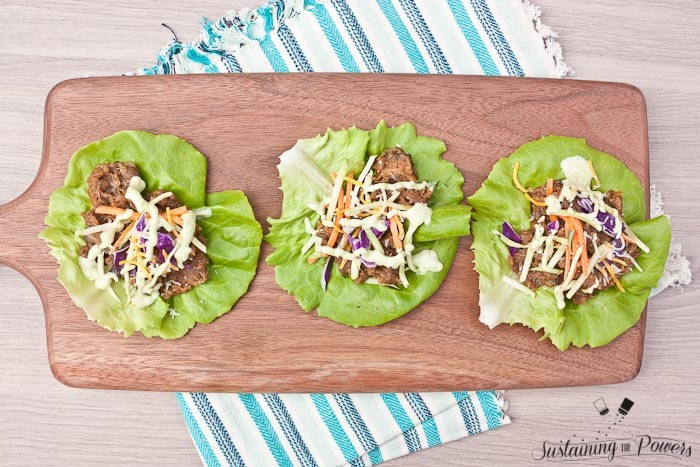 These… Continue reading →
This post is part of a social shopper marketing insight campaign with Weave Made Media®, Smithfield®, but all my opinions are my own. #weavemade #SummerSizzling http://my-disclosur.es/RgFrEH
This summer has been all about grilling. Aside from some crazy hail and flooding in May and early June, it's been a pretty mild summer in Denver, so we've been out in our backyard as much as possible. My woodworking hubby built us a beautiful redwood deck a few years ago while I was gone studying abroad in Spain, and I absolutely LOVE sitting out there for my morning coffee before the sun gets too high, and grilling and entertaining in the afternoons after the sun has drifted behind our detached garage. Sometimes we even go outside at night, lay in the hammock and try to catch glimpses of stars through the city lights. It may be a tiny yard, but it sure is a beautiful place to be in the summertime! (Plus, the less to mow, the better. Am I right?)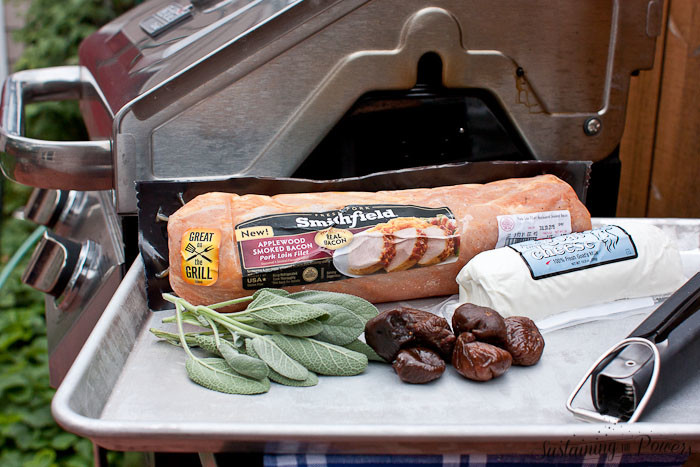 If you haven't caught on from the meal plans, we have also been trying to stick to a healthier diet the past several months. This means I've had lean meats on my grocery list a lot more often than we used to. Chicken and turkey is almost always my go-to, but this week Hubby asked for "something fancy with pork. And maybe bacon too?" for our weekly date night meal. I was so excited when I found this Smithfield® Applewood Smoked Bacon Marinated Pork Loin Filet in the meat section at Walmart! (Hubby was TOTALLY excited too. Wife of the year award here I come!)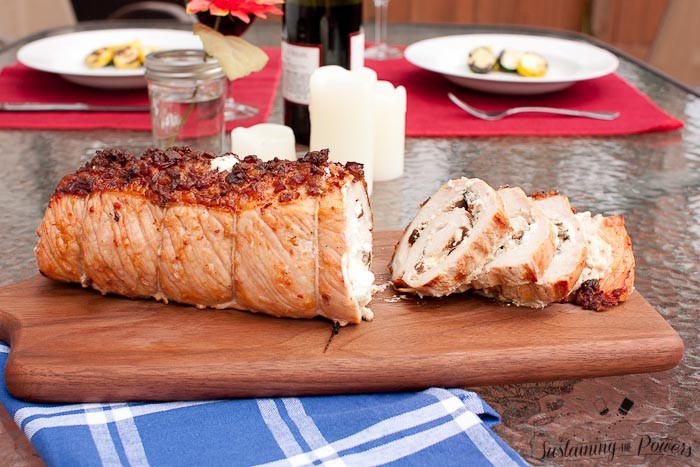 While I was staring at the choices, one of the awesome meat department guys came up and asked if I needed help. I told him I was… Continue reading →
Meal Plan Monday is a printable gluten-free and vegetarian-friendly printable weekly dinner menu and shopping list!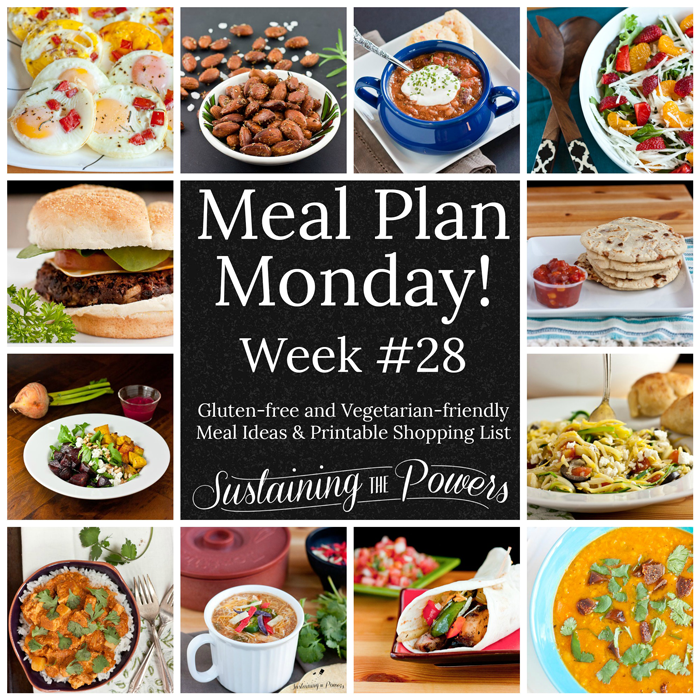 Hubby and I went on vacation this past week and it was amazing! We snuck off to the mountains in south western Colorado and stayed in a small town in almost the middle of nowhere. We had been planning to camp for a couple weeks, but Hubby came down with pneumonia a few weeks ago and then passed it to me (not fun at all!) so sleeping on the ground in the cold and damp didn't sound like something we should be doing. Instead, we stayed in a condo and took a few day trips to a reservoir in the middle of nowhere and enjoyed a relaxing time of peace and quiet and mostly disconnected from our computers and social media. (I did sneak on Instagram a few times to share a couple photos like the ones below, but we didn't check work emails or take computers with us.) I'd love to connect with you on Instagram and see where you're vacationing this summer!
Welcome to the Retro Re-pin Party!
We have some important news to share with you today. Retro is celebrating 1 year of re-pinning today, and this is actually going to be our last Retro Re-pin Link Party. We have absolutely LOVED connecting with you and seeing your pins each week, but running a party takes a lot of time and effort. As link party participation has slowed down the past several months, we've been taking stock, and have decided to end the party on a high note and free up some precious blogging time for other pursuits. Thank you all for everything!
That being said, we still want to see your pins each week, so we will be turning the Retro Re-pin Party Pinterest Board into a group board and accepting you as our contributors! Hopefully we can have just as much fun by making the party a 24/7 group board. Follow Sustaining the Powers on Pinterest and then send an email to retrorepinparty@gmail.com with your Pinterest email address to receive an invite!
The Retro Re-pin Party is a quick, weekly link party where you can share some of your older (or "retro") pinned blog posts and give them some new exposure while growing your Pinterest reach through re-pins.
Meet Your Hostesses!
(Please consider following each host on at least one social media.)
Sustaining the Powers | Pinterest | Instagram | Twitter | Facebook | Google + | Bloglovin' |
Nifty Thrifty Family | Pinterest | Instagram | Twitter | Facebook | Google + | Bloglovin' | YouTube |
Mommy Crusader | Pinterest | Twitter | Facebook | Google + |
The Gift of Gab| Pinterest | Instagram | Twitter | Facebook | Google + | Bloglovin' |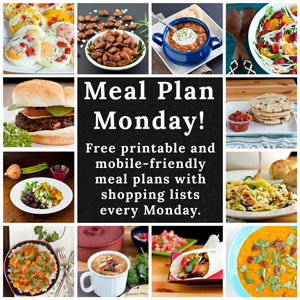 I hope you had an awesome Fourth of July long weekend! I really like the idea of a Friday holiday. Fridays are always a struggle for me to stay focused since I get sooooo excited for the weekend to arrive, so I love that we skipped Friday all together and went straight to the weekend. We enjoyed some much needed down time this weekend, and enjoyed a fun cookout with our next door neighbors. We love our neighbors a lot, and it is so awesome to walk next door and have a wonderful afternoon with great friends. I don't think either of us should ever move!
How was your weekend?
Meal Plan Monday 7/6-7/12:
This meal plan is designed to feed approximately 4 adults at each meal or two adults with lunches left over. Feel free to double or add to it as needed. **You'll need to open it with the free Adobe Reader App (Android or iOS) to be able to use the check boxes on mobile, so install that first if you don't have it already.**
Monday: Greek Zucchini Noodles with Feta, Olives, Artichokes and Tomatoes (gluten-free, vegetarian, vegan option)
Tuesday: Cajun Shrimp Tacos with Mango Salsa from Jo Cooks (gluten-free)
Wednesday: All Purpose Lemon Basil Marinated Chicken by Carlsbad Cravings (gluten-free) – serve over spaghetti
Thursday: Bruschetta Pork Kabobs from Thyme for Cocktails (gluten-free)
Friday: Pizza Night! Quick Skillet Tortilla Pizzas from Simply Recipes (gluten-free if using gf tortillas, vegetarian, vegan option)
Saturday: Date Night – Eat Out.
Sunday: Y.O.Y.O. (You're on your own.)
Linked up with: